Review: 'Bright Star' at the Ahmanson: Bluegrass, tears and a big, vacuous smile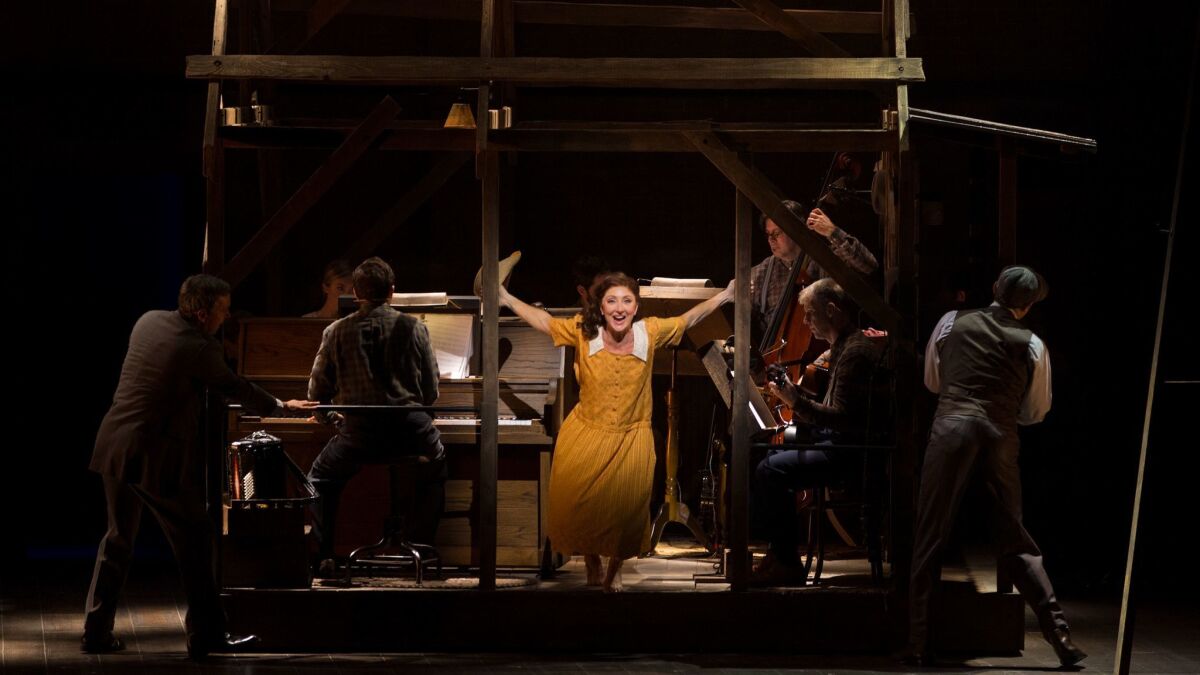 Theater Critic
As one theatergoer's bliss is another theatergoer's cornball, let's accentuate the positive before delving into the negative of a show that reveals just how thin the line is between hokey and charming.
"Bright Star," the eager-to-please country musical by Steve Martin and Edie Brickell that had its world premiere at San Diego's Old Globe in 2014 before landing on Broadway for a few months last year, seems perfectly at home at the Ahmanson Theatre, where the show opened on Friday.
So often Broadway musicals coming through the Ahmanson are loaded in on such a dizzying schedule that microphones are popping on opening night as sound technicians are still getting up to acoustical speed.
In the case of "Bright Star," Center Theatre Group is producing this first stop before sending the show off on a national tour. The difference is immediately apparent. The production, directed by Walter Bobbie, seems custom-tailored to the Ahmanson's stage.
Eugene Lee's scenic design, which includes a movable wooden cabin that helps establish some of the musical's North Carolina locales while conveniently housing the band, is fluid and sharp. Japhy Weideman's gorgeous lighting converts stage pictures into dreams.
Martin first made a name for himself as an audacious comic, but he's become something of Renaissance man, and here he gets to showcase the strides he's taken as a composer of bluegrass. "Love Has Come for You," the Grammy-winning album he collaborated on with Brickell, inspired the duo's foray into musical theater, and the show's score, seasoned generously with banjo and fiddle, will have you doing a jig in your seat.
Anchoring the musical with top-drawer panache is Carmen Cusack, reprising her Tony-nominated performance as Alice Murphy, whose tall tale the musical unfurls. Overflowing with charm, crackling with wit and containing just the right amount of vinegar, Cusack entrances as much with her vocal beauty as with her pungent smart talk.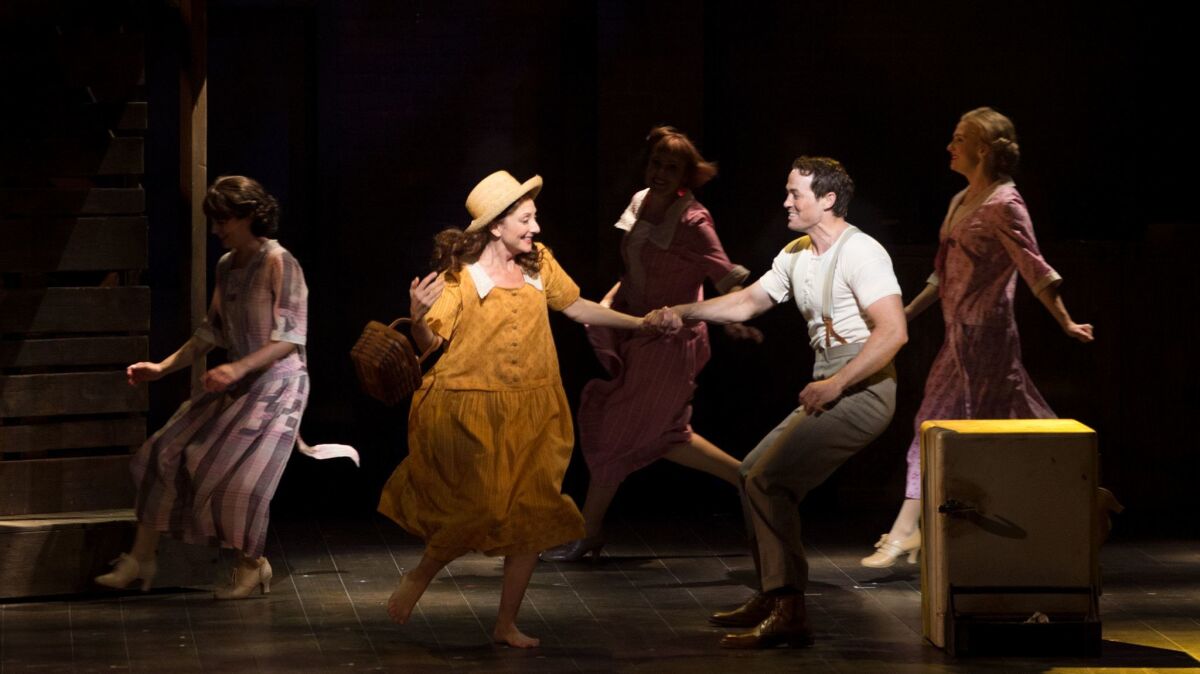 Sounds like a musical you won't want to miss, right? Not so fast. "Bright Star" has a few flaws that are impossible to overlook. Let's start with the storytelling, which is so far-fetched it could make "Oklahoma!" seem like a work of documentary drama. Not to give too much away, but Alice's romantic impetuosity in her youth has fateful consequences that only a show as sentimentally over the top as this could happily resolve.
Martin and Brickell's book bisects the story into two time periods, one set in the 1940s at the end of World War II, the other 20 years earlier in the Jazz Age, which is still only a rumor in the rural South. The link that connects the past to the present is one that only the most old-fashioned of fictional imaginations would dare to contrive.
Billy Cane (A.J. Shively) has returned from war to discover that his mother died when he was away. An aspiring writer who wants to be part of the burgeoning Southern school, he is determined to follow his own bright star, as he earnestly sings in the show's title number. He leaves hillbilly country for Asheville, N.C., where he marches into the office of the Asheville Southern Journal, a leading literary magazine where Cusack's character, Alice, is the formidable editorial gatekeeper.
At the top of the show Alice sings, "If you knew my story / You'd have a hard time / Believing me." As her cockamamie tale comes out, you might have an even harder time accepting that an important literary editor would have any tolerance for such preposterous fiction. The flashbacks that fill us in on Alice's past are so melodramatic there were times when I wondered whether the musical might actually be set in the 1800s, when cries of "You can't take my baby boy!" were perhaps more commonplace.
Mistaken identity, reunited families and losses restored are, of course, the stuff of Shakespearean romance. Audiences love an emotional roller coaster. But before we can make peace with a story's many improbabilities, we must feel some degree of experiential truth in what we're watching.
Fiction, to put it another way, can do whatever it likes. It's not a question of what occurs but how it unfolds. As dramatists, Martin and Brickell fall readily into clichés. Plot overrules character, and change occurs by fiat. "Bright Star" insists that a disastrous moment can brighten if the lyric "sun is gonna shine" is repeated often enough.
The songs work best when the sentiment is simple. "Always Will," the love duet between Billy and Margo (Maddie Shea Baldwin), the childhood friend he no longer sees as a child anymore, won't win any awards for its lyrics, but it accomplishes its romantic task with mellifluous ardency.
Too often, however, the songwriting reveals Martin and Brickell's standing as musical theater novices. The setups are clumsy and lyrical subtlety is effectively banished. And while a few numbers (such as the lively "Another Round") serve little narrative purpose, others (such as the stupefyingly tiresome "A Man's Gotta Do") are embarrassingly direct in their contribution to the story.
Shall I bother to mention Josh Rhodes' choreography, which turns the leaping chorus of town folk into a cloud of tadpoles hatched in some Agnes de Mille fishery? Let me instead praise the performers for being such agreeable company.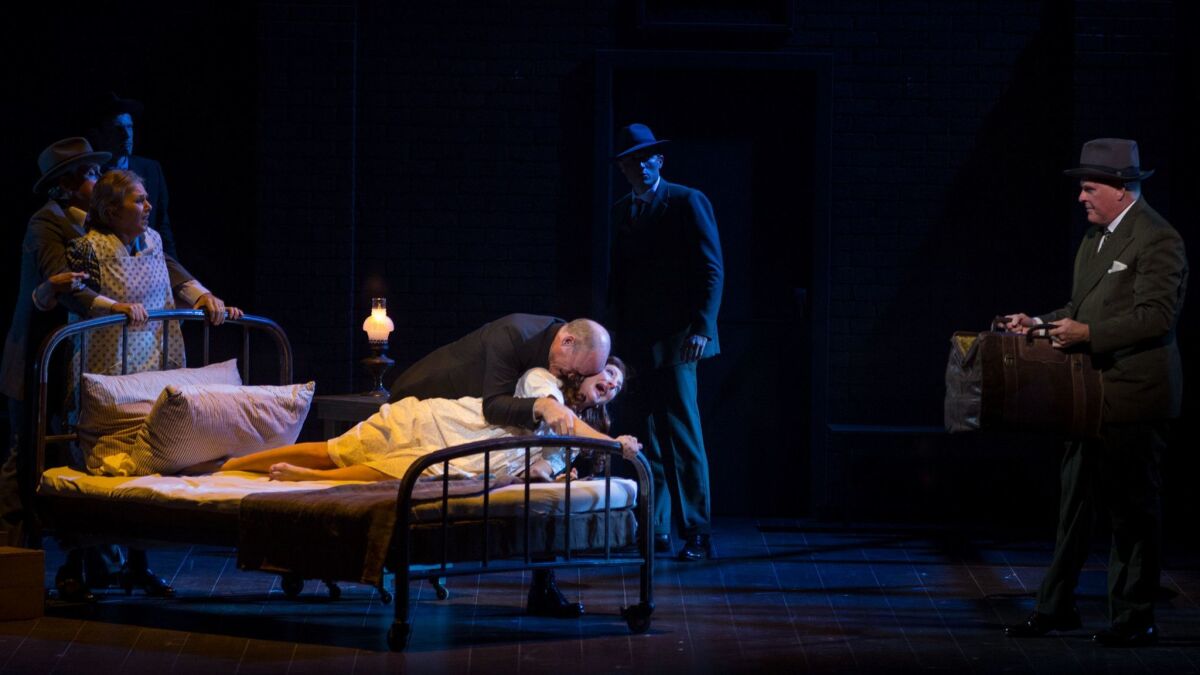 If the women outshine the men, it's partly because their characters are a good deal smarter. As Jimmy Ray, the handsome scion of well-to-do family who brings out the temptress in Alice in the flashback scenes, Patrick Cummings at least seems likes a worthy enough fellow for a bright young woman to upturn her teenage life over. Shively's Billy matches Baldwin's Margo in sweetness, though if you were going to place bets on who had the better chance of becoming a notable writer, the safe money would be on her.
As Daryl, one of Alice's kooky underlings at the journal, Jeff Blumenkrantz reels off his character's campy wisecracks with delicious sass. Kaitlyn Davidson, playing another Asheville Southern Journal employee, stalks Billy like a lioness who wants what she wants when she wants it. Bobbie directs the supporting cast to be vivid, innocuous fun.
A few theatergoers in my vicinity seemed to get misty at the end when the secrets of the characters are all sorted out. My eyes were as dry as Death Valley. "Bright Star" would be completely winning if we could unplug that part of our brain responsible for critical sentience. But the vacuous smile this throwback musical leaves with you is hardly a crime.
♦ ♦ ♦ ♦ ♦ ♦ ♦ ♦ ♦
'Bright Star'
Where: Ahmanson Theatre, 135 N. Grand Ave., L.A.
When: 8 p.m. Tuesdays-Fridays; 2 and 8 p.m. Saturdays; 1 and 6:30 p.m. Sundays. Ends Nov. 19 (call for exceptions)
Tickets: $30-$135 (subject to change)
Info: (213) 972-4400 or www.centertheatregroup.org
Running time: 2 hours, 15 minutes (including intermission)
SIGN UP for the free Essential Arts & Culture newsletter »
Follow me @charlesmcnulty
MORE THEATER:
Carmen Cusack finds her place in L.A.
Carrie Coon, at the top of her game, returns to the stage where it all began
Tonya Pinkins in a story of gun violence and a mother's loss
Get our L.A. Goes Out newsletter, with the week's best events, to help you explore and experience our city.
You may occasionally receive promotional content from the Los Angeles Times.