An American scholar was killed in South Africa nearly 25 years ago. Today her legacy lives on through music
Singers with the Amy Foundation choir describe what it means to share their music.
A mellifluous and harmonized version of "The Hokey Pokey" filled a basement room in Koreatown's Immanuel Presbyterian Church as more than 100 members of the Angel City Chorale sang the children's tune in its entirety — from "right foot" to "whole self" — before their recent Saturday-evening performance.
But on this night, the choir members' pre-show ritual was slightly different.
They were joined by 15 young singers from South Africa who, dressed in bright, traditional African garb and tribal face paint, stood out among the adult choir's all-black outfits. Moments earlier, the room buzzed with energy as one Angel City Chorale member called out last-minute stage directions. "These kids are so alive," she said. "We have to match them."
From its humble beginnings in 1993 — 18 singers rehearsing in the back room of a Santa Monica guitar shop — the Angel City Chorale has grown to more than 160 members under the leadership of artistic director Sue Fink.
They've gone from singing in the guitar shop's Christmas show to performing with legends like Stevie Wonder and competing on this season of the reality show "America's Got Talent."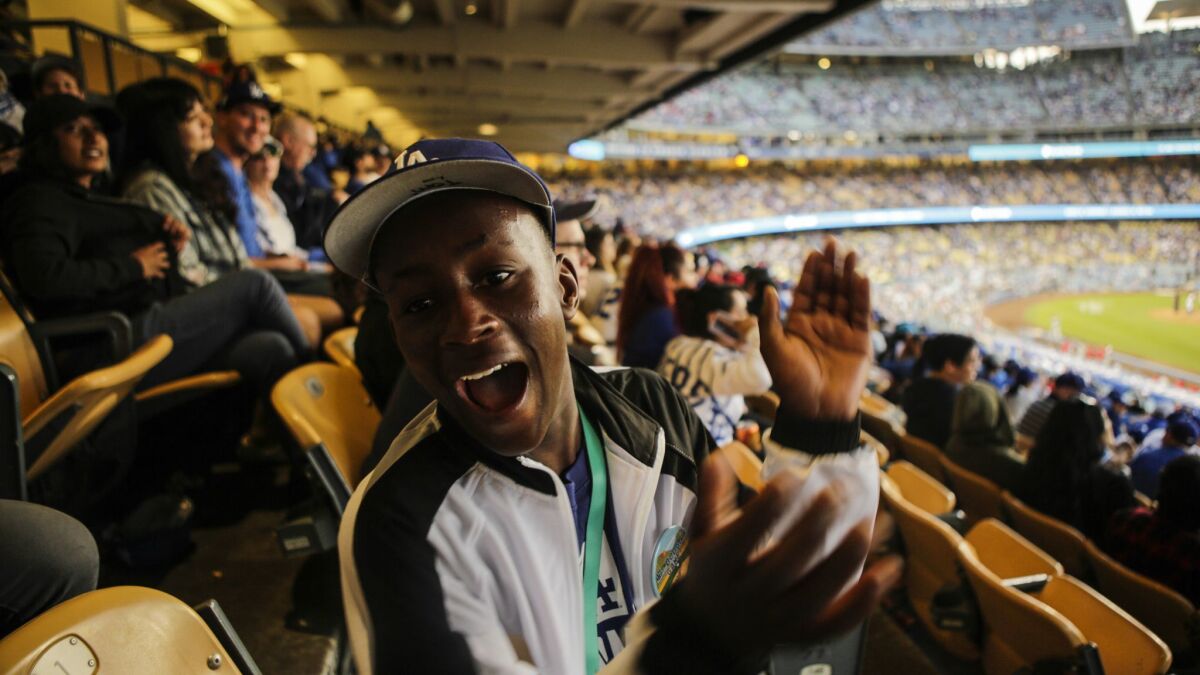 The choir's recent concert was a celebration of its 25th anniversary, featuring music from around the world mixed with pop songs. The performance also showcased an unlikely connection between Los Angeles and South Africa, stretching back to the country's fight to end apartheid in the early 1990s.
After a few songs in the show's first act, the South African youth group filed onto the stage as Angel City Chorale member Winifred Neisser gave an overview of the two choirs' connection. It's a story that began nearly 25 years ago.
In August 1993, 26-year-old Amy Biehl drove her yellow Mazda through one of Cape Town's black townships, Guguletu, to drop off some friends. A Fulbright scholar from California, Biehl had been studying the lives of South African women for nearly a year. She was passionate about South African democracy and was involved in voter education efforts.
But it was a time of violent political turmoil in the country, as right-wing whites struggled to maintain power. An angry mob spotted the blond and blue-eyed Biehl, and saw her as a symbol of apartheid, South Africa's institutionalized racial segregation that began in 1948 and ended in 1994.
She was attacked and killed.
Instead of turning on the people who had killed their daughter, Linda and Peter Biehl forgave; the next year they launched the Amy Biehl Foundation Trust in Cape Town.
I feel like Amy Biehl is watching over us today.
— Emily Sanders, Angel City Chorale member
That organization split into two, one of which is now known as the Amy Foundation. It has grown substantially over the years, serving more than 2,000 youth each day through six centers that offer academic support, arts education and life skills training, spread throughout townships in South Africa.
Although apartheid ended nearly 25 years ago, its legacy lives on, said Kevin Chaplin, the foundation's director of 11 years. The country is plagued by high unemployment rates and more than half of South African children do not complete 12th grade.
"Our aim is to turn [young people] into emotionally well-rounded contributing citizens — through music, through drama, through dance, through sports, through literacy," Chaplin said.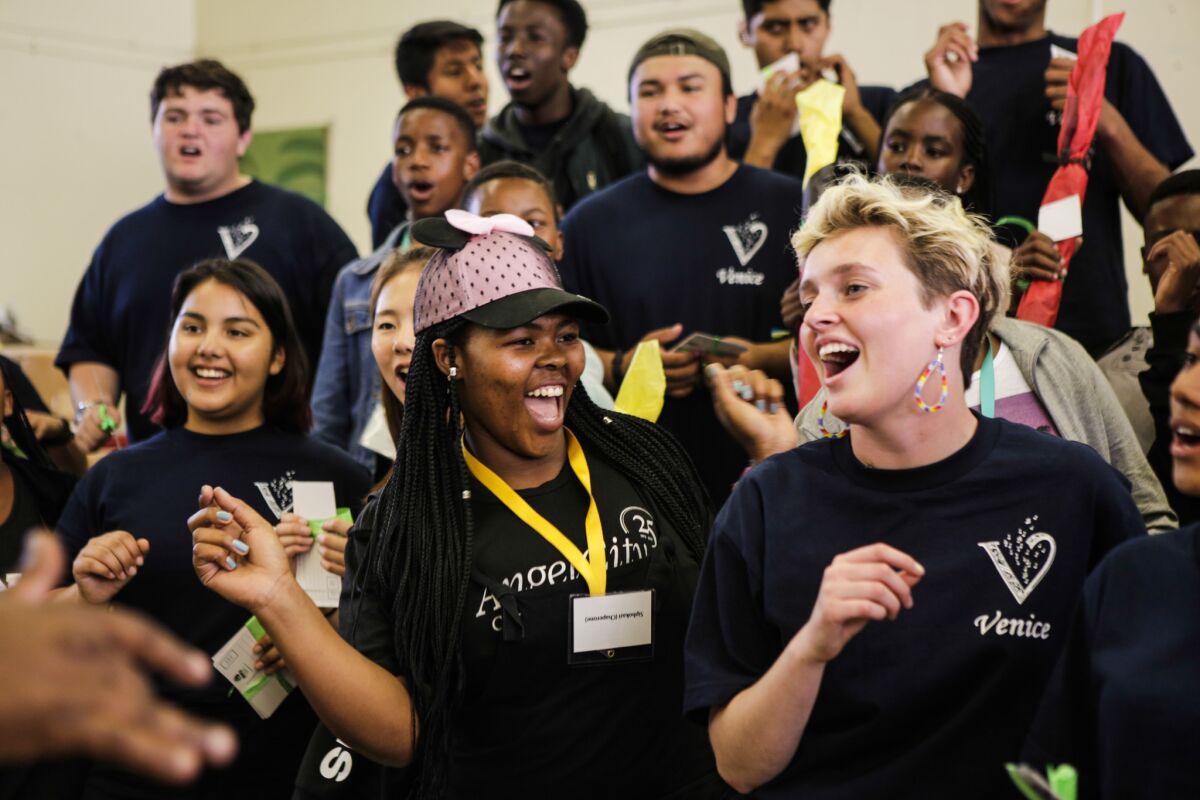 Although the Amy Foundation choir is about a tenth of the size of the Angel City Chorale, its members' rich voices filled the expanse of the church as they sang several songs in Xhosa and Zulu, two of South Africa's 11 official languages.
Singer Mivuyo "Happiness" Boya, 13, said she began rehearsing for the show in January. She and other singers, ranging from 12 to their early 20s, were selected to travel to the U.S. based on their attendance, behavior and talent.
Their vibrant energy and pure emotion, made even more dramatic by a young woman playing a hand drum, brought the audience to its feet for the first standing ovation of the night.
"There's an energy and an optimism that those kids bring with them when they are performing," Neisser said. "Life in those townships is not easy … but you do not get that bleakness when you are with those kids."
Neisser said she felt this same passion when she traveled with the Angel City Chorale to South Africa in 2011.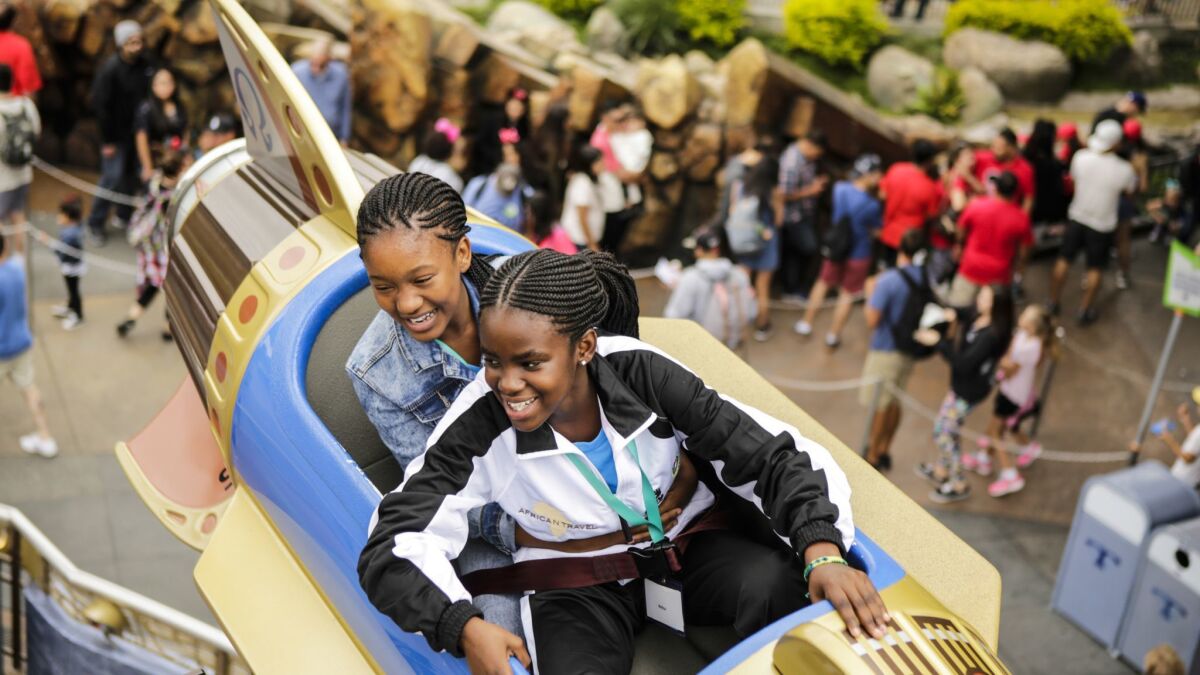 The L.A. choir had originally planned to sing at the birthday celebration for South African anti-apartheid and human rights activist Desmond Tutu, but when those plans fell through Neisser suggested a visit and performance for the Amy Foundation after reading about the organization in an L.A. Times article.
There they performed, met children from the foundation and visited Biehl's memorial.
Tears welled in choir member Stacy Young's eyes as she recalled the trip. "The experience will change their lives," she said. "Going there in 2011 changed my life."
Over the years, the Angel City Chorale kept in touch with the Amy Foundation. When choir members began brainstorming a 25th anniversary celebration, they strategized a plan to bring representatives from the Amy Foundation ito the U.S. and raised more than $50,000 in the past year.
In addition to preparing for the show, the Amy Foundation choir got a taste of L.A. life.
They splashed in the chilly waters of Santa Monica beach, tasted hot dogs at a Dodger's game, visited Disneyland and shared songs and laughter with a group of singers at Venice High School.
Wherever they went in the city, music followed.
At the beach, 14-year-old Bulelani Ntame led his peers in an impromptu jam session. He and others formed a circle, singing, playing instruments and dancing as beach-goers nearby paused to listen.
Emily Sanders, an Angel City Chorale singer, watched on with a smile. "I feel like Amy Biehl is watching over us today," she said.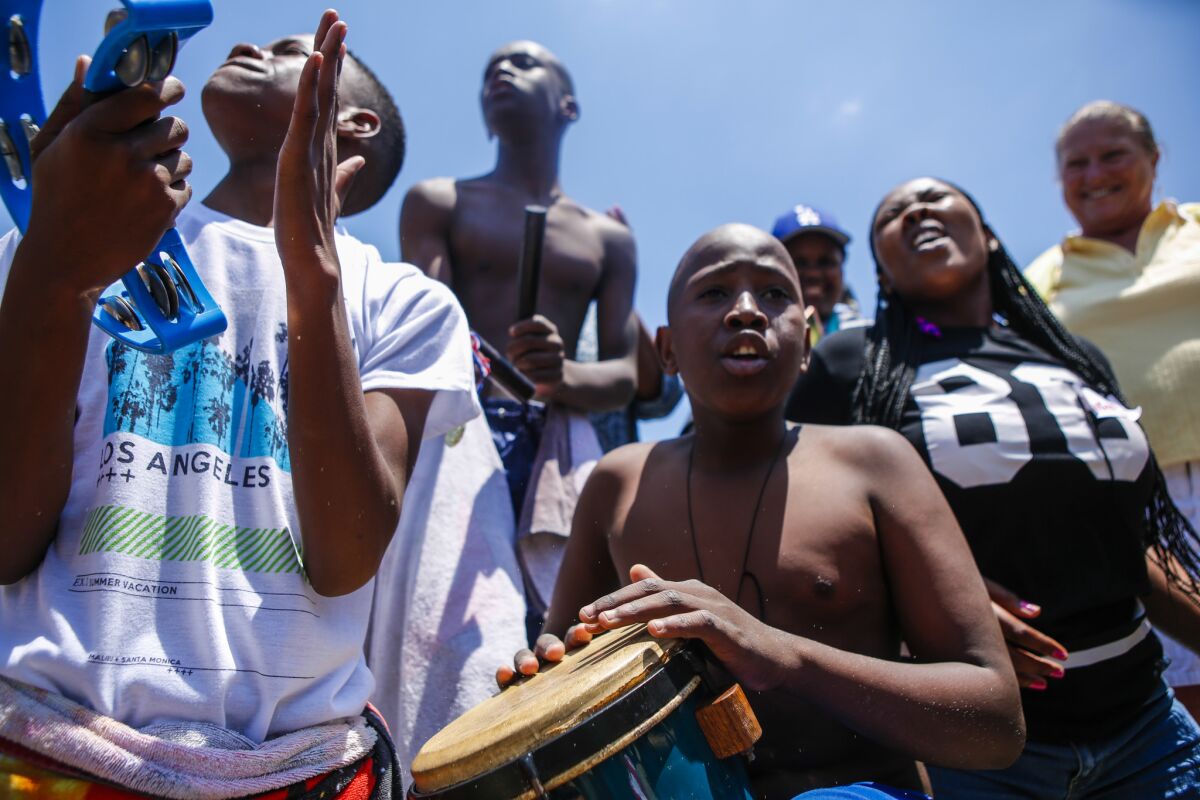 Over the course of the week, artistic director Fink noticed a transformation in the young singers.
"The first night of rehearsal … they were deadpan serious when they got on the stage," Fink said. "Last night at the dress rehearsal, they made our choir look — and we're kind of an exuberant group — they made us look tired."
"There's a sense of pride in themselves and joy," she added. "Each one of those kids is going to go home and say, 'I'm somebody.'"
She also observed a change in her choir, noting that the group had become more cohesive.
"It inspires us to be better."
For Chaplin, the experience called to mind a popular Xhosa saying — ukuhamba ukubona — travel opens a window to the world.
Get our L.A. Goes Out newsletter, with the week's best events, to help you explore and experience our city.
You may occasionally receive promotional content from the Los Angeles Times.