How is a play from 405 BC relevant in the Age of Trump? Director Anne Bogart wants to show you
Few directors are so closely associated with the Getty Villa's outdoor theater as New York-based Anne Bogart. Back for the third time — after "Trojan Women" in 2011 and "Persians" in 2014 — the Obie-winning theater and opera director is directing Euripides' monumental "Bacchae."
Opening Thursday, "Bacchae" weaves a tale of how Dionysus, Greek god of theater and wine, arrives at Thebes seeking retribution from those who fail to recognize him as a god. With a new translation by Aaron Poochigian, Bogart, 66, and her SITI Company of actors and designers present 90 minutes of drama, choral song and dance as Dionysus proceeds to destroy the lives of those who do not believe in him.
During a break from rehearsals on a gorgeous Pacific Palisades day, Bogart talked about the "Bacchae" and why a play that premiered in 405 BC is still relevant today.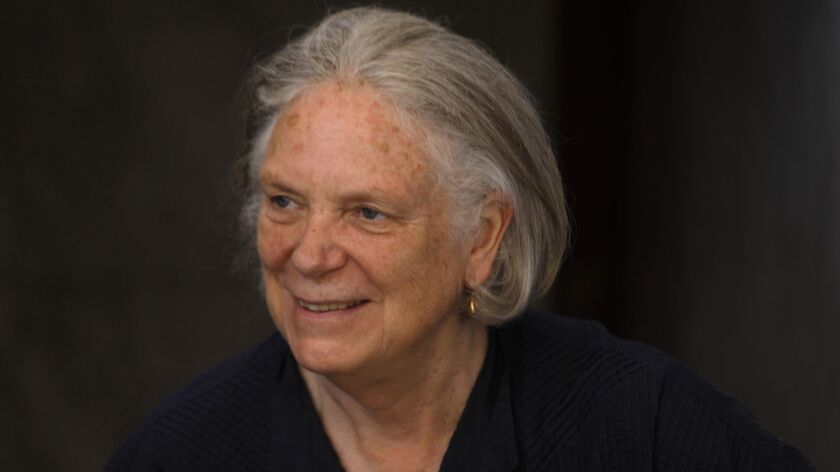 How would you characterize the staying power of the "Bacchae"?
My friend Brian Kulick, the director, has said that the two most challenging plays in all of Western literature are probably "Hamlet" and the "Bacchae," and I think he's right. They're both mysterious on so many levels; I could talk about a hundred things each of those plays is about. The truly great plays, the ones that last, usually spark many different associations and have many different themes in one story.
You have wanted to do this play for years. Why is it happening now?
I think every great play also asks a great question at its heart. With the Greek plays, and certainly including the "Bacchae," the essential question is about hubris. The "Bacchae" is about a king, Pentheus, who is so caught up in his own glory that he can't smell the coffee; it's all about power and ego. Then along comes Dionysus, who essentially says don't put up walls — does that sound familiar? — but do question what you know, because you know so little.
We are being spoken to directly by Euripides from the 5th century BC. He sent us a message in a bottle, and we are able to see an ancient artifact through the lens of our own time.
What are some of the contemporary challenges in presenting the "Bacchae" onstage?
It is like a Mt. Everest for actors and directors. I am not a mountain climber. I never climbed Mt. Everest. What you need for that, I imagine, is to respect it. You also have to approach the "Bacchae" with great respect. Each scene is in a different style, and you have to match and find a new form for each. You need to figure out how to make each part have strong integrity and yet keep the story clear. When you put it all together, it has to be like a bullet train.
What sort of preparation did you do?
I spent one and a half years studying the "Bacchae" with Helene Foley, a classicist at Columbia University, where I run the graduate theater directing program. We also did a four-week workshop with 60 theater artists in Saratoga Springs [in upstate New York] in June, so we have been immersed in it for a while now. But I would say 98% of the ideas I brought to the production, I had to throw out. The study gives you the right to walk into the rehearsal room, but the process of rehearsal is 100% intuitive.
Had you done a production of the "Bacchae" before this one?
Never. I never had the courage.
What gave you the courage now?
The Getty Villa believed in us and gave us permission. When we first got here, we were taken around on a tour of the Greek collection and shown everything that related to Dionysus. Later, if we were working on a scene and having trouble, one of the curators might come in and take us to a piece of art that addressed what we were trying to find out.
What might a theatergoer expect?
I think one of the reasons the Getty wants to do theater is to embody the art inside the museum. The first thing that happens in this production, for example, is that the audience sees the double doors of the Getty museum open, and out comes a procession. It's like the art comes alive and moves out of the museum into the theatrical arena.
♦ ♦ ♦ ♦ ♦ ♦ ♦ ♦ ♦ ♦
'Bacchae'
Where: Getty Villa, 17985 Pacific Coast Highway, Pacific Palisades
When: 8 p.m. Thursdays-Saturdays, through Sept. 29
Tickets: $36-$48
Information: (310) 440-7300, www.getty.edu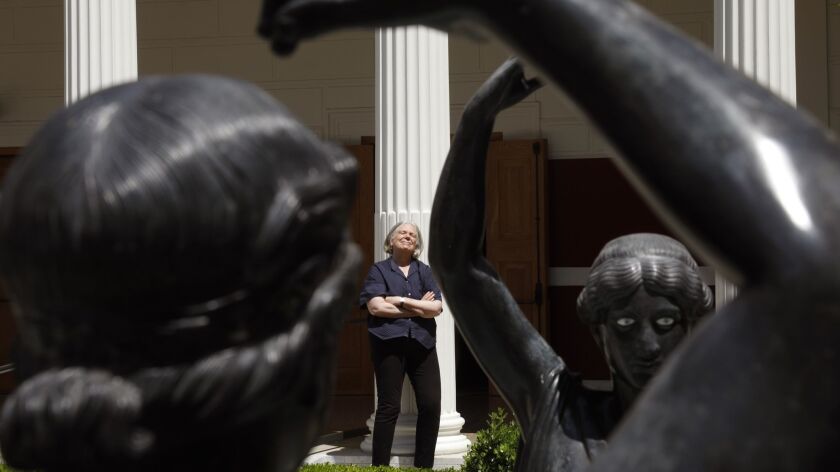 See all of our latest arts news and reviews at latimes.com/arts.
---
Inside the business of entertainment
The Wide Shot brings you news, analysis and insights on everything from streaming wars to production — and what it all means for the future.
You may occasionally receive promotional content from the Los Angeles Times.