Appreciation: Barbara Cook, a Broadway singer who revealed the great American songbook in a new light
Theater Critic
Barbara Cook's career can be divided into two parts: her Broadway ingénue years, in which she enchanted audiences with her glittering soprano, and her cabaret years, in which she basically reinvented the great American songbook by revealing the hard truths in lyrics and autumnal light in melodies that other singers had somehow overlooked.
Cook, who died at her home in New York on Tuesday at age 89, treated musical theater songwriters as playwrights. She was their virtuoso method actor, mining her life to endow their art with deeper meaning. Lyrics that had previously made little impression suddenly cut to the quick as she imbued even passing banalities (a dish of vanilla ice cream!) with an ardent poignancy. But she always served the work. Her respect was evident in her refusal to compete with the creators who allowed her to soar.
Few theatrical memories live as vividly for me as the first time I saw Barbara Cook at the Café Carlyle in New York in the mid-1990s. The posh intimacy of the venue, the purity of Cook's sound and her own delight in paying homage to the Broadway golden age from which she was spawned were intoxicating. But it was the way in which she illuminated states of feeling with a voice that had a Rembrandt-like genius for shading that touched my soul.
Longing, momentary satisfaction, disappointment and disillusionment followed in due course by a wary return to hope — Cook made the cycle of romantic experience seem not merely intelligible but intelligent. Through the songs of Rodgers & Hammerstein, Stephen Sondheim, Jerry Bock and Sheldon Harnick, she let her listeners know that their emotional stories were true, that they were not alone and that the survival of their inner lives was what was really worth singing about.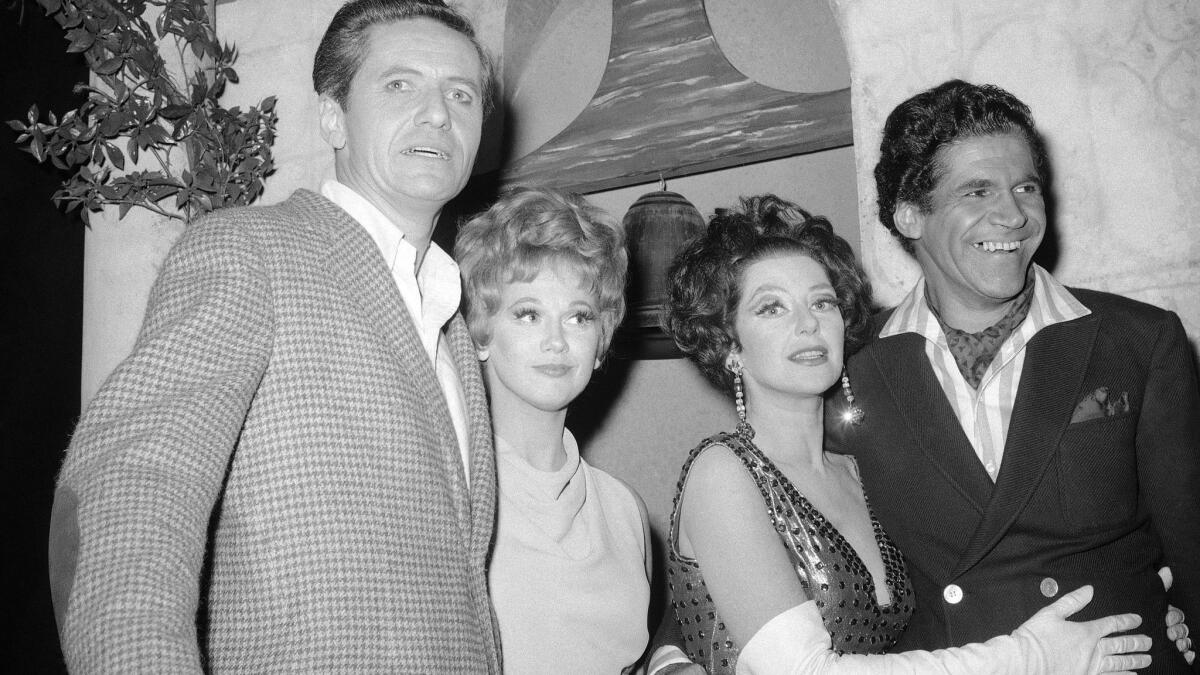 I wasn't yet born when she wowed Broadway audiences with her coloratura in "Glitter and Be Gay" from "Candide" or when she won the Tony for her performance as Marian the librarian in "The Music Man." And I was still in grade school when she made her 1975 comeback at New York's Carnegie Hall that launched a cult following that only grew larger as her style matured with each passing decade like a fine French wine.
Cook's unusual career arc hinted at a darker story, and eventually she told it in her 2016 memoir, "Then and Now." Marital problems, alcoholism and obesity interrupted her Broadway stardom in the 1960s. Insecurities formed during Cook's painful childhood in Atlanta weren't cured by success. The tragedies of the past (the death of her sister, the abandonment of her father, the undiagnosed mental illness of her mother and poverty) ambushed her after the end of her marriage to comedian David LeGrant.
An unemployed single mother, she was, in her own words, "a drunk — not a nice, ladylike drinker, but a drunk." Cook describes in unsparing detail the depression that left her paralyzed on the couch, surrounded by filth, empty liquor bottles and a mountain of unpaid bills.
Cook deepened our appreciation for the way songwriting, in the supplest of hands, can be a heightened form of being alive.
Her confidence deserted her, but her talent hung on. She was petrified about the gig at Carnegie Hall, which she had played before but not on her own. She wasn't completely alone, however. She had teamed up with Wally Harper, who became her new music director, arranger, accompanist and stalwart friend, and a magnificent second act was launched in which she reminded the world — and, most important, herself — what they had been missing.
She dazzled audiences with highlights from her Broadway repertoire and nailed the high C at the end of Bock and Harnick's "Ice Cream" from "She Loves Me." But the victory was about more than virtuosity. She discovered within herself a resiliency, and a gratitude for second chances began to suffuse her interpretations of songs.
Harnick, in the liner notes to Cook's album "All I Ask of You," enumerates her manifold gifts in a paragraph too long to include here. But he calls attention to her "superb musicianship" and "first-rate acting talent," points out her "enviable command of musical styles" and her ability to shift "easily from music of classical clarity" to songs that are "down and dirty." He praises her "unshakeable rhythmic sense, which enables her to dance freely around the beat, lending her phrasing a refreshing unpredictability," and marvels at this crystalline soprano's "swinging jazz beat."
Each time I saw Cook live — the countless occasions in New York, the memorable evenings at Walt Disney Concert Hall and, last time, at the Wallis Annenberg Center for the Performing Arts in 2015, when she was having some difficulty remembering lyrics — I would fall in love again with these qualities Harnick precisely describes.
I would add one more to the list. Cook embodied the spirit of the American musical theater. A Southern lilt could be detected in her delivery but her vibrancy and vivacity were rooted in Broadway. She didn't simply carry on a tradition — she taught us to revere it through her own inspired artistry.
Cook crossed paths with the great golden-age composers and lyricists, and she deepened our appreciation for the way songwriting, in the supplest of hands, can be a heightened form of being alive. Her renditions of Sondheim's "In Buddy's Eyes" and Rodgers & Hammerstein's "This Nearly Was Mine" are as complexly probing as any love poem. She could get an Andrew Lloyd Webber agnostic to convert on the spot with her handling of "All I Ask of You" from "The Phantom of the Opera."
To honor her is to honor the best of our Broadway musical heritage. The loss is incalculable, but so too is the tally of the riches she left us.
SIGN UP for the free Essential Arts & Culture newsletter »
Follow me @charlesmcnulty
MORE THEATER COVERAGE:
Sam Shepard, the cowboy playwright who rewrote the rules of the American stage
Pasadena Playhouse's 'Shout Sister Shout!': Why a rock trailblazer fails to ignite as theater
The 'Curious Incident' of a young detective set loose to find life's truths
Get our L.A. Goes Out newsletter, with the week's best events, to help you explore and experience our city.
You may occasionally receive promotional content from the Los Angeles Times.