Review: The 'Curious Incident' of a young detective set loose to find life's truths
The staging takes the audience inside the mind of a young, accidental detective portrayed by Adam Langdon. Fifteen-year-old Christopher's head is full of algorithms, drawings and graphs.
(Kirk McKoy / Los Angeles Times)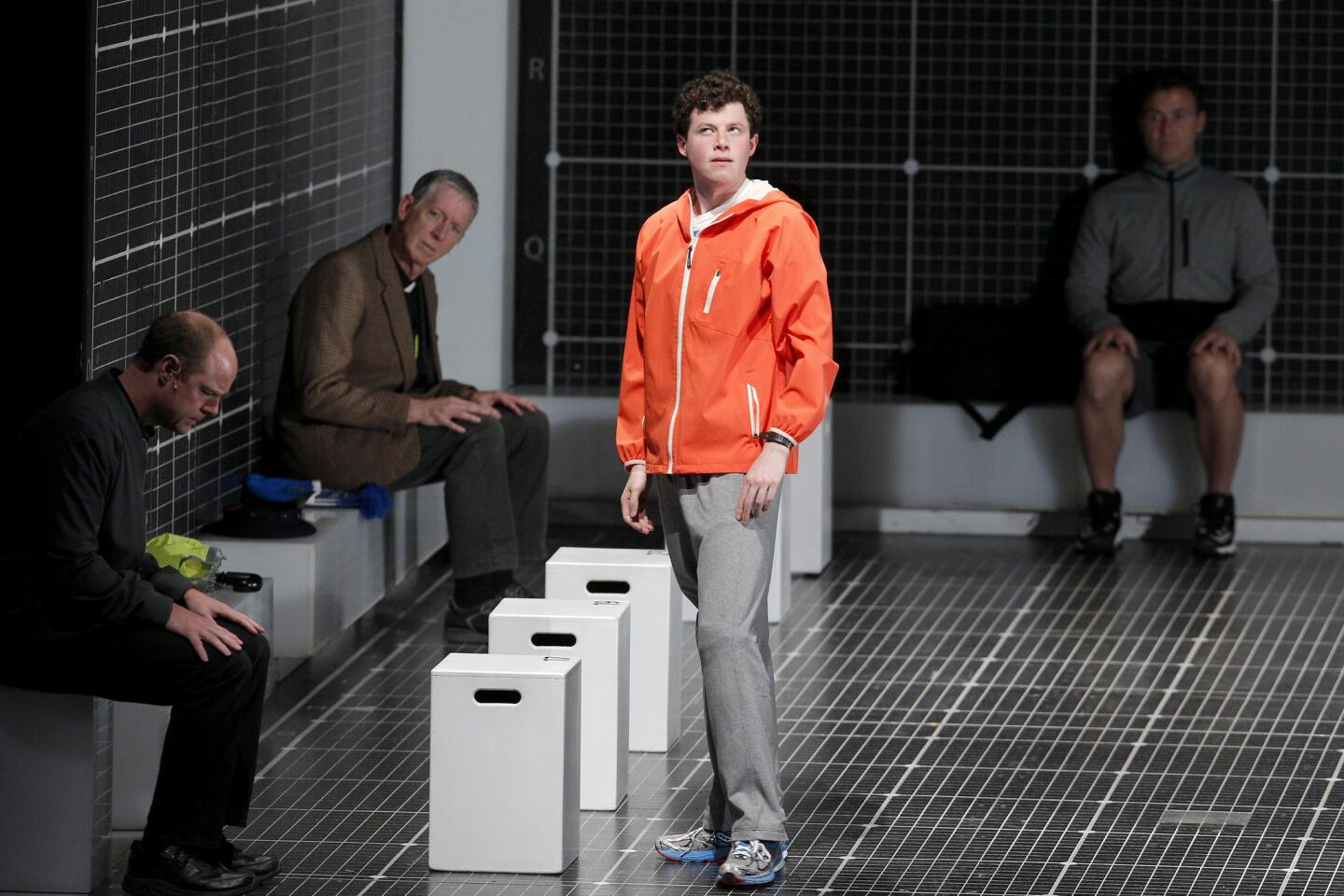 Adam Langdon, center, finds himself with a mystery on his hands when a neighbor's dog is killed. In his search for the culprit, he happens upon mundane but no less curious mysteries.
(Kirk McKoy / Los Angeles Times)
The inventive staging, directed by Marianne Elliott, makes magic with technologies high and low. Here, Adam Langdon, as Christopher, is supported by other actors so that he can walk along a wall as his young character navigates an unfamiliar landscape.
(Kirk McKoy / Los Angeles Times)
A family meltdown is almost more than young Christopher can bear, enacted by, from left, Adam Langdon, John Hemphill, Felicity Jones Latta, Brian Robert Burns and Gene Gillette.
(Kirk McKoy / Los Angeles Times)
Christopher (Adam Langdon) makes a trip on London's Underground.
(Kirk McKoy / Los Angeles Times)
Adam Langdon's Christopher, center, tries to settle into a new family situation with his mother, portrayed by Felicity Jones Latta and her boyfriend, played by John Hemphill.
(Kirk McKoy / Los Angeles Times)
Adam Langdon's Christopher, right, encounters a policeman, played by Geoffrey Wade, who tries to help.
(Kirk McKoy / Los Angeles Times)
Theater Critic
"The Curious Incident of the Dog in the Night-Time," Simon Stephens' Tony-winning adaptation of Mark Haddon's bestselling novel, presents the world of Christopher Boone as this young accidental detective uniquely experiences it.
Christopher's condition isn't named, but it has many of the hallmarks of Asperger's syndrome. Christopher cannot tolerate being touched. Animals are his friends, but human emotions perplex him. He's a whiz with numbers and can remember every incidental detail in a landscape, but he needs to take a remedial class on life activities.
As played by Adam Langdon in the National Theatre production that is likely to find an appreciative audience at the Ahmanson Theatre, where the play opened on Thursday, Christopher seems like a quirky 15-year-old still growing into his lanky frame and still wrestling to understand an adult world that is more duplicitous than it appears. (Benjamin Wheelwright plays the demanding role at weekend matinees.)
There's a Hamlet-like quality to Christopher, who is similarly burdened with the responsibility of administering justice to a murderer, albeit of a pet. And like Shakespeare's melancholy prince, he becomes increasingly overwhelmed by the discoveries he makes of the people closest to him.
In hunting down the culprit with his algorithmic logic, Christopher uncovers many painful truths about grownup reality. But he also finds within himself resources he didn't know he had. His resiliency in the face of disappointment and disillusionment is no doubt part of the widespread appeal of a drama that has rivaled in popularity some successful recent musicals.
I've seen Marianne Elliott's production in the West End and on Broadway, where she won the Tony for her direction (her second after "War Horse"), and what continues to impress me is the way she dynamically theatricalizes Christopher's relationship to the world.
The box-like set by Bunny Christie is enlivened with video projections (a welter of computer screen graphics designed by Finn Ross); blips, beeps and poetic clangs (the sound magic of Ian Dickinson for Autograph); and lighting effects that can become blinding in moments of crisis (the artistry of Paule Constable). The scene in which Christopher tries to rescue his pet rat, which has escaped its carrier and jumped onto dangerous train tracks, combines these design elements into a dreamscape of multimedia suspense.
Christopher begins writing a book about his detective work that his teacher Siobhan (Maria Elena Ramirez) convinces him to turn into a play. His father, Ed (Gene Gillette), is vehemently opposed to this investigation for reasons that will take time to sort out, but Christopher isn't easily deterred from his mission.
Despite all the external and internal obstacles, the case of the slain dog and the theater project move forward. Elliott's production loosely plays with the idea that the drama we are watching is the one that is being presented at Christopher's school.
That explains some of the mugging and goofiness, but rather than fixate on instances of excessive cutesiness, I found myself admiring the physical fluidity of the performers, most of whom take on numerous roles. The choreography by Scott Graham and Steven Hoggett for Frantic Assembly isn't as sharp as it was in London or New York, but it's marvelously expressive of Christopher's mode of perception.
This is a character who navigates his path with an obsessive orderliness, moving according to the rules of some chessboard game of his own invention. The wrong color or, even worse, an unasked-for hug can throw him wildly off-course. Elliott's staging vividly externalizes both the elegance and chaos of a mind that excels in mathematics but can short-circuit during friendly small talk with a benevolent old neighbor.
The biggest difference between Langdon's Christopher and the award-winning predecessors I've seen in the role (Alex Sharp on Broadway and Luke Treadaway in London) has to do with the emotional color that seeps into his line readings. His genial performance lacks the austerity that made "Curious Incident" instructively challenging for theatergoers who expect characters to mirror their own sentimental processing of the play's experience.
Langdon thankfully doesn't overdo it, but Christopher's enthusiasms and disappointments have a more familiar ring to them. Was this a conscious decision by the tour to soften the characterization or just the result of an actor's distinctive interpretive shading? In any case, the portrayal is still most powerful when it expresses sadness or tenderness more objectively, a body collapsed on the floor after an explosion of distress or an outstretched palm giving the green light for hand-to-hand contact.
Christopher's father may be the central figure in his life, but it is through the women onstage that we come to understand him best. As Siobhan, Ramirez brings a devoted attention to her interactions with a gifted pupil who deduces on his own that even the most committed teacher cannot be a mother. Felicity Jones Latta, in the role of Christopher's mom, helps us to see more humanely how love and fallibility can coexist.
"Curious Incident" refuses to label Christopher because labels are unnecessarily limiting. The ending movingly balances the open-endedness of his story with some unspoken realism about the challenges he will continue to face. The success of the play can be measured by how invested we have become in Christopher's future.
♦ ♦ ♦ ♦ ♦ ♦ ♦ ♦ ♦ ♦
'The Curious Incident of the Dog in the Night-Time'
Where: Ahmanson Theatre, 135 N. Grand Ave., L.A.
When: 8 p.m. Tuesdays-Fridays, 2 and 8 p.m. Saturdays, 1 and 6:30 p.m. Sundays; ends Sept. 10 (call for exceptions)
Tickets: $25-$130 (subject to change)
Information: (213) 972-4400 or www.centertheatregroup.org
Running time: 2 hour, 30 minutes (including intermission)
SIGN UP for the free Essential Arts & Culture newsletter »
Follow me @charlesmcnulty
Get our L.A. Goes Out newsletter, with the week's best events, to help you explore and experience our city.
You may occasionally receive promotional content from the Los Angeles Times.