Review: L.A. Phil's newly promoted Bortolameolli casts a flamenco spell at the Bowl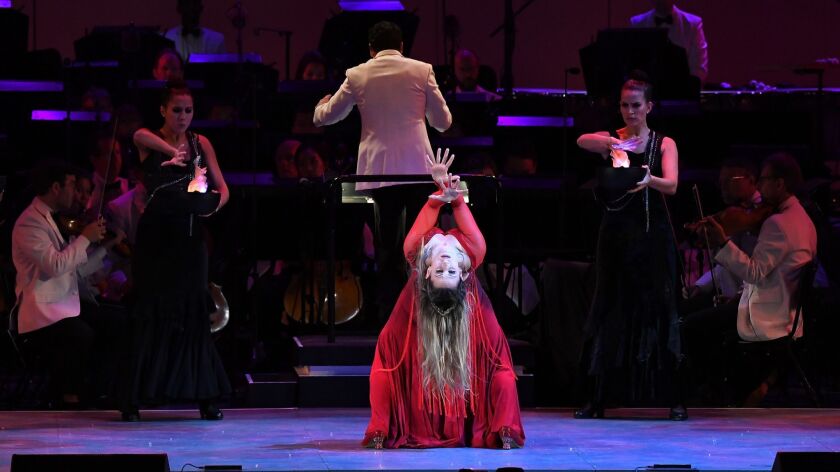 Music Critic
If there is a single takeaway from the Los Angeles Philharmonic's centennial season, technically completed last month but now bleeding into summer, it is that a symphony orchestra can be and do pretty much any meaningful thing it damn well pleases. Just like gender, genre is so 20th century.
That means intimate installation art for an audience of one or an experimental crowd-sourced piece for everyone in the audience to sing. It means opera and theater and education and parades and community outreach. It means new music by masters and by teens. It means opera and theater, salad making and throwing watermelons off a balcony, political and social engagement.
Right now, dance is the ticket, and genre-breaking dance in its own right. Thursday night at the Hollywood Bowl, the L.A. Phil revived the Siudy Flamenco Dance Theater's version of "El Amor Brujo," the main offering of a program called "Falla & Flamenco" conducted by the orchestra's newly named associate conductor Paolo Bortolameolli. This weekend comes the L.A. Phil's collaboration with the Royal Ballet and Company Wayne McGregor in three works by Thomas Adès that had been commissioned by the L.A. Phil over the past decade, including the choreographed premiere of "Inferno," one of the centennial hits.
Tuesday night, when Gustavo Dudamel returns for a two-week stint at the Bowl, another centennial sensation, Benjamin Millepied's brilliant gender-fluid, video-enhanced on-site choreography of excerpts from Prokofiev's "Romeo and Juliet," will be expanded and adapted to the amphitheater.
As it turns out, "El Amor Brujo" ("Love Bewitched") has its own L.A. Phil and Hollywood Bowl legacy. The final version of Manuel de Falla's ballet score entered the orchestra's repertory in 1930, seven years after its premiere in Paris and only 11 years after the orchestra's founding. In 1946, the Bowl celebrated its Silver Jubilee with Leopold Stokowski conducting the ballet score with the Hollywood Bowl Symphony Orchestra. "It was a cool night in Hollywood Bowl," Isabel Morse Jones wrote in these pages, "until Stokowski's 'El Amor Brujo' fired the blood." The conductor then performed 10 (!) encores, and two days later brought the orchestra back on the stage to make the first recording of the full score. It may still be the most colorful and alluring.
The recording, however, also served to remove the ballet all the more from its Andalusian Roma roots. The Spanish composer's earlier 1915 chamber orchestra version had been commissioned by a flamenco dancer and included spoken dialogue as well as songs for a cantaora voice, or gypsy singer. But the score became popular only after the Spanish composer turned it into a luminously orchestrated conventional ballet to suit the French tastes.
Still, flamenco has never given up trying to reclaim the ballet. Siudy Garrido's version was both a little uncomfortable and revelatory when Dudamel presented it at Walt Disney Concert Hall four years ago. The Venezuelan flamenco dancer, choreographer and costume designer creates a strange hybrid, adding an introduction and interlude with music by guitarist José Luis de la Paz and percussionist Diego Alvarez that introduce the lovers — Garrido's Candelas and Manuel Gutierrez's Carmelo — in flamboyant fast-footwork flamenco style.
Candelas is spooked by the spirit of her dead husband and must break the spell to accept Carmelo. The extensive new parts are Garrido's hair-raising dance over the coffin at her husband's funeral and, later, Gutierrez's spectacular grandstanding solo. A stridently effective flamenco singer, Argentina López, serves as Candelas' Soul. The Ghost, elegantly danced by George Akram, retains the roving eye he had in life and is distracted by Lucia (Anali Alcantara) so the lovers can have their seductively erotic interlude.
All of this worked better in the Bowl with its large stage, superb amplification and special atmosphere than it had in Disney, where musical, acoustical, theatrical and dance styles were more in conflict. Gorgeous lighting helped. There was room for the expert corps de ballet, although much of their work was lost on the large video screens.
On the other hand, close-ups of the dancers on video created heavy-handed silent-film era melodrama. Plus, the benefits of fine amplification meant a greater clashing of musical realms, orchestral and flamenco, reminding us that Falla's intention was not to simulate flamenco but make something new.
For that, Bortolameolli came to the rescue in an enthusiastic, multihued performance, vibrant as Stokowski. Yes, the "Ritual Fire Dance" once more fired the blood, but it was a night best suited to the L.A. Phil's lyrical sweetness, which added a glow to the night.
Bortolameolli opened the program with excerpts from Falla's most famous ballet, "The Three-Cornered Hat," played with delight in mind, as was the curtain-raiser — Ravel's "Alborada del Gracioso."
Having proved himself indispensable last season as the orchestra's then-assistant conductor leading music new and old — and as the conductor for the triumphant Meredith Monk "Atlas" production — Bortolameolli's promotion is yet another bequest of an L.A. Phil centennial that shows no intention of ending any time soon.
---
Your essential guide to the arts in L.A.
Get Carolina A. Miranda's weekly newsletter for what's happening, plus openings, critics' picks and more.
You may occasionally receive promotional content from the Los Angeles Times.