Review: Bringuier does Shakespeare; a young cellist impresses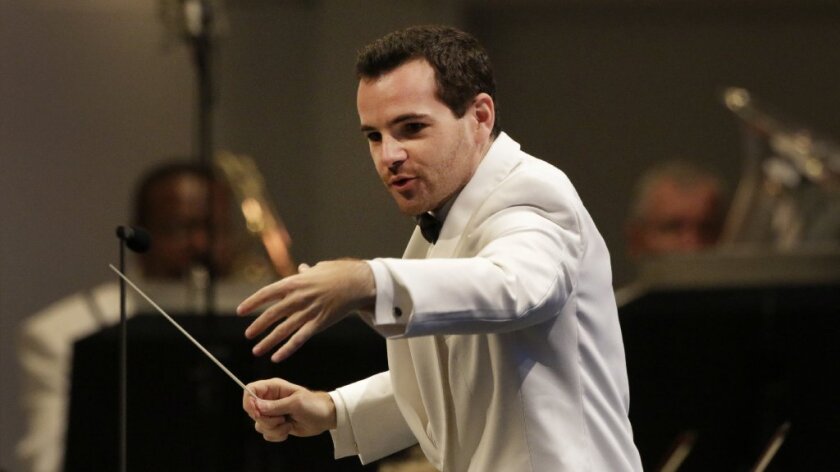 In his second appearance with the Los Angeles Philharmonic at the Hollywood Bowl this week, Lionel Bringuier showed up Thursday night with a concept weighted on both ends of the evening by Prokofiev's and Tchaikovsky's impressions of Shakespeare's "Romeo and Juliet."
Bringuier could have made it an all-R&J evening by programming, say, excerpts from Berlioz's "Romeo and Juliet" or even Bernstein's "West Side Story" dances, but that wouldn't have left room for a guest soloist. And this guest soloist was worth making room for.
His name is Narek Hakhnazaryan, a 26-year-old cellist from Armenia who has all the equipment it takes to be a star. Hakhnazaryan may not be the easiest name to pronounce, but neither was that of his mentor, Mstislav Rostropovich, and that didn't stop him.
ESSENTIAL ARTS & CULTURE NEWSLETTER >> Get great stories delivered to your inbox
Just this April in Glendale, Hakhnazaryan made a formidable showing with the Los Angeles Chamber Orchestra in Saint-Saens's Concerto No. 1 – and if anything he was even more impressive at the Bowl in Tchaikovsky's "Variations on a Rococo Theme."
Over the loudspeakers came a big, fluid, elegant tone quality, always in tune, and the balance between the cello and orchestra was just right. He brought dramatic suspense to the line, tugging on it but never stretching it too far. And, written all over his face and projected on the Bowl's giant video monitors, he conveyed humor and the sheer joy of being in command of his instrument.
As in Glendale, Hakhnazaryan's Armenian fans turned up in droves to cheer – and as he did on that occasion, the cellist dedicated a solo encore to this year's 100th anniversary of the 1915 Armenian genocide.
This one was Italian composer-cellist Giovanni Sollima's "Lamentatio," in which droning passages accompanied by Hakhnazaryan's vocalise gave way to furious perpetual-motion whirlwinds, phenomenally and passionately played.
Prokofiev arranged three suites from his evening-length "Romeo and Juliet" ballet, but these days conductors often prefer to assemble their own versions of varying lengths.
Bringuier's was a 34-minute survey that began with the jarring, dissonant blasts at the top of "Montagues and Capulets" and concluded with the quiet, haunting strains of Juliet's death at the tail end of the ballet. Bringuier did well here, maintaining a good, insistent rhythm in "Masks," whipping up "Death of Tybalt" with plenty of drive, keeping a firm, unsentimental hand on the big, singing lines elsewhere.
Likewise in Tchaikovsky's "Romeo," Bringuier brought fire and a lyrical bent that moved along without bathos. His command of this orchestra looks even more assured and expressive now than ever, and as the evening unfolded, the Phil's playing grew smoother and more polished without losing any heat.
---
Your essential guide to the arts in L.A.
Get Carolina A. Miranda's weekly newsletter for what's happening, plus openings, critics' picks and more.
You may occasionally receive promotional content from the Los Angeles Times.