Review: Charlemagne Palestine: Teddy bears to the rescue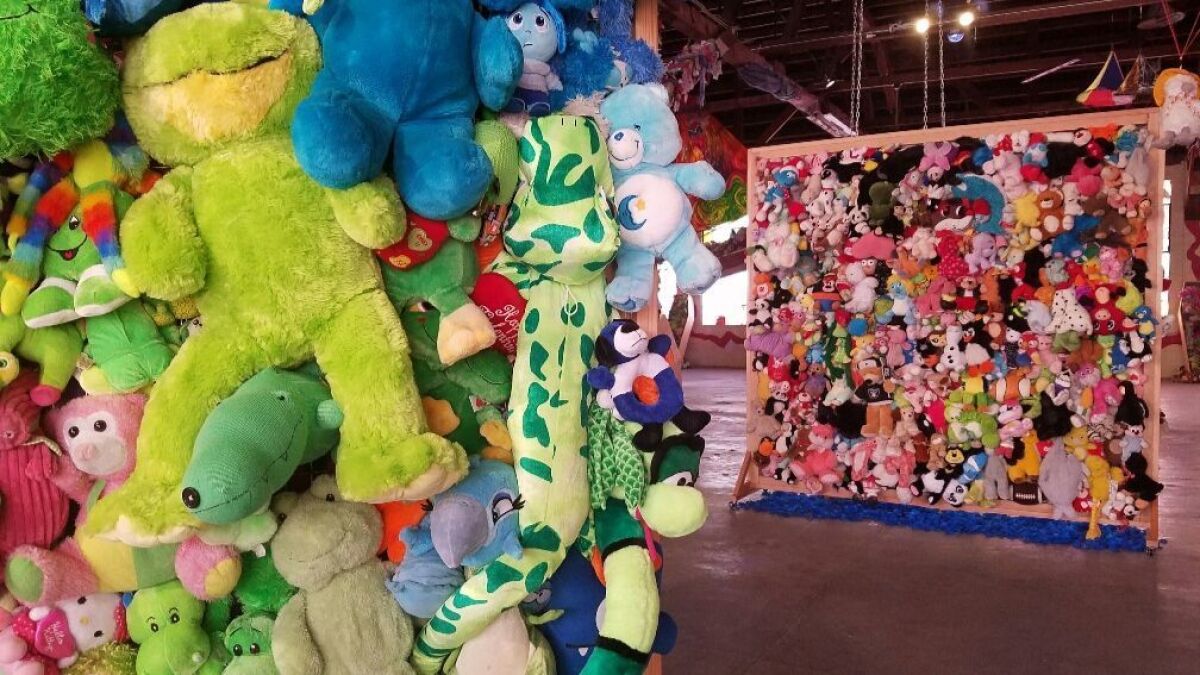 Art Critic
A marvelously abundant, even overstuffed installation by artist and composer Charlemagne Palestine fills an industrial warehouse space with tons of plush comfort, kaleidoscopic color and rhythmic waves of noise.
The Brooklyn-born, Brussels-based artist, 71, has compared the copiousness of his work to an "everything" bagel. No purist, he; Palestine has seen to it that about 18,000 stuffed animals have taken up temporary residence in the gallery at 356 S. Mission Road.
Mickey, Minnie, SpongeBob SquarePants, Hello Kitty, plus a much bigger menagerie of anonymous animals (elephants, crocodiles, toucans, lambs, owls, you-name-it) and, most of all, teddy bears cavort among brightly colored fabric strips, table cloths and yards of inexpensive textiles. The room's big window panes are smeared in bright colors, like finger-painted stained glass for a secular Chartres Cathedral. For good measure, spotlighted and spinning mirror-balls send dots of light gaily skittering around the room.
The plush toys are attached to both sides of nine freestanding walls on wheels. Petals torn from artificial flowers are scattered beneath them on the floor — a traditional wedding symbol of fertility made joyfully secular. Here, creation is artistic.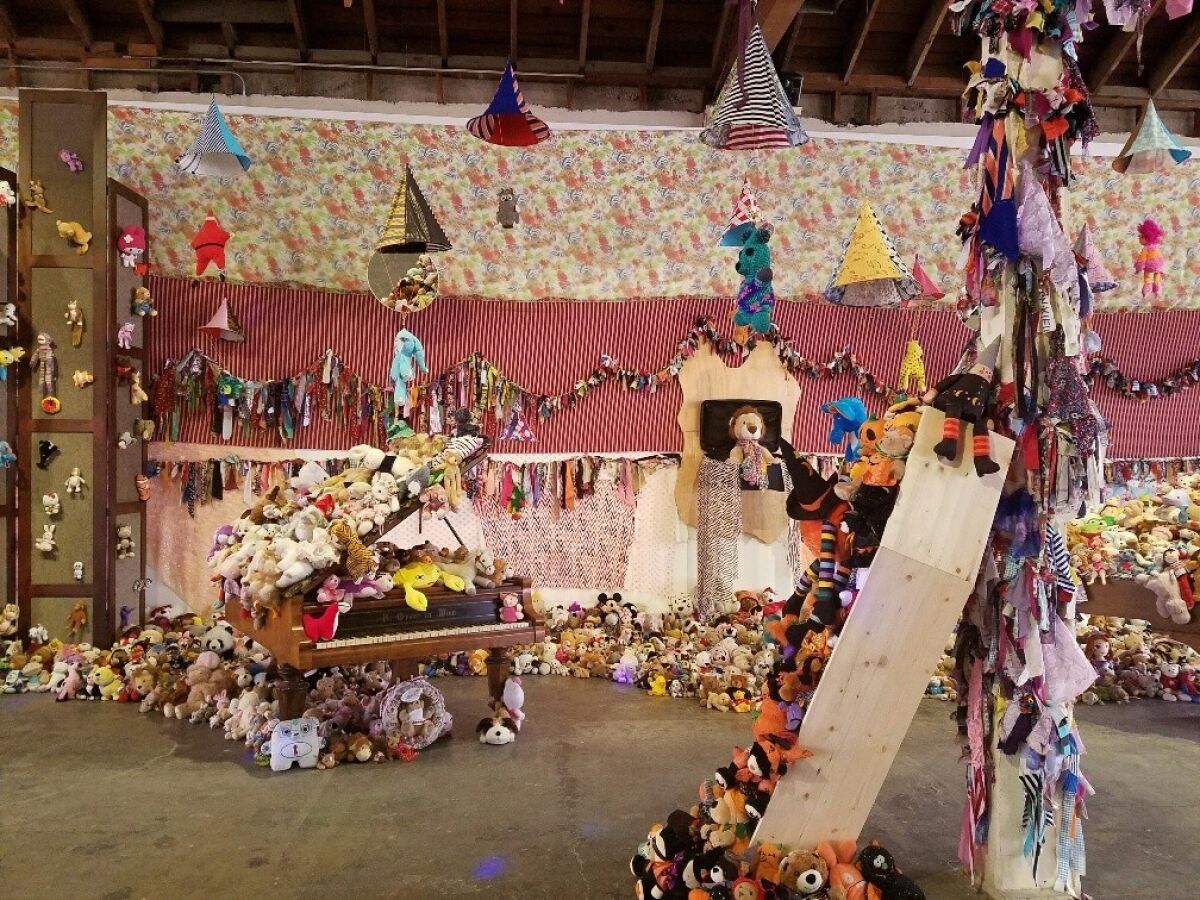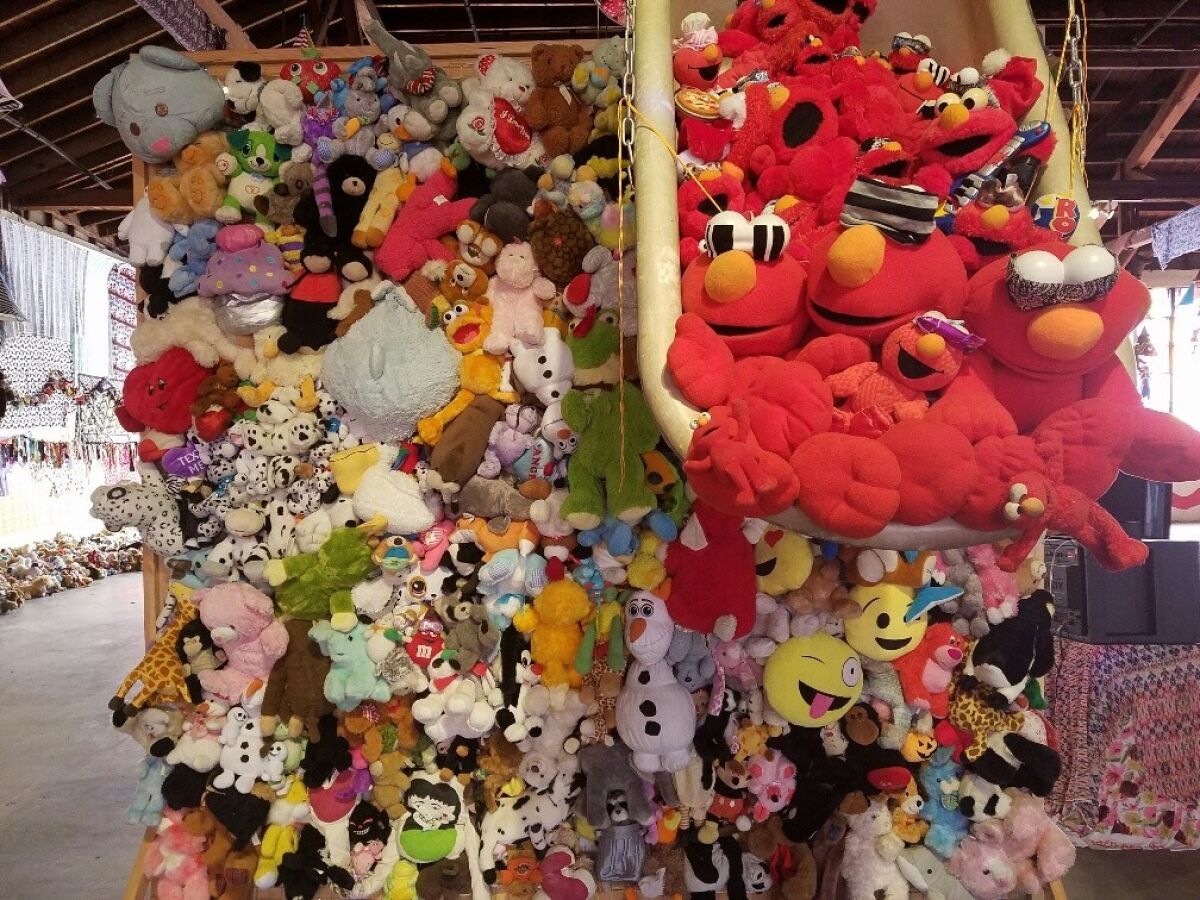 Other plush toys are loaded inside seven coffins made of plain pine and ranging in size from small child to extra-large adult; piled in great mounds within the cabinets of three baby grand pianos; heaped inside two topsy-turvy rowboats and one small sailboat suspended from the ceiling (the "Nina," "Pinta" and "Santa Maria"); jammed within hanging bathtubs; strewn along the floor the length of one wide wall; covering the surface of the opposite wall and — here, there and everywhere — hanging from vivaciously colorful fabric parachutes that dangle in the air.
The parachute brigade is like a rescue team arriving to save the day, a Berlin airlift for the beleaguered soul.
The emergency is not topical. Palestine has compared school to a concentration camp and his mother to Margaret Thatcher, the cold-blooded Iron Lady, which gives at least some indication as to why liberation is needed. Soft kiddie toys are cuddly, all-purpose talismans of succor and solace.
In the center of the room, a ceremonial semi-circle has been set up with a makeshift ring of tatty television monitors playing a selection of Palestine's video performances from the past 40 years. In one, the artist runs around a small, plain room, banging into walls as if trapped and unable to break free, yet confirming the protective shelter of the place.
In another, the camera seems adrift at sea. In a third, he swings a lantern on an electrical chord around his head, like a cowboy-shaman with a lariat of light.
Through it all, a soundtrack of rhythmic chanting swells and falls. Sound is integral to Palestine's installation, whose title incorporates letters repeated like resonant sonic vibrations. Buried within "Ccornuuoorphanossccopiaee Aanorphansshhornoffplentyyy," as the installation is titled, are an orphaned cornucopia and horn of plenty. The gallery, stuffed, becomes its own environmentally scaled stuffed toy.
Palestine's cascades of emotionally loaded plush animals and exuberant explosions of bright commercial gewgaws for children preceded related work by accomplished artists as diverse as Larry Mantello in the 1990s and Mike Kelley in the 1980s. (Palestine taught at CalArts, where Kelley went to school, in the early 1970s, and the current exhibition is sponsored by the Mike Kelley Foundation for the Arts.) The installation is all really just too much — which, in these cruel and emotionally crushing days, means it's almost just enough.
356 S. Mission Road, L.A. Through April 15; closed Mondays and Tuesdays. (323) 609-3162, www.356mission.com
christopher.knight@latimes.com
Twitter: @KnightLAT
ALSO
A rare Jim DeFrance retrospective
Hammer Museum receives $50 million in gifts for expansion
Frieze to launch a Los Angeles art fair at Paramount Studios in 2019
Takako Yamaguchi's portraits won't look you in the eye
Judy Fiskin's funny, thought-provoking confessions of an iPhone addict
---
Get our daily Entertainment newsletter
Get the day's top stories on Hollywood, film, television, music, arts, culture and more.
You may occasionally receive promotional content from the Los Angeles Times.