Hammer Museum receives $50 million in gifts for expansion
In yet another major infusion of cash for Los Angeles' art museums, the Hammer announced on Thursday the largest gift in its history: $30 million from L.A. philanthropists Lynda and Stewart Resnick to help pay for an ambitious renovation and expansion.
The museum will still be called the Hammer, but its building will be renamed the Lynda and Stewart Resnick Cultural Center. The project is scheduled to be completed in two years.
The Hammer also announced that board chairwoman Marcy Carsey has donated $20 million, a gift made about a year ago but not made public until now.
Together, those gifts will anchor a $180 million capital campaign, also announced by the Hammer on Thursday. About $80 million of that money is earmarked for the building transformation, which will expand gallery space by about 60%, and the rest of the funds will go toward the museum's exhibitions, programming and endowment.
Beyond the Resnick and Carsey gifts, the museum said it raised $82 million last year, bringing the campaign to $132 million.
"We're so excited. It's unfolded really quickly, so much faster than I thought it would," museum Director Ann Philbin said. "I just feel incredibly gratified how everybody has stepped up and so generously."
The gifts to the Hammer are a sign of "philanthropic health" in Los Angeles, Philbin said.
"A lot of my donors are just people who are really just great citizens of our city," she said. "They know that any great city must have thriving institutions — and they want to make sure that happens.
"It's amazing and it's real and it has longevity and it has legs," she added of arts philanthropy in L.A. "It's not a flash as people feared it might be. It's clearly something sustainable — and really exciting."
Last year David Geffen gave $150 million to the Los Angeles County Museum of Art toward its $650 million campaign for a new Peter Zumthor-designed building — the largest gift on record for the construction of a U.S. museum.
That followed Elaine Wynn's pledge of $50 million to LACMA's fundraising campaign in 2016; that same year, the museum was promised gifts of $25 million each from billionaire A. Jerrold Perenchio and Eric and Susan Smidt, founders of Harbor Freight Tools.
The Museum of Contemporary Art board raised about $100 million in 2013 for MOCA's then-waning endowment. In 2015, artists donated works for an auction that brought in $22.5 million for the endowment. Last year, MOCA unveiled its Getty Plaza at the Geffen Contemporary satellite location, courtesy of $5 million from Aileen Getty.
The Resnicks — founders of the Wonderful Co., whose brands include Pom pomegranate juice, Fiji Water and Halos mandarins — gave $45 million for naming rights to LACMA's Resnick Pavilion, which opened in 2010. The couple also gave an estimated $10 million worth of art.
The gift to the Hammer, Lynda Resnick said in a phone interview, comes at a time when the economy may be good but "we can depend less and less on the government and what they can do. It's up to the private sector to give back."
The Hammer, Resnick said, is "a unique jewel in the city."
"They do brilliant shows, they're fresh and different and unique. They make you think," she said. "And the fact that it's so accessible on foot — it's going to be next to the Metro and it's part of the UCLA campus. People will have the ability to go and see great art and be moved. And when you see great art and are moved, that changes your DNA, it just does."
Television producer Carsey said she gave the Hammer her largest donation to any L.A. organization to date because "if you really believe in a place, you gotta start the ball rolling and urge other people to do the same."
Carsey called L.A. "a boom town" for arts and said that within it, the Hammer was special.
"I just love the mission statement — the promise of art and ideas to illuminate our lives and build a just world," she said. "That just got me."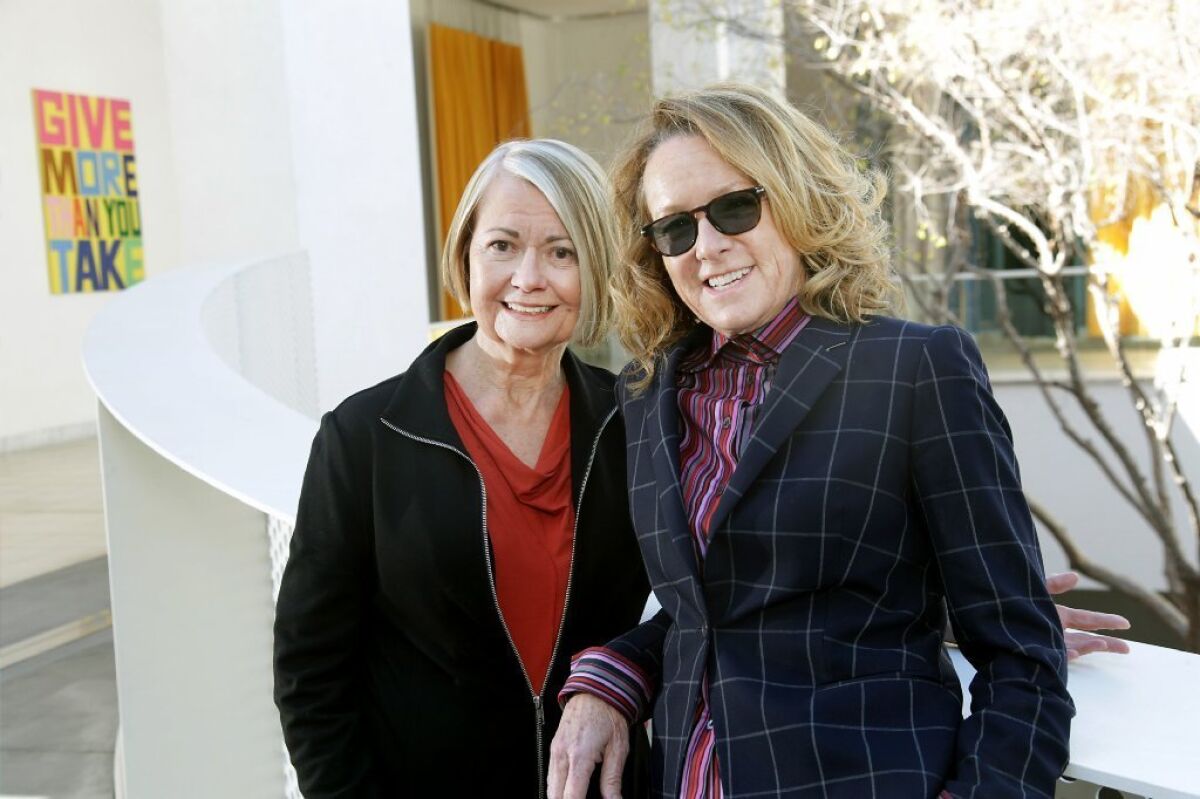 A relatively recent museum building spree in L.A. has infused the city with cultural gifts, largely from individuals. The Lucas Museum of Narrative Art, which last year chose Exposition Park as its home over San Francisco and Chicago, comes with a commitment of more than a billion dollars from filmmaker George Lucas. It plans to break ground this spring and complete the building in 2021.
Last year Cheryl and Haim Saban gave the Academy Museum $50 million, bringing its $388-million capital campaign to $300 million. The film museum is slated to open in 2019.
Guess co-founder Maurice Marciano, co-chair of the MOCA board, founded the Marciano Art Foundation in 2017 with his brother Paul Marciano. They paid $8 million for the former Scottish Rite Masonic Temple near Koreatown and renovated it into a contemporary art exhibition space.
Eli Broad erected his $140 million Broad museum in downtown L.A. in 2015 and helped to transform Grand Avenue, already home to MOCA and the Music Center, into a cultural corridor.
Does the abundance of ambitious plans, including a LACMA building campaign that still stands $200 million short of its goal, threaten to spread philanthropic dollars too thin? Broad says no.
"Los Angeles is home to a vibrant community of brilliant artists and arts institutions that are supported by generous philanthropists like David Geffen, the Annenberg family, the Resnicks and many others," Broad, who through his foundations has given $1.1 billion to L.A. arts organizations, said via email.
Smaller museums to debut in the last year or so include historian Justinian Jampol's Wende Museum of the Cold War in Culver City, with lead funding from the Arcadia Fund established by Peter Baldwin and Lisbet Rausing; downtown developer Tom Gilmore's Main Museum; and the Institute of Contemporary Art Los Angeles, the former Santa Monica Museum of Art, which relocated to the downtown Arts District with lead gifts from the Good Works Foundation and an anonymous L.A. philanthropist.
The Hammer opened its renovated third-floor galleries last year. It will remain open throughout further renovation, steered by architect Michael Maltzan. Plans include a new entrance along Wilshire Boulevard facing a Metro Purple Line station expected to open as soon as 2024, plus a gallery in the old City National Bank space that Philbin described as "a very large, very tall-ceilinged, very dramatic space on the ground floor." Especially significant, Philbin said, will be the new permanent collection galleries, including a works-on-paper gallery and a study room for the museum's Grunwald Center Collection.
The renovations will add 40,000 square feet for exhibitions and programming. In the end, the museum will have a total of 26,600 square feet of gallery space.
About 20,000 square feet of "enhanced public space," the museum said, will include a new restaurant, with a liquor license, that will be open for dinner, and a new Lindbrook Terrace for education, installations and events. A newly imagined courtyard performance space will open this June along with a gallery for new media art. Plans also call for a new sculpture terrace.
These public gathering spaces are key to the Hammer's role in cultivating community, Philbin said. With a frequently depressing news cycle, people crave cultural stimulation and human connection, she said. That may be why attendance at the museum's free public events has jumped 36% since last year, the museum said.
"I think it has a lot to do with how disturbed people are with what's happening in the world; they're seeking each others' physical company," Philbin said. "But they're also seeking being in a room with experts talking about the pressing issues of the day, hearing what people think. They want dialogue about it and that's what we're supplying."
This aspect of the Hammer resonated with donors hoping for even more space for public events, she said.
"Mostly, they're interested in the Hammer as a cultural center — that we're a secular gathering space where six nights a week there's something happening, not always about art, but also about politics or medicine or climate change," Philbin said, noting how spread out and disjointed Los Angeles can feel. "And in a city like this, people are desperate for that."
Parts of the expanded Hammer will be named after other donors: the courtyard for Hyatt Hotel heir Tony Pritzker and his wife, Jeanne, who gave $12.5 million; the Lindbrook Terrace for philanthropist Wallis Annenberg, who gave $7.5 million; a third floor gallery for philanthropist Erika Glazer, who gave $8 million; and the courtyard performance space, the Annex, for actress Susan Bay Nimoy, wife of the late actor Leonard Nimoy, who gave $7.5 million.
The Hammer has grown since Philbin joined the museum about 19 years ago, when it had fewer than 50 full-time employees and a $6 million annual operating budget. It now has more than 100 full-time employees and a $24 million annual budget. The number of visitors has grown fivefold since 2000, to 250,000.
"There were many unfinished spaces when I arrived. The Billy Wilder Theater was a hole in the ground," Philbin said. "Over the last 19 years I've been improving and fixing the spaces incrementally with architect Michael Maltzan. Now we're going to take the very dramatic step of finishing it."
And just in time. The Los Angeles arts world, Resnick said, is blooming.
"There's something happening here, an explosion of art and culture that's really exciting," she said. "People in the entertainment industry may feel there's been art and culture here a long time, but bringing the graphic arts here to Los Angeles with so many artists living here now — we may be the Paris of the 21st century."
Follow me on Twitter: @debvankin
---
UPDATES:
11:50 a.m. This article was expanded with more details about forthcoming museum projects.
12:40 p.m. The Hammer's fundraising totals have been updated based on revised numbers from the museum. Beyond the Resnick and Carsey gifts, the Hammer has raised $82 million, not $83 million as previously stated. The fundraising campaign stands at at $132 million, not $133 million as previously stated. Also, the physical size of the expansion has been clarified.
Get our L.A. Goes Out newsletter, with the week's best events, to help you explore and experience our city.
You may occasionally receive promotional content from the Los Angeles Times.