The guide to dance in L.A.: 12 standout companies to know and how to see them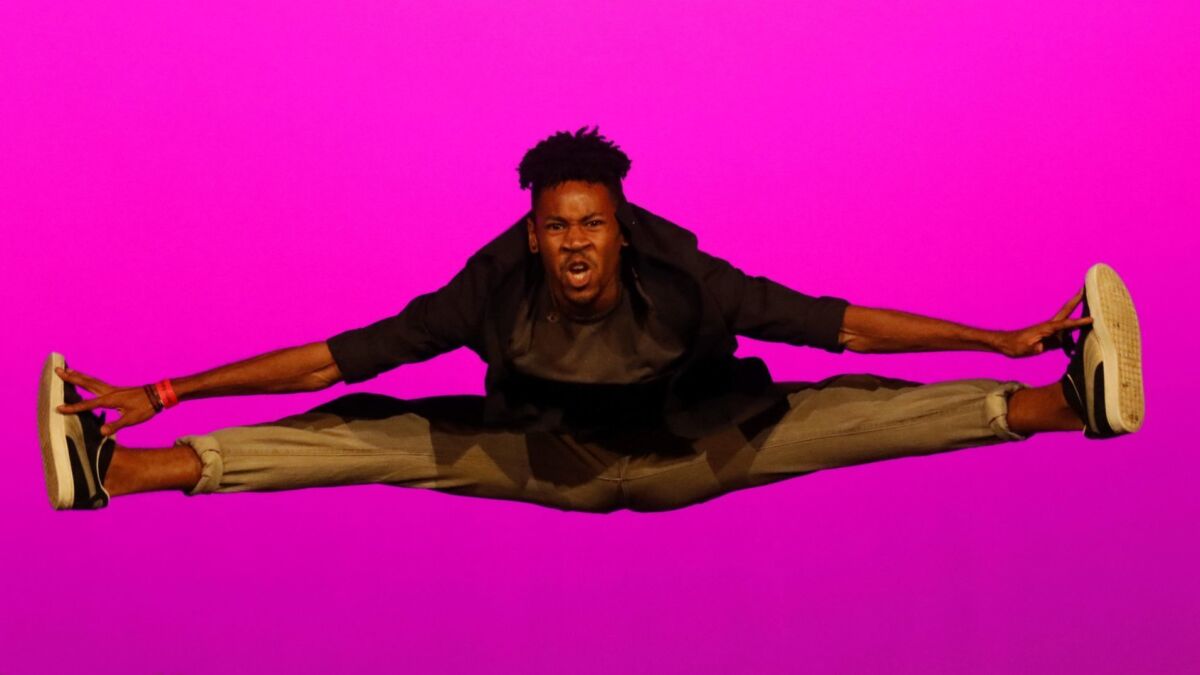 There was a time not so long ago when if you aspired to be a dancer or a choreographer or — heaven help you — director of your own company, the best course of action was to leave L.A.
Financial support was scant for dance, affordable rehearsal and performance space was difficult to find, and few theater administrators took on the risk of presenting local companies.
But for proof that times are changing, look to a poignant meeting last year. Jacob Jonas the Company had just finished a successful first performance at the Wallis Annenberg Center for the Performing Arts, and Jonas was onstage taking comments from the audience. An animated Frenchman with chin-length hair stood up. It was Jacques Heim, artistic director of the acrobatic L.A. dance company Diavolo, offering, in his rapid-fire delivery, effusive praise for Jonas, then just 24.
This convergence of two generations of Los Angeles dance was more than symbolic: Heim, a CalArts graduate who started Diavolo in 1992, has grown his postmodern dance company into an international touring ensemble. And Jonas, who first picked up dance moves on the streets of Venice, will see his troupe become the Wallis' official resident company next season.
Both men have seemingly beat the curse that saw homegrown dance stifled at every turn. The good news is they're not the only ones. Anecdotal evidence suggests the Los Angeles dance scene is gaining momentum and drawing artists from other parts of the country and the world. To help make sense of the evolving landscape, here's a roundup of local companies — some new and some veteran — that should be on your dance card.
L.A. Dance Project
Directed by former New York City Ballet principal dancer Benjamin Millepied, the project is in its sixth season. The group has settled into a permanent home on the fringes of the downtown Arts District and has a more pronounced commitment to making its presence felt here. It has announced a risky venture: a series of performances in its 150-seat studio-theater from May 18 to June 2.
Millepied's ballets, about one-third of the repertory, are balletic yet grounded. The repertory also features works by internationally renowned dance makers such as Batsheva Dance Artistic Director Ohad Naharin, as well as historical modern dance such as duets from Martha Graham.
The most exciting news is that Millepied is in discussions to present works by the late great Los Angeles choreographer Bella Lewitzky, which would distinguish LADP in a significant way.
2016 feature | 2016 review | 2017 review | Company
Barak Ballet
The ballets of Los Angeles native Melissa Barak exhibit the style and energy of George Balanchine and the New York City Ballet, where Barak performed.
Her own signature is slowly emerging. In most of her pieces, women dance en pointe, but they are equal to men, combining strength and femininity.
Barak likes to collaborate with living composers. She is as fascinated by science and technology as she is by romance. For the group's June 29-30 shows at the Broad Stage in Santa Monica, she and choreographer Nicolas Blanc will have premieres, and the company will repeat last year's sensational "E/Space."
2013 feature | 2016 review | 2017 review | Company
Ate9
Israeli-born choreographer Danielle Agami is on a quest to devise new kinds of movement.
In the five years since she relocated here, she has served up forthright, esoteric innovations in art galleries and historical buildings, as well as in traditional theater settings.
Agami's dances are political and eye-popping, and her large-scale collaboration with percussionist-composer Glenn Kotche took the company to the next level. The group performs at Temple Israel of Hollywood on Oct. 19 and 20 and will be at the Wallis in February 2019.
2014 feature | 2015 review | Company
BodyTraffic
Co-directors Lillian Barbeito and Tina Finkelman Berkett are not primarily choreographers. Rather, they have made their mark by picking dance makers whose works are little known in L.A.
The 11-member troupe has premiered some of the most interesting new pieces being presented in Los Angeles. You'll see breezy, witty works reminiscent of Twyla Tharp sharing the same program with dramatic explorations of humanity's darker side. And the dancing will be exceptional.
BodyTraffic will be up from May 31 to June 2 at the Wallis with pieces by Sidra Bell, Stijn Celis and Richard Siegal, plus premieres by Matthew Neenan and Naharin. The latter made a solo especially for Berkett.
2013 feature | 2015 review | 2016 review | Company
Diavolo
Hard to imagine that Heim, L.A.'s mischievous bad "boy" of dance, is one of its elder statesmen.
Cirque du Soleil tapped him to choreograph its 2005 show "Ka," after which Heim's pieces for Diavolo became bolder, more polished and imaginatively complex. More recently the group won greater exposure as a finalist on "America's Got Talent."
The Music Center presents Diavolo at the Ahmanson Theatre from Oct. 12 to 14.
2015 feature with video | 2015 review | Company
Jacob Jonas the Company
Now 26, Jonas fuses multiple styles into a brew of dances that are athletic and emotionally bare.
In the duet "Obstacles," a man continuously impedes a woman from making her way across the stage — a piece inspired by and symbolizing a friend of Jonas who was battling cystic fibrosis.
Jonas has also partnered with the Dance Camera West film festival, programming other companies and his own for To the Sea, live performances at the Santa Monica Pier held in conjunction with the festival. He also will make a new piece for the company's return engagement in October at the Wallis.
2016 review | 2017 feature | Company
Lula Washington Dance Theatre
Celebrating its 38th season, Lula Washington Dance Theatre has presented choreographic voices representing a breadth of the African American experience.
Washington and her husband, Erwin, who has been her administrative partner, will receive a lifetime achievement award next month from Dance USA, a national service organization. And June 8, the company will present works by Kyle Abraham, David Roussève, Rennie Harris, Washington and her daughter Tamica Washington-Miller at the Ford Theatres in Hollywood.
2015 feature | 2017 feature | 2018 review | Company
Versa-Style
Joyous and energetic, Versa-Style brings together hip-hop and Afro-Latin dance styles such as the merengue and salsa.
This grassroots company has a strong educational and community component, holding its annual hip-hop festival last weekend in East Los Angeles.
The ten-member group will perform June 9 at Cal State L.A.'s Luckman Fine Arts Complex, sharing the program with Contra-Tiempo Urban Latin Dance Theater and two other notable groups: L.A. Contemporary Dance Company and the Syncopated Ladies tap dancers.
Contra-Tiempo Urban Latin Dance Theater
At Contra-Tiempo, dance is more than artistic expression. It's social action — multiethnic, multilingual, highly physical and exuberant.
Co-founder and choreographer Ana Maria Alvarez and her brother, composer César Alvarez, took the dances they knew growing up and have turned them into concert dance that intersects with social resistance. Alvarez's latest full-length piece, "joyUS justUS" was created partly during creative community workshops held at Martin Luther King Jr. Recreation Center in South Los Angeles. It premieres Sept. 13 as part of USC's Visions and Voices initiative and then again Nov. 10 at the Carpenter Performing Arts Center in Long Beach.
In addition, the group shares a program with three other L.A. companies at the Luckman Fine Arts Complex on June 9.
2016 feature | 2016 review | Company
Heidi Duckler Dance Theatre
Duckler has been bringing dance to unusual spaces for a long time.
Starting in 1985 with her seminal "Laundromatinee" — dancers cavorted among the machines and folding tables at a laundromat — the choreographer has staged offbeat concerts at unconventional sites such as the Lincoln Heights Jail, the defunct Ambassador Hotel and the Los Angeles River.
Mixing humor and social issues, Duckler and company will be out and about a lot this year. Performances will include "Ramona" Sept. 7 to 23 at San Gabriel Mission Playhouse and "Loaded" on Oct. 27 and 28 at the loading dock of the Ford Theatres in Hollywood.
2015 feature | 2012 review | Company
Raiford Rogers Modern Ballet
Rogers' dances look like no one else's, proving again that you can take the codified technique of classical ballet and not only mold it to your will but make it almost radical.
The choreographer begins his creative process by drawing symbols and pictures of what the dance will look like. He wants his dances to embody music in unexpected ways, but he is also visually inspired, and so he often has artist-commissioned scenic designs.
The group's July 28 concert at the Luckman Fine Arts Complex includes the premiere of "Naivete of Flowers," with a score by the late composer Lloyd Rodgers, and a reprise of 2017's "Joshua Tree Symphony," the second work in Rogers' ongoing collaboration with Czech composer Zbynek Mateju.
2015 feature | 2012 review | YouTube video | Company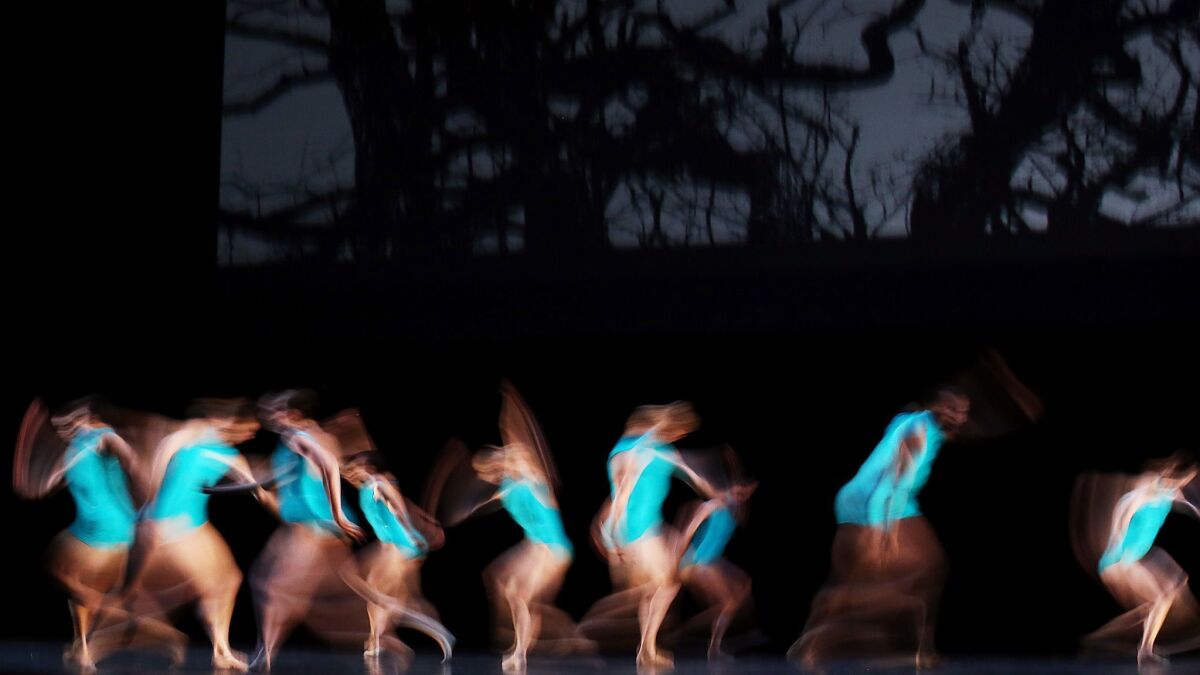 Los Angeles Ballet
This mid-size classical company's three-prong repertory includes neoclassic masterworks by George Balanchine, traditional story ballets such as "Swan Lake" and "The Nutcracker" and contemporary ballets.
Husband-and-wife artistic directors Thordal Christensen and Colleen Neary open the next season in October (at various theaters) with a program called "Modern Moves," featuring pieces by Aszure Barton, Alejandro Cerrudo and Balanchine.
2018 review | 2017 review | 2017 review | Company
See all of our latest arts news and reviews at latimes.com/arts.
ALSO
'Soft Power' has a cast that's almost entirely Asian. Why that's still a radical idea
From Barden Bellas to 'Belleville': Anna Camp on playing more than the mean girl
Tony Award nominations 2018: The complete list
---
UPDATES:
For the Record
An earlier version of this article contained an error in dates for Heidi Duckler Dance Theatre at the Ford Theatres. The correct dates are Oct. 27 and 28, not Oct. 2 and 28.
---
Get our L.A. Goes Out newsletter, with the week's best events, to help you explore and experience our city.
You may occasionally receive promotional content from the Los Angeles Times.