Craft & Folk Art Museum gives itself a new name: Craft Contemporary
The Craft & Folk Art Museum is losing an ampersand — and gaining a new name: The Wilshire Boulevard museum will announce Tuesday that it will go by Craft Contemporary, effective immediately.
The new name is an attempt to better reflect what the museum has been emphasizing of late: the intersection of contemporary art, craft and design, as opposed to historical exhibitions or dedicated folk art shows.
The name Craft Contemporary "looks brightly to the future and plants us in the now," executive director Suzanne Isken said.
"The now" may be more appealing to new and younger audiences. The museum's visitorship and membership have tripled since 2011; it drew about 36,000 visitors in 2018 and has almost 900 members. A hipper and more accessible name, the museum said, will signal "fresh and relevant" to a greater numbers of visitors.
"Of course we'd love to keep growing and attracting more people. Is that part of the name change? Absolutely," Isken said. "It's true that to a number of people, our board members say, that when they say 'craft and folk museum,' people have an association to something very old and very dusty."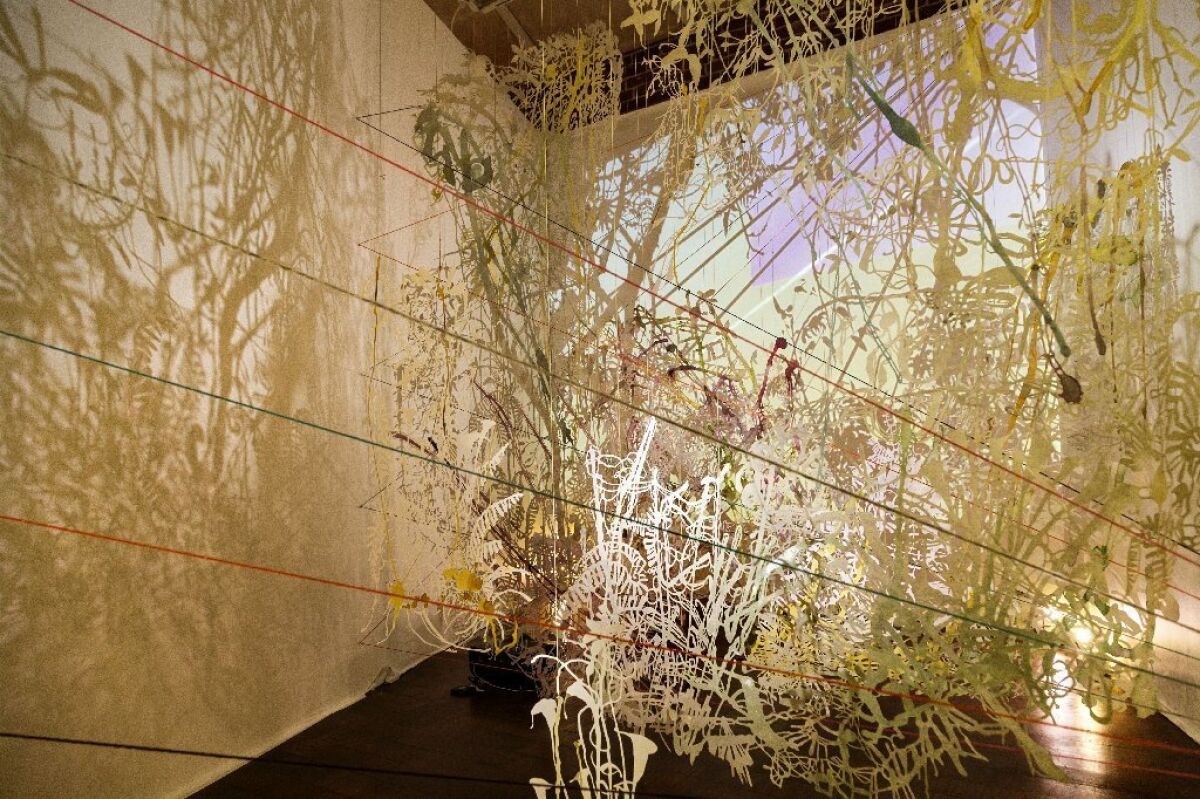 "Folk art" is a tricky phrase, Isken said, one that conjures different meanings for different people.
"It's historical, it's international, it's traditional, it's so many things," Isken said. That can be confusing to visitors, she said. As a noncollecting museum, Craft Contemporary doesn't have the same commitment to historical works that other museums might, though it does plan to offer educational programs about the history of craft. "We're looking more at the process, the hands-on, the materiality," she said. "And we felt that by calling ourselves the Craft & Folk Art Museum, that it was a little limiting."
Cross-disciplinary artists, experimentation within mediums and the blurring of lines between formerly siloed categories of art, such as "outsider art," all point to a trend away from categorization, Isken said.
"We feel like folk is a kind of craft; we don't see it as a separate category," she said. "All this stuff — folk art, craft, contemporary art, fine art, high art, low art, street art — it all comes together in one category: art. So for us, those categories aren't useful anymore. If you're weaving in Oaxaca, it's craft."
The change, Isken said, isn't meant to signal a shift in programming. "What you've seen here over the last eight years is what you'll continue to see," she said.
Isken's museum has aimed to blur boundaries, she said, showing fine artists working in glass, metal, cut paper and even sugar alongside craft artists working conceptually. In 2015 it showed functional sculptural works by L.A. shoe designer Chris Francis, in 2016 it exhibited the painter and performance artist Gronk's work in theatrical set design, and in 2017 it showed artist Betye Saar's washboard assemblage works.
Art historian and craft specialist Jenni Sorkin said the new name is not only more fitting but also a branding necessity in the current Los Angeles museum landscape. The surrounding Miracle Mile neighborhood's profile is rising. The Academy Museum of Motion Pictures plans to open later this year, and the Los Angeles County Museum of Art aims to break ground on its new building early next year, opening in 2024 shortly after a new subway line deposits even more visitors into the area.
"They're the only space in the city other than the Craft in America Center, a small storefront space that's very under-recognized, focused on showing contemporary craft," Sorkin said. "So I think this focuses and consolidates the mission — to acknowledge studio craft history but moving forward into the 21st century."
The name change will be the institution's second in 53 years. Artist and patron (and actor Noah Wyle's grandmother) Edith Robinson Wyle founded a cafe and commercial gallery, the Egg & the Eye, in 1965. When it transitioned to a nonprofit museum in 1973, it was renamed the Craft & Folk Art Museum.
Rebranding, particularly in a social media-driven marketing landscape, is no small feat, and challenges lie ahead. For better or worse, the museum is known as "CAFAM" (pronounced as CAFF-am) and may lose traction in Google searches when the URL changes. But the awkward acronym was always an issue, Isken said.
"It doesn't mean anything. If you don't know us, what is CAFAM? It could be OXFAM, it could be ANYFAM," she joked.
Pushback to the name change will be inevitable. Some may see it as a dis to folk art or worry who will educate the public about folk traditions. At a time when Los Angeles is seeing more contemporary ceramics, textiles, fashion and furniture design displayed in art galleries and design boutiques, and is seeing more contemporary art museums open here, does the city need another museum focusing on contemporary artists? Will some object to what appears to be a turn away from folk art or art from non-Western cultures?
"There's always pushback because we're going forward," Isken said. "But there's nothing in our name or our mission that says we wouldn't show work from non-Western cultures. We aim to be more diverse."
Diluting the focus on folk art could create an opportunity for other institutions such as the Fowler Museum at UCLA, the Bowers Museum in Santa Ana or LACMA, which is currently exhibiting "Outliers and American Vanguard Art," a show partly about folk art. "That's what makes L.A. such a rich, cultural landscape," Isken said, "all the choices."
To mark its name change, Craft Contemporary will stage two free panels this spring: one addressing the history of the museum and the other, at which Sorkin will appear, on the future of craft.
The first shows to debut under the new name will be "Trinidad / Joy Station," a solo exhibition of work by L.A.-based Salvadoran artist Beatriz Cortez, and the third iteration of the Farhang Foundation biennial, "Focus Iran 3: Contemporary Photography and Video," which this year spotlights Iranian youth. Both exhibitions open Jan. 27.
In 2018 the museum launched a ceramics biennial, "Melting Point," which featured more than 27 living American artists experimenting with clay processes.
In January 2020, Craft Contemporary will stage the second iteration of the biennial, "The Body, the Object, the Other," focusing on representational forms in clay.
A new website is coming this April, at which point the museum will commission an artist to redo its façade.
"We're thinking of 'craft' as a verb — the process of making, of turning materials and ideas into something," Isken said. "That's what defines us going forward."
Follow me on Twitter: @debvankin
---
Get our L.A. Goes Out newsletter, with the week's best events, to help you explore and experience our city.
You may occasionally receive promotional content from the Los Angeles Times.