Review: 'Current: LA' art biennial: Water may be the theme, but gas is what you'll need to see it all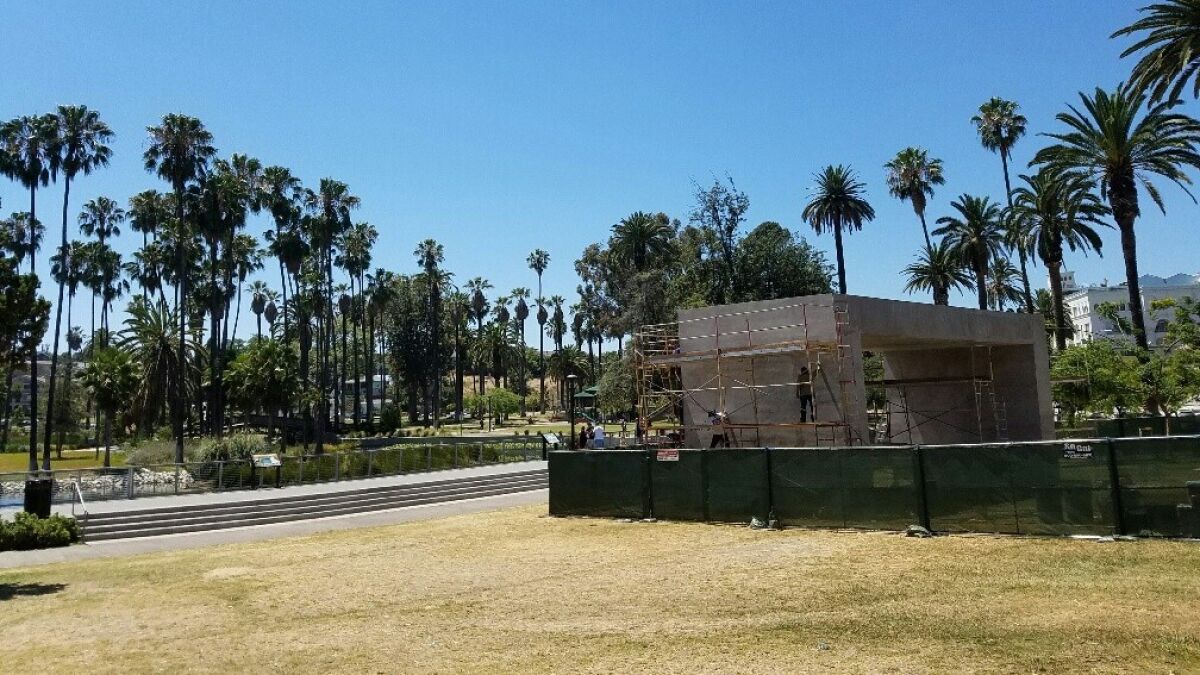 While sitting on the grass in the warm summer sunshine and watching the Echo Park Lake water-jets shoot high into the air, thoughts of violent death are unlikely to crowd the mind. "The Shade" is designed to change that.
"The Shade" is a monumental sculpture by Teresa Margolles, an artist with a degree in forensic medicine who has worked in a Mexico City morgue. Mortality is an established artistic staple, and the design of her smooth, gray, rectangular concrete shape rising at the northeast corner of the park is a cross between a gateway and a cenotaph — an abstract memorial to the absent dead.
It was commissioned for "Current: LA," a new, citywide biennial of public art being sponsored by the Cultural Affairs Department on a $2.5-million budget. Water is the theme for all the biennial's works. Margolles has incorporated water gathered at 100 murder sites around Los Angeles into the cement.
The sculpture is a Minimalist reinterpretation of traditional figurative art, such as Auguste Rodin's "The Shade" from 1880, a coiled figure representing a damned soul at the gates of hell in Dante's "Divine Comedy." A posthumous 1969 cast of the Rodin is in the sculpture garden at the Los Angeles County Museum of Art, where Margolles had a small show six years ago.
I can't say what it's like to experience her version, though. Disappointingly, when I visited a few days after the show launched, "The Shade" was fenced off and still under construction.
"Another day or two" a worker answered when I asked when it might be finished. Apparently it's now done.
"Current: LA" is a bit of a shambles. The primary problem: Because it is on view for just one month, until Aug. 14, few will see it all. Geography defies all but the most intrepid souls from seeing everything during such a narrow window of time.
One project that I haven't seen, a triumphal arch by Michael Parker, is at the shipping port of San Pedro. Another is 50 miles away in a residential neighborhood at the northern reaches of Granada Hills. (The dry creek in Bee Canyon Park is surrounded by streets named for Courbet, Orozco, Titian and, of course, Van Gogh — an artists' neighborhood, so to speak, suburban-style.) It consists of performances scheduled during afternoon rush hour, between 4 and 6 p.m.
I've visited six of the 15 sites — one per city council district, this being a civic project with an inevitable funding eye on constituent services — but without much worthwhile art to show for it. And it wasn't easy.
The project's unwieldly website is poorly designed and not user friendly. Information about individual works is fragmentary and incomplete. The Hub, an analog visitor center with maps and other resource material, is open only weekends, 9 a.m. to 9 p.m., and weekday evenings after 4 p.m.
The Hub is located by the tennis courts at the traffic-packed intersection of Riverside Drive, Los Feliz Boulevard and Interstate 5 — perhaps chosen because it's across from the drought-shuttered fountain dedicated to William Mulholland. He's the controversial engineer of the 233-mile-long aqueduct that brought water to the parched city in 1913.
Some directions to the far-flung sites might get you into the general vicinity of a work, but not much more. (Try using the website's GPS coordinates for that.) I gave up searching at the sprawling acreage of Hansen Dam Recreation Center in Sylmar, unable to find the signage for upcoming performances by the artist-duo Lucky Dragons (Sarah Rara and Luke Fischbeck). In all, I traveled nearly 75 miles to visit six project-sites.
Most are in public parks, such as the small post-and-beam pavilion built straddling a little stream at Lake Balboa's Sepulveda Basin. The artist is Rirkrit Tiravanija, with help from Kulapat Yantrasast and wHY Architects. Designed for tea ceremonies and other modest events, it reminded me of the exquisite, far more compelling pier in a city lake that sculptor Jorge Pardo designed for the 1997 Sculpture Project in Munster, Germany.
Thematic commissions are often problematic. Do we really need public art to call attention to pressing water issues? And is that what these works really do?
I'm puzzled by Kori Newkirk's inscrutable "Prime," installed in a field across from Universal Studios in South Weddington Park. A static trio of fiberglass horses is fenced inside a shallow trench, the excavated dirt piled nearby, two with one hoof planted in a bucket full of pennies.
The third horse, facing in the opposite direction, is adorned with 10 small buckets of sparkly clear crystals. A large black starfish sprawls in adjacent grass.
Loose references to the Trevi Fountain, Nicola Salvi's famous Roman Baroque masterpiece, can be posited, although its rearing horses are here static and mass-produced. The starfish is a dry symbolic nod to the thundering god Oceanus, father of the waters and the Roman fountain's centerpiece, while the coins evoke the fountain's legend of wishful return.
Maybe the park, adjacent to a movie studio, means to inspire thoughts of Anita Ekberg splashing in Trevi's waters in Fellini's "La Dolce Vita." That great 1960 movie famously gave us the term paparazzo.
But to what end? The Trevi Fountain commemorates the ancient source of the city's water. Its commission by Pope Urban VIII was a power move designed to tie the church's legacy to an essential founding myth of the city. "Prime" isn't that.
Future biennials are planned to consider other infrastructure topics, such as transportation and communication systems. But I'd rather let artists determine what they deem important to make, regardless of bureaucratic civic agendas.
Perhaps great works lurk among the commissions that I haven't seen. Certainly a number of good artists are involved, as are impressive curators — Ruth Estevez, Rita Gonzalez, Karen Moss and Irene Tsatsos. But I suspect the biennial will be over before I find out.
My advice: Peruse the "Current: LA" website, pick two or three things that seem promising and keep expectations modest. At the very least, visiting parks is a pleasure. Inevitably you'll find yourself in pockets of the urban sprawl you've never seen before.
There's something to say for that. And, you can bring your dog.
christopher.knight@latimes.com
Twitter: @KnightLAT
Get our L.A. Goes Out newsletter, with the week's best events, to help you explore and experience our city.
You may occasionally receive promotional content from the Los Angeles Times.