Review: 'Devil's Music' thrills with the bold, bawdy and brilliant life of Bessie Smith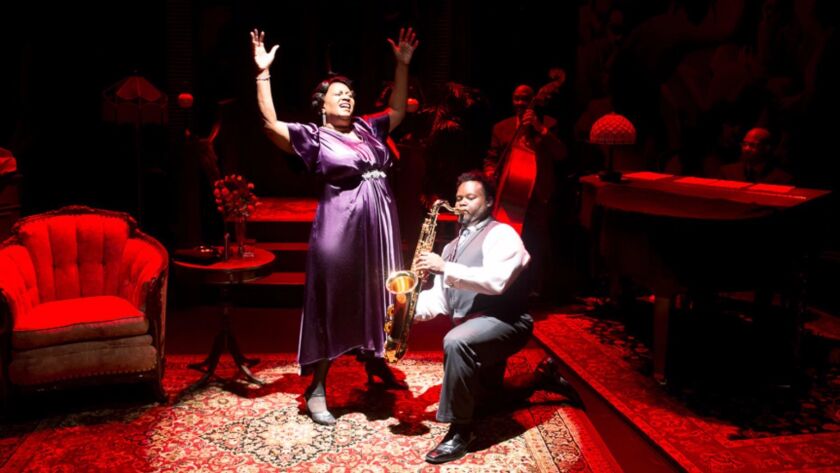 The most popular female recording artist of the 1920s, singer Bessie Smith was nicknamed "Empress of the Blues" for good reason. Smith's soulful contralto renditions of standards and her original songs captivated black and white audiences alike and shaped vocalist styles for generations to come. Her outsized talents — and personality — are vividly channeled through a powerhouse performance by Miche Braden in the West Coast premiere of "The Devil's Music: The Life and Blues of Bessie Smith" at the Rubicon Theatre in Ventura.
Braden, who starred in the biographical musical's original 2001 off-Broadway incarnation, has the pipes to make good on her character's early full-throated promise "There'll Be a Hot Time in Old Town Tonight." Sporting 13 of Smith's classic hits (with live musical accompaniment arranged by Braden), Rubicon's production reunites the star with the show's co-creators, director Joe Brancato and playwright Angelo Parra.
Set in an elegant 1937 Memphis "buffet flat" — a segregation-era alternative nightlife venue for blacks — the framing narrative is an impromptu performance by Smith and her three-piece band following her defiant refusal to use the back-door entrance for a scheduled concert at a nearby whites-only "the-A-ter."
Letting her hair down — and swilling a fair amount of gin — the 43-year old Bessie reminisces between songs about the highs and lows of her rise from impoverished street singer to highest-paid entertainer of color, credited with single-handedly rescuing Columbia Records from bankruptcy. Through it all, she lived a defiantly brash, bawdy life on her own terms, refusing to abide racial discrimination even when it meant facing off against a Ku Klux Klan mob raiding one of her performances. "How they gonna lynch ol' Bessie Smith anyhow?" she laughs, shaking her ample girth. "Ain't no tree branch strong enough to hold her!"
Yet by Bessie's own rueful admission, her success and independence cost her dearly. "The good Lord got a way of gettin' your attention when you gits too high and mighty," she sighs, as her initially breezy musings give way to revelations about her tempestuous marriage to adulterous security guard Jack Gee, her bisexuality and the consequences of both for the fate of their adopted child.
SIGN UP for the free Essential Arts & Culture newsletter »
Braden's direct engagement with the audience, as though we're buffet flat patrons, slyly maneuvers us into feeling life under Jim Crow laws from the perspective of oppressed African Americans, without the need for political argument. Scenic designer Brian Prather's jaw-dropping re-creation of a sophisticated 1930s speakeasy further cements the immersive experience.
Between songs, the memory play narrative serviceably informs about Bessie's life and influence, albeit within a familiar formulaic structure. The lively banter between Bessie and her band mates (Anthony Nelson Jr. on sax and clarinet, Gerard Gibbs on piano, and bassist James Hankins) mitigates some of the exposition-heavy tropes of bio-dramas.
The centerpiece of the show, however, remains the thrillingly performed music of Bessie Smith. Among the high points, Braden champions Smith's independent lifestyle in "Tain't Nobody's Bizness If I Do," and her show-stopping "St. Louis Blues" erupts into an outrageous shimmying duet with Nelson's sax. Reclaiming "I Ain't Got Nobody" from later Louis Prima/David Lee Roth camp, her soul-baring delivery aches with the despair of hearts broken beyond repair.
♦ ♦ ♦ ♦ ♦ ♦ ♦ ♦ ♦ ♦
'The Devil's Music: The Life and Blues of Bessie Smith'
Where: Rubicon Theatre, 1006 E. Main St., Ventura
When: 2 and 7 p.m. Wednesdays (with evening talkbacks), 8 p.m. Thursdays and Fridays, 2 and 8 p.m. Saturdays, 2 p.m. Sundays; ends March 17
Tickets: $50-$55
Info: (805) 667-2900 or www.rubicontheatre.org
Running time: 1 hour, 22 minutes
Follow The Times' arts team @culturemonster.
ALSO
'God Looked Away,' and so should you: Why Al Pacino's play falls so short of expectations
Sex! Savagery! Singing! It's 'Game of Thrones' as musical parody
Prove humans are worth salvation? In 'Liana and Ben,' that's not so easy
---
Your essential guide to the arts in L.A.
Get Carolina A. Miranda's weekly newsletter for what's happening, plus openings, critics' picks and more.
You may occasionally receive promotional content from the Los Angeles Times.