Review: A 1908 feminist rom-com? Why 'Diana of Dobson's' has been forgotten for too long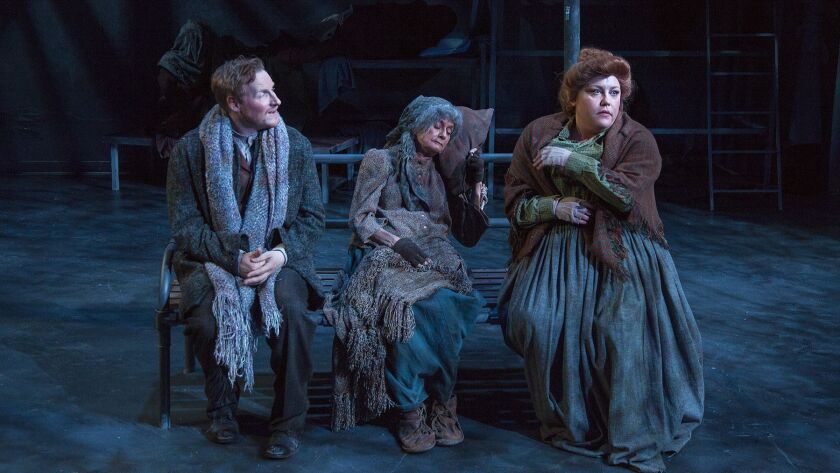 A British suffragist and playwright who championed women's rights, Cicely Hamilton espoused her views at a time when other female "radicals" were being arrested and imprisoned en masse.
After watching Hamilton's sprightly 1908 play, "Diana of Dobson's," now in a hit-and-miss revival by the Antaeus Theatre Company in Glendale, it's hard to understand why Hamilton's plays have fallen into relative obscurity during the 100-plus years since they were first produced.
Loaded with wit and pithy dialogue, "Diana" slyly imparts its proto-feminist ideas through the medium of romantic comedy — succeeding beautifully on both levels. What's more remarkable is that Hamilton's "message" play makes its points without descending into didacticism.
The same cannot be said of Casey Stangl's direction. Stangl consistently goes for the obvious — an effective approach given her mostly farcical tone. It's when Stangl takes a bludgeon to Hamilton's subtleties that things get mangled, as when she has servants performing robotic chores as their privileged masters chatter and hobnob.
Left penniless by her doctor-father's death six years ago, Diana Massingberd (Abigail Marks) has been eking out a miserable living as a shopgirl in the hosiery department at Dobson's, an emporium catering to the lower middle class, where she labors 14 hours a day for "five bob a week" and lives in a grim dormitory with other low-wage workers.
REVIEW: 'Singin' in the Rain' gets splash-happy in La Mirada »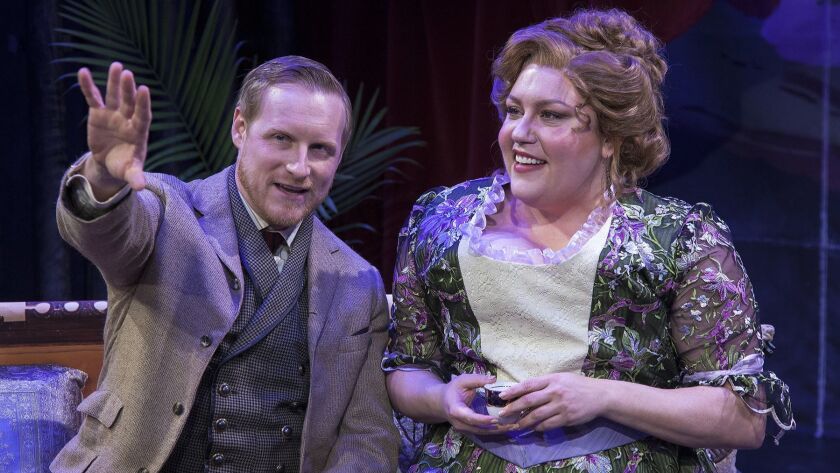 REVIEW: 'Niceties' at the Geffen turns a college history paper into revolutionary war »
On the verge of dismissal for her cheeky attitude, the irrepressible Diana learns that she has inherited 300 pounds from a distant relative. Unmindful of the future, Diana embarks for the Continent, determined to blow her inheritance in one sybaritic month-long spree. While in Switzerland, she persuades the haut monde that she is a wealthy widow — and earns the admiration of two eligible suitors. But once the month is over, broke Diana faces indigence back in England unless she's rescued from destitution by true love.
Antaeus productions have two sets of casts, except here Marks plays Diana for all performances. Though she's a tad miscast, Marks builds from a shaky beginning, establishing real authority and tackling her role with passion and craft.
The rest of the cast offers its share of delights, particularly John Bobek as Victor, one of Diana's swains, a dilettante who has never really questioned his privilege until he faces the full force of Diana's contempt, and Eve Gordon as Victor's conniving aunt, who has earmarked Diana as the ideally well-heeled wife for her impecunious nephew. And, although his character may be intended as a grinding plutocrat who exploits the poor, John Apicella is so engaging as the self-made millionaire who falls for Diana that we root for him to win her hand.
REVIEW: 'Fiddler on the Roof' national tour brings new moves to a classic musical »
On the less delightful side, blunders include a non-structural pillar that blocks Act 1's action (only to be removed for Act 2). The intermission and laborious set change after a weirdly abbreviated first act could surely have been eliminated, given a bit more finesse in Nina Caussa's scenic design. A. Jeffrey Schoenberg's costumes vacillate disconcertingly from handsomely in-period to anachronistically glitzy.
Despite its rough setting, Hamilton's play is a gem — rousing entertainment with sociological heft that makes us question just what combination of circumstances or controversy has put the firebrand feminist author into undeserved eclipse for so long. We suspect we know that answer without asking.
=====
'Diana of Dobson's'
Where: The Kiki and David Gindler Performing Arts Center, 110 E. Broadway, Glendale
When: 8 p.m. Fridays, Saturdays and Mondays; 2 p.m. Sundays; through June 3. Dark May 18
Tickets: $35
Info: (818) 506-1983 and antaeus.org
Running time: 2 hours, 15 minutes
MORE L.A. THEATER: Our weekly column on what's opening on the region's smaller stages »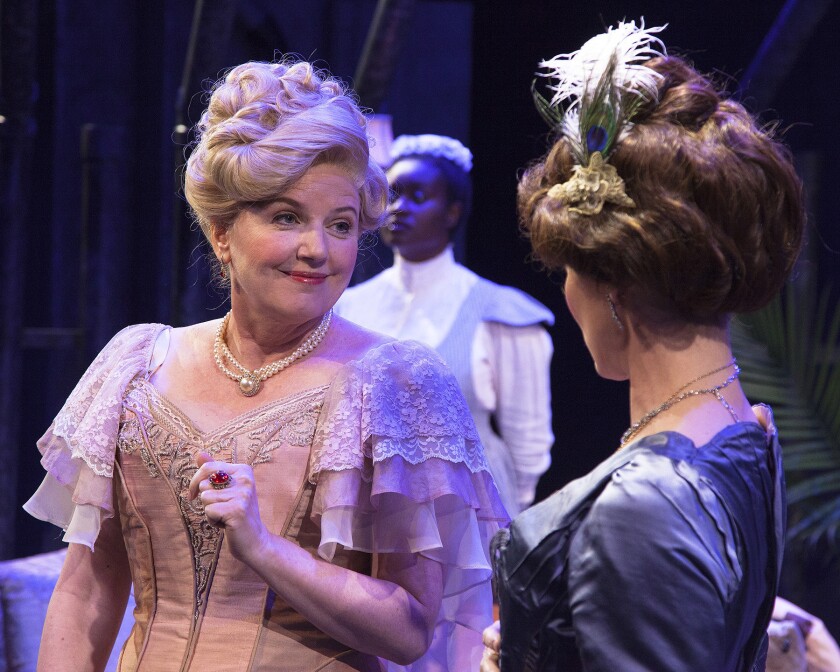 Support our coverage of local theater by becoming a digital subscriber.
See all of our latest arts news and reviews at latimes.com/arts.
---
Inside the business of entertainment
The Wide Shot brings you news, analysis and insights on everything from streaming wars to production — and what it all means for the future.
You may occasionally receive promotional content from the Los Angeles Times.