Review: Dianna Molzan's art plays some clever tricks on you
Art Critic
Dianna Molzan has been deconstructing abstract paintings for at least a decade. Obviously careful fabrication — construction — is a paradoxical tool. The best of eight recent works in a show titled "Fizzz" grab a viewer by the lapels, pulling the act of perception into the mix.
At Kristina Kite Gallery, several Molzan paintings are coming apart at the seams. One canvas appears to have shrunk from the wooden stretcher bars, now exposed at the top and bottom, the undulating surface like a corrugated panel. Painted a mottled emerald green over black, yielding the appearance of felt, it recalls a theatrical curtain.
A colorful pair of horizontal bars, one bright orange and the other rich purple, painted across the corrugated center likewise appear to ripple and undulate. Lower your stance, however, bringing down the eye level, and first one illusionistic bar and then the other snaps to attention and straightens out. Your angle of vision determines what you see — until it dawns that Molzan has gently maneuvered you into genuflection in front of her art.
SPRING ARTS PREVIEW: Critics' recommendations and emerging artists to know now »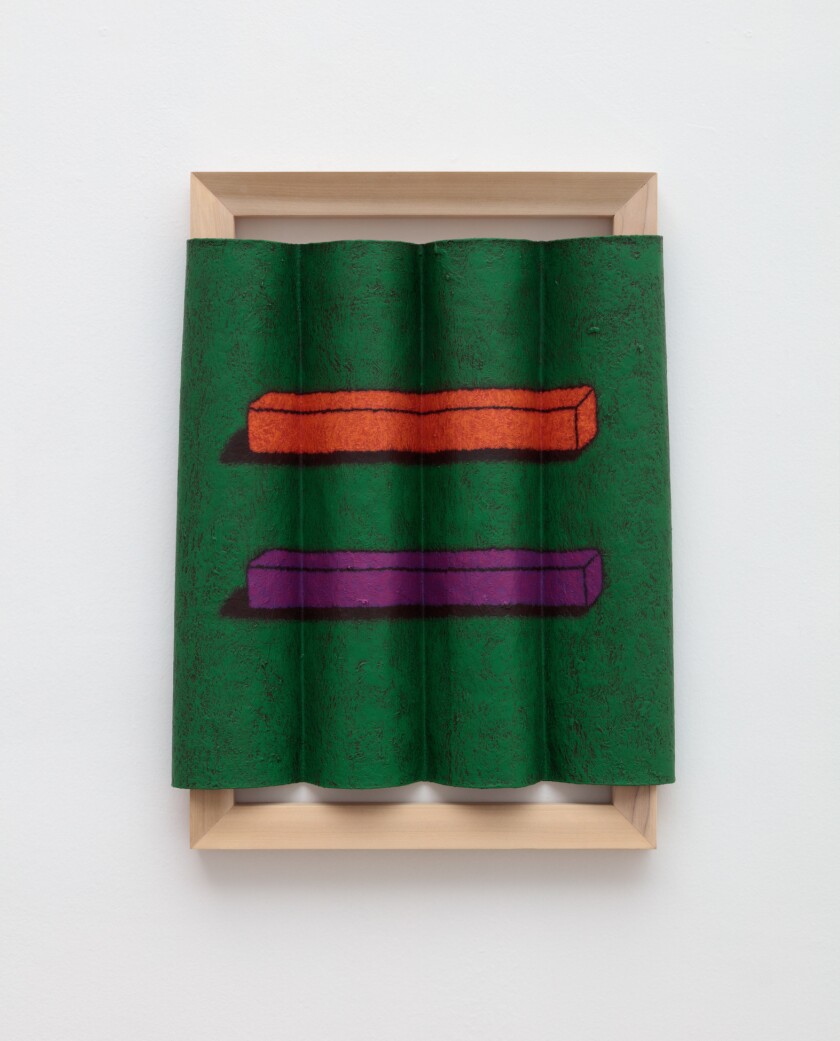 AT LACMA: Charles White show pinpoints the power of an underappreciated black artist »
Who's in charge here — the viewer or the artist? The answer is both: Perception is proposed as a cooperative give-and-take.
Molzan carefully "unweaves" another canvas, returning the fabric to its original condition as cut lengths of cord. Tacked to a stretcher bar on each side, these hundreds of strands hang loose. They form a catenary arch, the curve assumed by a cord hanging freely from two points, recalling Jasper Johns' paintings of 2005.
Except where Johns was likely to go elusive gray, Molzan goes blaring purple and green, with a zigzagging black shadow down the middle for good measure. A crisp, linear, geometric form is painted on the surface, contradicting the physically sagging curve with its visual opposite.
An actual material object dances with an illusion of three dimensions, all while the painting's flatness asserts itself. In these and other clever and considered works, Molzan paints with serious wit.
Kristina Kite Gallery, 3400 W. Washington Blvd., L.A. Wednesdays-Saturdays, through April 13. (323) 643-4656, www.kristinakitegallery.la
AT THE HAMMER: Allen Ruppersberg show is a don't-miss tour de force »
---
The complete guide to home viewing
Get Screen Gab for weekly recommendations, analysis, interviews and irreverent discussion of the TV and streaming movies everyone's talking about.
You may occasionally receive promotional content from the Los Angeles Times.