Review: At the Hollywood Bowl, Gustavo Dudamel and Lang Lang do their bit for cultural healing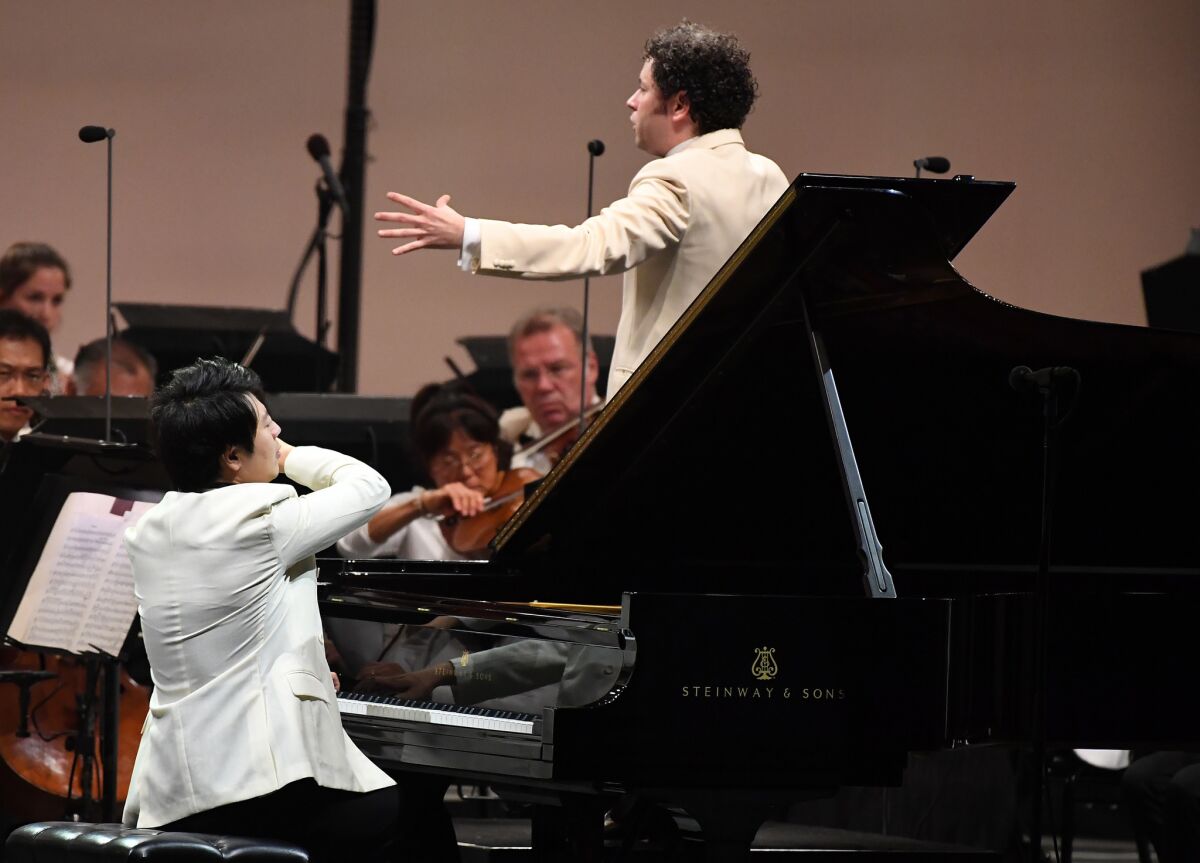 The flags at the Hollywood Bowl Tuesday night for the opening concert of the Los Angeles Philharmonic's summer season flew at half-staff. It had been a day of national soul-searching. In his speech at the memorial for the five slain police officers in Dallas, President Obama powerfully confronted what feels like increasingly dangerous public intolerance.
The Bowl program was, on the surface, an irrelevance. A Venezuelan conductor and Chinese pianist, the two greatest classical superstars of their generation, played two much-loved Russian symphonic works of the late 19th century. What did that have to do with us?
Each year the Bowl gets a little more spruced up, all the more attractive for picnicking and partying. This summer, there is improved food service and beefed-up subwoofers on the sound system for punchier bass. But was this a night for a party?
The answer to the first question is plenty. The answer to the second is that there are parties, and there are parties.
For all their flash, Gustavo Dudamel and Lang Lang not only happen to be two of our most gifted musicians before the public today, but also musicians of growing maturity (they are, respectively, 35 and 34), with a passion to use their stardom to make classical music inclusive through education and also engagement with popular culture.
Tchaikovsky's First Piano Concerto and Rimsky-Korsakov's "Scheherazade" have supplied background music to a great many lives for a great many years (the concerto was once the source for a pop song). But in their ambivalence toward Russian authenticity, these two scores offer opportune context about the profound process of national soul-searching.
And, yes, a classical concert venue happens to be an especially appropriate place for such soul-searching. Let it be noted that the Dallas memorial Tuesday was held in the Morton H. Meyerson Symphony Center, built in 1989 for the Dallas Symphony and one of the country's better concert halls.
My morning email box, with complaints about Lang Lang's showiness in Tchaikovsky, makes it difficult to claim that the performance was an instance of mass social consciousness-raising for the thousands of his fans who flocked to the Bowl. Three years ago with Dudamel and the L.A. Phil, Lang Lang had been an extravagant soloist in the concerto, taking such liberties with dynamics, rhythm, balances and phrasing that he reminded me of a jazz pianist. But like the Bowl's new restaurant offerings, there was a freshness and originality in that performance that reminds us that however much music may be the food of the gods, we like a little variety in what we eat.
I may have come especially predisposed this time to Lang Lang. The pianist has created a music education foundation (as has Dudamel), and Monday afternoon he led a public master session at Disney Hall in which he coached a mass ensemble of 100 children seated at 50 pianos playing rousing Schubert and Liszt. Lang Lang proved an inspiring host and teacher, charismatically and caringly passing along musical advice.
Of course, he discarded that same advice in his own performance of the Tchaikovsky, seemingly putting himself before the music as he precipitously slowed down and sped up or casually tossed off amazing finger work. But this also led to a lively interplay between Dudamel and Lang Lang that kept everyone alert on stage and in the audience spread across the vast outdoors.
See the most-read stories in Entertainment this hour >>
Dudamel is a devoted Tchaikovskian, but this was not exactly Russian, South American or Chinese playing. Tchaikovsky had his own issues with Russian and European music – some in Russia accused him of being too cosmopolitan (the concerto premiered in Boston) – and with his own identity politics (he was victim of Russian persecution of gays but joined in the Russian persecution of Jews). That Dudamel and Lang Lang had their own spectacular, nonjudgmental, individual way with Tchaikovsky, his notes their putty, felt here more right than ever.
"Scheherazade" brings its own issues. The "Arabian Nights" is on a lot of artists' minds, bringing up issues of colonialism, Arab culture and feminism. Scheherazade is subject of both Salman Rushdie's latest novel, "Two Years Eight Months and Twenty-Eight Nights," and of John Adams' new violin concerto, "Scheherazade.2."
Rimsky depicts four "Arabian Nights" tales mainly through color and atmosphere. Scheherazade, who tells the stories, is portrayed through a solo violin, played Tuesday with a gripping gorgeousness and vitality by concertmaster Martin Chalifour. Dudamel, conducting the score for the first time in L.A., carefully concentrated the rapturous orchestra colors, every nuance given dramatic impetus.
As with the Tchaikovsky, this performance didn't announce to whom this music belongs. Rimsky's love of music could be heard as containing a sensuality that transcends culture (and, of course, reveals why we can't control love). A storm at sea was as frightening as the latest globally warmed storms can be.
"Scheherazade" ends with an orgiastic festival. Dudamel and the L.A Phil did not hold back. The sound system came close to distorting. This was partying as essential emotional release. It was also, in this small, confused world of ours, the "Festival at Baghdad."
There are parties, and there are parties.
MORE ENTERTAINMENT NEWS
How Emmys overtook ratings as the standard for success in the age of Peak TV
Conspiracy thriller 'Mr. Robot' is back, and it looks and feels like nothing else on TV
Under pressure to turn his struggling studio around, will Paramount's Brad Grey survive the turmoil at Viacom?
---
Get our L.A. Goes Out newsletter, with the week's best events, to help you explore and experience our city.
You may occasionally receive promotional content from the Los Angeles Times.