Review: Booed in Vienna, Dudamel makes revelatory L.A. Opera debut to frenzied cheers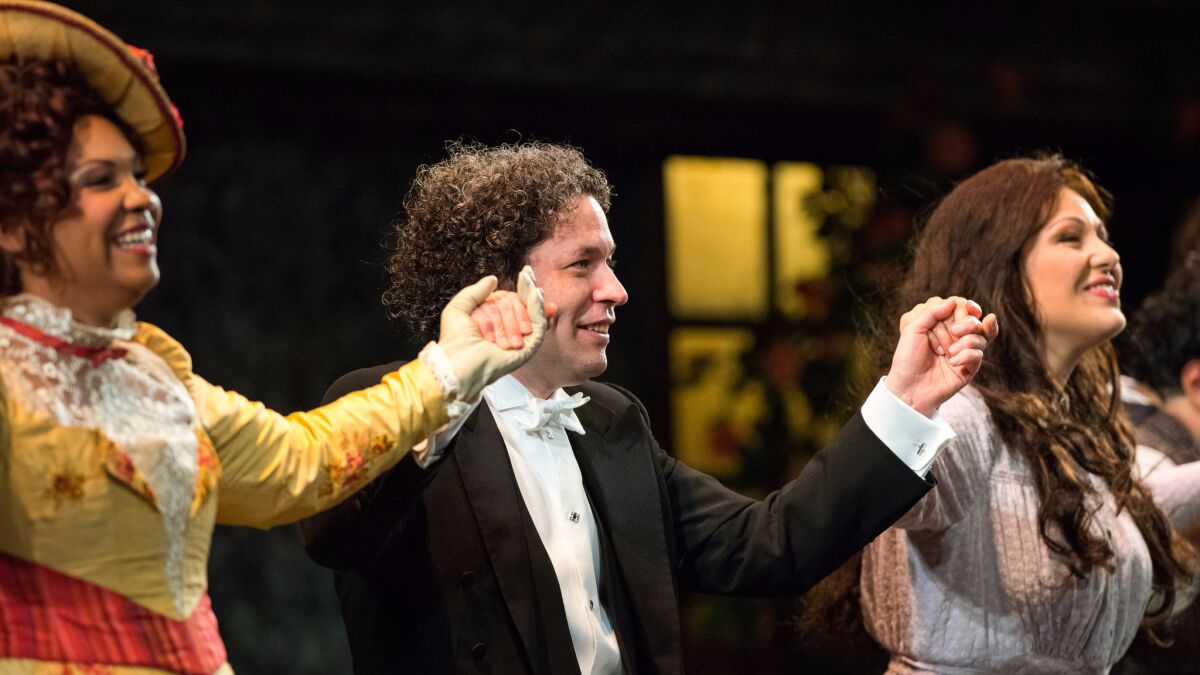 It was one short walk for a music director and one surprising leap for an opera company.
The week after finishing his seventh season with the Los Angeles Philharmonic in Walt Disney Concert Hall, Gustavo Dudamel crossed 1st Street to finish Los Angeles Opera's season in the Dorothy Chandler Pavilion. Friday night was not only Dudamel's first appearance with the company but also his first time conducting in the Dorothy Chandler Pavilion (unless you count a video stream of the L.A. Phil in Disney at the Music Center's 50th anniversary gala in 2014).
See the most-read stories in Entertainment this hour >>
At first glance, Dudamel's L.A. Opera debut might not have seemed all that much. The company had been trying for years to entice him to guest conduct, and his schedule allowed just the final two performances Friday and Sunday in a run of "La Bohème." The cast included no big names, the company relying on the fact that "Bohème," by itself, is box office, with Herbert Ross' evergreen cinematic production, back for the seventh time in 23 years.
No opera plays itself, but this is one the orchestra knows so well that were I to stand in the pit and beat time, the musicians could probably get through Puccini's score as long as they kept their eyes on their music stands and not the guy on the podium. That Dudamel, who has regularly included opera with the L.A. Phil, would liven things up somewhat, that he would infuse energy into tired routine, wasn't unexpected. That he would produce revelatory results, however, was a small miracle.
On reflection, this proved an ideal situation. Dudamel may not have had the luxury of shaping an interpretation through weeks of rehearsal and performances. That was the job of Speranza Scappucci, who led the first performances that began May 14. But Dudamel did have the benefit of shock therapy. He could simply point out some detail of expression or musical nuance either overlooked or forgotten, and suddenly everything was new again.
Electricity was clearly in the air. The house on Friday was full, and when the conductor entered the pit, he received an extraordinary ovation. Before the cheers subsided, he excitedly launched into the opening with the theatrical energy of a rock band catapulting into frenzied action.
From that moment on, Dudamel was inside "Bohème." He conducted without a score, his full attention on the orchestra and the stage. He made the instrumental colors of Puccini's orchestral writing sparkle. That opening energy spread so organically that the love duet at the end of the first act unfolded with sensuous care. And so each act went, with unerring dramatic life and musical precision.
In the process, the reliable L.A. Opera orchestra became a band reborn. Nor were singers ignored. Dudamel gave Nino Machaidze's strikingly strong-willed Mimi an almost Wagnerian support that avoided any hint of cheap melodrama. He underscored Janai Brugger's unusually sophisticated and regal Musetta with an accompanimental elegance that placed this impressive young soprano in the glow of impending stardom.
The young bohemians in their garret – poet Rodolfo (Maria Chang), painter Marcello (Giorgio Caoduro), musician Schaunard (Kihun Yoon) and philosopher Colline (Nicholas Brownlee) – had been reported more ordinary than lovably individual. But Dudamel's urgency – and director Peter Kazaras' adeptly refreshed staging of the original production – brought them to life.
---
For the record: An earlier version of this review called Giorgio Caoduro's character Rodolfo.
---
You may have heard that Dudamel is just coming off his Vienna State Opera debut in Puccini's last opera, "Turandot," where he was booed on opening night and received, as they say, mixed reviews. Dudamel's management contends those boos were a product of the political factionalism in Vienna, where one conductor is pitted against another. What has gone unreported is that Dudamel was cheered at remaining performances.
Given what Dudamel did overnight with L.A. Opera certainly gives little credence to the critical authority of Viennese catcalling, even if Dudamel's first encounter with "Turandot" with the L.A. Phil at the Hollywood Bowl five years go was a work in progress. But you can witness for yourself Dudamel's Puccini prowess next month. He will conduct a concert performance of "Tosca" at the Hollywood Bowl on July 24. The L.A. Phil might consider offering free tickets to Viennese tourists.
MORE ENTERTAINMENT
Unlike #OscarsSoWhite, the Tony Awards are diverse
Is 'Hamilton' the top Broadway musical of all time?
Here's who the major networks are sending to Orlando for mass-shooting coverage
Follow The Times' arts team @culturemonster.
Get our L.A. Goes Out newsletter, with the week's best events, to help you explore and experience our city.
You may occasionally receive promotional content from the Los Angeles Times.