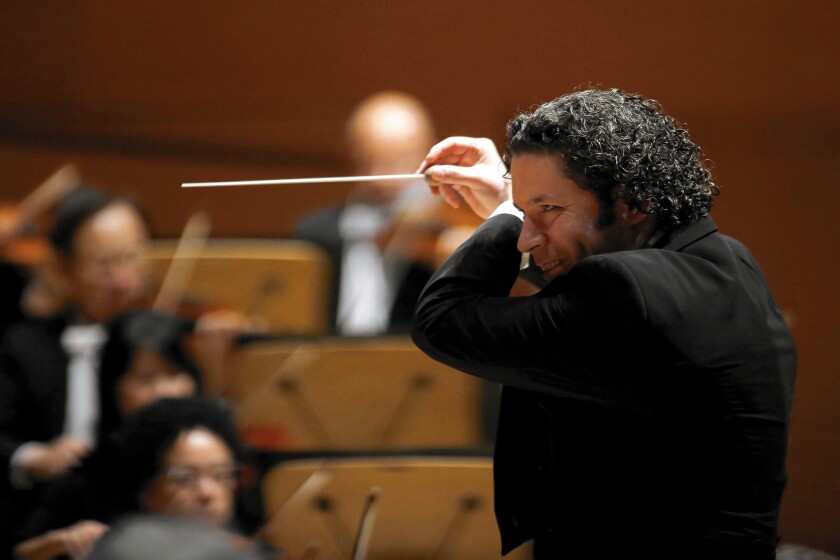 Los Angeles Times Music Critic
When symphony orchestras tour, they tend to do so incognito. The same-old, same-old standard repertory turns up everywhere, rarely revealing much about the time or town the musicians come from, as if they have something to hide.
Gustavo Dudamel returned to Walt Disney Concert Hall on Thursday night to lead the first of the two programs that the Los Angeles Philharmonic will take on its annual tour next month. One will be Mahler's Third Symphony, which will be given at Disney next week.
------------
FOR THE RECORD:
L.A. Phil: In the Feb. 27 Calendar section, a photo caption with a review of the Los Angeles Philharmonic's upcoming tour identified a pianist as Alberto Ginastera. The pianist is Sergio Tiempo, who performed a concerto by the late composer Ginastera. —
------------
See more of Entertainment's top stories on Facebook >>
But let eyebrows — and maybe even hackles — now begin to raise with the first program. Not only is a dauntless Dudamel prepared to inject a dose of L.A.'s brash, even reckless, attitude toward the cautiously conservative classical music establishment. He also hopes to suggest something of the Disney ambience in very different sorts of venues in New York, Amsterdam, Paris, Luxembourg and London.
The program represents what has been an ongoing theme of Dudamel's music directorship, the focusing on and joining together of music of the Americas, north and south, all genres welcome. There is but one pacifying evergreen, Copland's "Appalachian Spring" Suite, and that comes last. Before it are two startling L.A. works that surround a pummeling Argentine piano concerto by Alberto Ginastera.
There is nothing particularly remarkable about Dudamel beginning with a piece by the world's most popular orchestral composer. His friendship with John Williams is well known, and Williams' relationship with the L.A. Phil is long-standing. Dudamel's Williams gala with the L.A. Phil has recently been released on home video, and Dudamel has increased his Hollywood street cred by having been invited to conduct the opening and closing music for "Star Wars: The Force Awakens."
But of all of Williams' vast orchestral output, be it film or concert music, only one score would seem unsuitable for touring. That is "Soundings," a pièce d'occasion commissioned for the opening of Disney Hall in 2003. It begins with a few seconds of silence to allow the audience to take in the new surroundings, then in five sections it suggests the unique auditorium coming to life, ending with a glorious celebration of the sequence of pitches that Williams used for the carillon theme that is played in the lobby to call the audience in after intermission.
Williams conducted the premiere, and the music seemed to warmly serve its one-time purpose well. In Dudamel's hands, however, "Soundings" comes across as something more as: The composer of "E.T." sends out sonic messages — glistening winds, shimmering percussion, eloquent strings, Olympian brass and wonderful long, low tones — as if they were sonic messages to be answered by Disney's acoustic. The question will now be whether this can be reproduced elsewhere.
Gustavo Dudamel conducts the L.A. Philharmonic in a program Thursday that featured Ravel and the world premiere of Kaija Saariaho's "True Fire."
(Lawrence K. Ho / Los Angeles Times)
Pianist Jean-Yves Thibaudet handles Ravel's "Left Hand" concerto with gripping force Thursday at Disney Hall.
(Lawrence K. Ho / Los Angeles Times)
Baritone Gerald Finley handles each song in "True Fire," Kaija Saariaho's orchestral song cycle performed by the L.A. Phil, with operatic intensity.
(Lawrence K. Ho / Los Angeles Times)
Gustavo Dudamel conducts the L.A. Philharmonic on Thursday in a program featuring Ravel and the world premiere of Kaija Saariaho's "True Fire."
(Lawrence K. Ho / Los Angeles Times)
Applause rings out for composer Kaija Saariaho (in red), whose orchestral work "True Fire" had its world premiere at Disney Hall.
(Lawrence K. Ho / Los Angeles Times)
Andrew Norman, the ever-feisty 35-year-old L.A. composer, was originally to have written the first of a major three-part symphonic work for this program, the other two parts coming over the next two seasons. That plan got changed, and Norman will now do it all at once in two years. Dudamel, instead, has turned to the first movement of Norman's "Play," a 45-minute orchestral work written in 2013 and currently being revised for a complete performance by the L.A. Phil (also for a tour) next season.
This was the first performance of the 12-minute "Level 1" from "Play," and it was wild, moving from one nutty kind of music to another at breakneck speed. Think of this as being to music what William Burroughs' cutups were to literature, except instead of juxtaposing other people's work, as Burroughs did, Norman's bits and pieces are his wacky own. But give yourself over to it and you emerge from a nerve-racking but fabulously exhilarating ride.
Ginastera's Piano Concerto No. 1, written in 1961, is a work of brutalist, magical realism. There are atmospheric and percussive moments when the score sounds slightly too much like Argentine Bartòk, but there are also unusual evocations of eerie rain-forest weirdness and great thundering percussive romps. The massive solo part, fearlessly played by Sergio Tiempo, ranges from hauntingly jazzy bits to great bursts of keyboard color that the Venezuelan pianist seemed born to reveal.
Dudamel pushed this very hard. He pushed just about everything very hard, so much so that he nearly overpowered Disney, and heaven knows what the result will be on the road. The concerto probably needs to calm down slightly, find more focus and balance, but that is likely to happen with repetition.
"Appalachian Spring" was calmer but not calm. Dudamel lavished swaths of spiritual serenity, excitedly interrupted by rhythmic élan. The variations on the Shaker tune "Simple Gifts" were not simple but cinematically grand. The overall effect seemed closer to Verdi than dry, transparent, unshowy Copland. That may take some time to get used to. But whether Dudamel intended it or not, he has brought a titillating new heat to a coolly collected American music.
Tour programs require encores. Staying true to his dizzying course, Dudamel presumably intends to send them home in orderly Luxemburg and elsewhere with a final spell of "Vertigo" — an irresistibly rapturous account of the love music from Bernard Herrmann's score to the Hitchcock classic.
---