Review: Europa Galante's graceful time warp back to Vivaldi's final season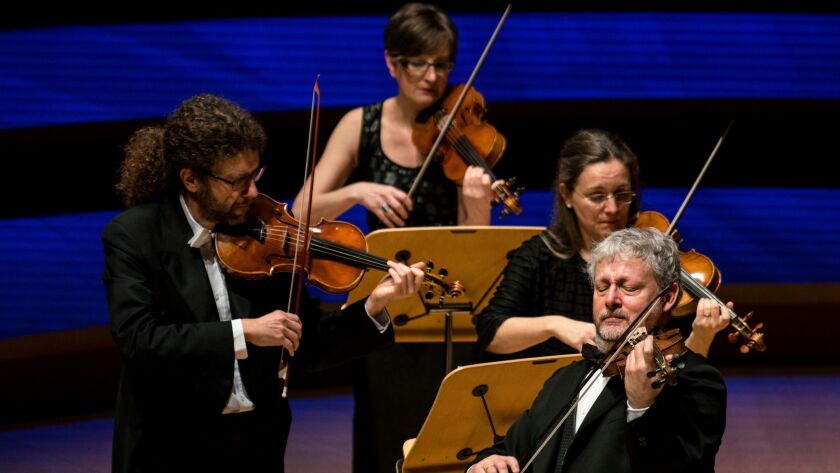 Music Critic
Like many an old saw, the one about Vivaldi writing the same concerto 500 times has a modicum of truth. You can't reinvent the wheel every week. Prolific composers, and especially prolific composers with a distinctive voice, repeat themselves.
A better way to put it, though, may be that Vivaldi never stopped writing the same concerto, especially for violin. About half (253 out of 512) the concertos were for his instrument. He explored new techniques and colorful new effects (like those that have made his "Four Seasons" ubiquitous) following mostly the same short movement forms. He might be compared to a jazz musician who improvises daily around the same song forms (and same songs), allowing for creative indulgence in new ideas.
The end point of all this — "Vivaldi: The Farewell Concertos" — was the subject of Sicilian violinist Fabio Biondi's program concentrating on the composer's last year, performed with Biondi's period instrument ensemble Europa Galante at Walt Disney Concert Hall on Tuesday night.
Vivaldi hadn't meant the trip from his home in Venice to Vienna in 1740 to be his farewell to concertos, let alone his life. He went because the emperor, Charles VI, was a patron, ready to bankroll productions of Vivaldi's operas. But Charles died shortly after the composer arrived. The theaters closed down in mourning and the city suffered an economic depression. Vivaldi found himself penniless and sold concertos for a fraction of what they were worth to survive. Within a year he contracted a fatal disease and died at 62.
Biondi placed three late violin concertos in the environment of the kind of music that was common in mid-18th century Vienna, which was on the cusp of becoming the center of the music world. That meant Vivaldi's concertos found company in Disney Hall with a conventionally sprightly opera overture by Baldassare Galuppi, a ho-hum sinfonia by Georg Reutter, an unoriginal flute concerto by Ignaz Jakob Holzbauer and a somewhat more imaginative sonata for four violins by Johann Georg Reinhardt — all (with the slight exception of Galuppi) appropriately forgotten composers.
Next to any of these works, Vivaldi's every measure was a flight of fancy. The Violin Concerto in D, RV 222 (using the numbering system by Danish musicologist Peter Ryom) starts out conventionally, but suddenly the energetic solo violin falters, begins a disturbing cycle of running out of steam and trying to prop himself up. The next movement is as lovely as, and reminiscent of, Pachelbel's Canon in D. But at a third the length, it cuts off as it reaches for a climax, the violin never quite able to make the climb. In the third movement the soloist puts on, but ultimately loses, a good face.
A Venetian nostalgia pervades the C Major Violin Concerto, RV 189, especially in its haunting Largo, like a gondolier's song. The B-Flat Concerto, RV 378, which ended the program, has a kind of deadpan freedom. Baroque clichés come and go, just not in the places they best fit. This sounds like a composer tossing something off for a quick buck (or whatever currency he got), but catching himself and throwing in curveballs.
It takes considerable flair to bring this kind of thing off. Biondi and his excellent ensemble of nine strings, harpsichord and lute have, instead, more grace than flair. They make an agreeable sound. But the more stunning colors and character they exhibit on their Vivaldi recordings dim in a large hall, even one with Disney's acoustics. Another Baroque concert and another harpsichord you can barely, if at all, hear. What's the point?
Biondi played and led everything earnestly, with a respect little of the music that wasn't by Vivaldi deserved, other than the ear-catching quirks of Reinhardt's four-violin sonata. Marcello Gatti was a sterling soloist on the wooden baroque flute in Holzbauer's concerto.
But this was, in the end, a concert to remind us what a sad city Vienna must have been for Vivaldi to end his glorious career in poverty and neglect. The anti-climactic B-flat concerto was followed by no encore for sugarcoating.
---
From the Oscars to the Emmys.
Get the Envelope newsletter for exclusive awards season coverage, behind-the-scenes stories from the Envelope podcast and columnist Glenn Whipp's must-read analysis.
You may occasionally receive promotional content from the Los Angeles Times.