Review: Pasadena Playhouse tweaks 1960s' 'The Fantasticks' for a post-9/11 era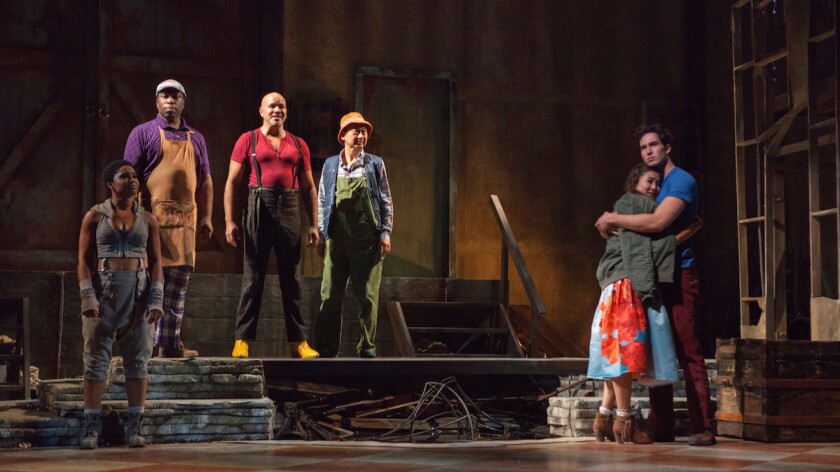 Try to remember a greener "Fantasticks," when props were leaner and sets were matchsticks ...
Ah, well, memory of the original lyrics fades, and it may be hard at first to recognize the no-frills off-Broadway origins of "The Fantasticks" amid its expansive, big-budget revival at the Pasadena Playhouse. Nevertheless, director Seema Sueko makes a shrewd case for staging the intimate 1960 Tom Jones-Harvey Schmidt musical fable in a larger venue, infused with a sober refocusing for our discordant times.
SIGN UP for the free Essential Arts & Culture newsletter »
With a tale that follows two youths through their initial romantic infatuation, disenchantment, separation and reconnection with clear-sighted maturity, the original minimalist musical set off-Broadway records with a 42-year run. In Pasadena, an extended prologue frames the piece within the ruins of an abandoned, once majestic theater, its decay lavishly detailed in David F. Weiner's scenic design. A determined troupe of actors and musicians steal onto the debris-strewn stage to practice the restorative magic of their art (a sly nod to the period of shuttering and rebirth in the Playhouse's own history).
Opening the run on 9/11 was no accident: Sueko pointedly casts the show's theme about the turbulent but ultimately healing power of love as an alternative to a world fueled by conflict and hatred. After the first act's whimsically artificial happily ever after, the disillusionment and tribulations facing naïve young lovers Luisa (golden-throated Ashley Park) and Matt (sympathetic Conor Guzmán) play with more grit than satire, bringing dramatic heft to their hard-won adulthood.
As the virile, world-weary bandit El Gallo, both the narrator and architect of their sharp-edged rites of passage, the superb Philip Anthony-Rodriguez kills the show's signature number, "Try to Remember," inflicting life lessons on the lovers knowing full well that without the hurt, the heart is hollow.
There's only so deep their wounded hearts can follow, however. Notwithstanding some new tweaks offered by librettist Jones in support of Sueko's vision, this is still "The Fantasticks" — awash in amiable slapstick supplied by comic veteran Hal Linden as a vainglorious thespian and Amir Talai as his clowning sidekick. Regi Davis and Gedde Watanabe add subtle diversity to the amusing faux feud between the lovers' matchmaking fathers, with Alyse Rockett's Mime shoring up the imaginative physicality. Musical director-pianist David O and harpist Liesl Erman make the most of Schmidt's pleasant but rarely soul-stirring score.
Rather than dazzle with intellectual sophistication or complex characters, the show owes its enduring appeal to the generic milestones with which it cannily invites reflection on our own life journeys. In the decades since first subjecting "The Fantasticks" to rigorous critical analysis, I've grown young enough to appreciate its open-hearted charms.
------------
'The Fantasticks'
Where: The Pasadena Playhouse, 39 S. El Molino Ave., Pasadena
When: 8 p.m. Wednesdays through Fridays, 4 and 8 p.m. Saturdays, 2 p.m. Sundays. Ends Oct. 2.
Tickets: $25-$90
Information: (626) 356-7529 or www.pasadenaplayhouse.org
Running time: 2 hours, 20 minutes
Follow The Times' arts team @culturemonster.
ALSO
Review: Resilience and dignity are the rich, bluesy music of 'Ma Rainey's Black Bottom'
From 'Beasts of the Southern Wild' to 'Burnpile' at the Kirk Douglas: Lucy Alibar finds her voice
Ivo van Hove brings his stripped-down 'View From the Bridge' to Los Angeles
---
The complete guide to home viewing
Get Screen Gab for weekly recommendations, analysis, interviews and irreverent discussion of the TV and streaming movies everyone's talking about.
You may occasionally receive promotional content from the Los Angeles Times.