'Frozen' has its first performance on Broadway, and the fan frenzy begins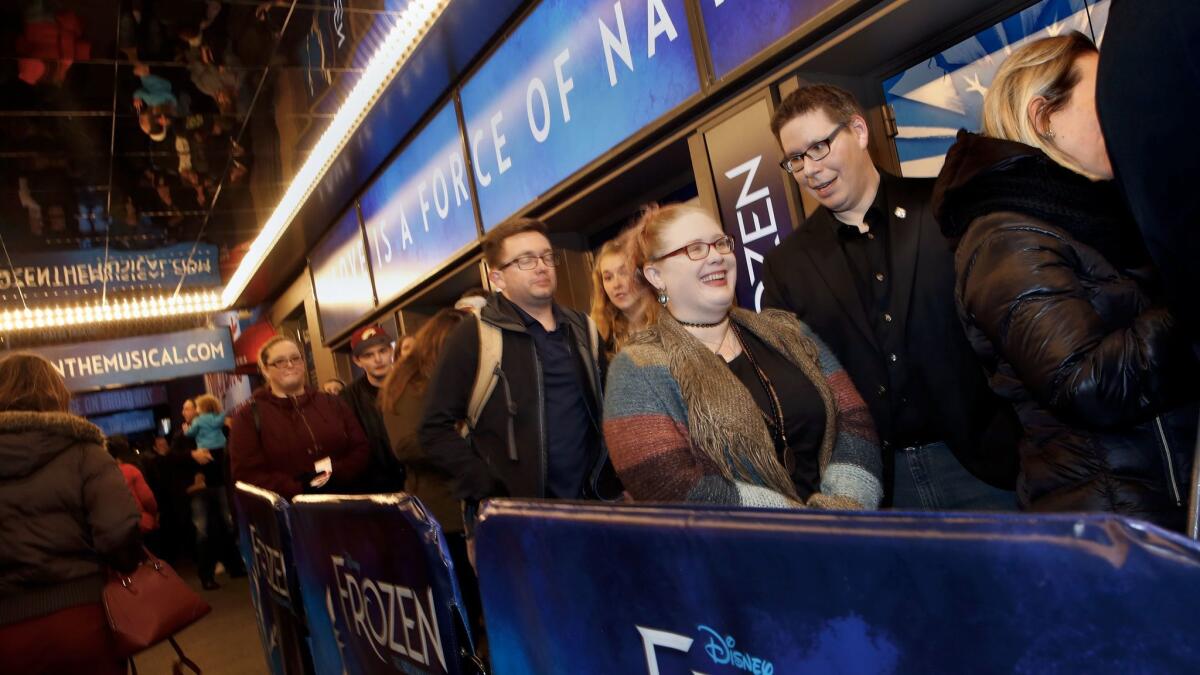 Reporting from New York —
Princess dresses are not the sole purview of little girls. At the first preview of Disney Theatrical's new Broadway musical "Frozen" on Thursday night, the royal gowns were an equal-opportunity proposition for grown women, teenagers, toddlers and a marvelous little boy.
At a quarter till 8, a giddy crowd wound down 44th Street and into the St. James Theatre. Many fans had purchased tickets nearly four months ago.
Yuki Kunishi, an accountant who lives in the city, arrived in an Elsa dress accompanied by her boyfriend, Charlie Omacer. The pair had been waiting since August for Disney to announce the sale of tickets.
We loved it. We didn't expect to cry, but we did.
— Natalie Brady, who saw the show with her sister
Kunishi has lost count of how many times she has seen the Oscar-winning 2013 film about a queen who accidentally plunges her kingdom into eternal winter and the sister who braves a perilous, icy mountain to save her.
"It's all magical, fantastical," Kunishi said, adding that her own first name means "snow" in Japanese.
Omacer said he's always "liked the Disney stuff," but after he started dating Kunishi three years ago, it became mandatory.
Larissa McKay and her mum stood a few paces up in line. They were from the frozen north (Ottawa, Canada) and were on a Broadway tear. They had seen "Hamilton" the night before and "The Band" before that, but they were ecstatic to have scored "Frozen" tickets for Thursday night.
Larissa relates to Anna, Mum to Elsa.
"She's quirky and she makes mistakes too," Larissa said, pointedly shrugging her shoulders at her mother.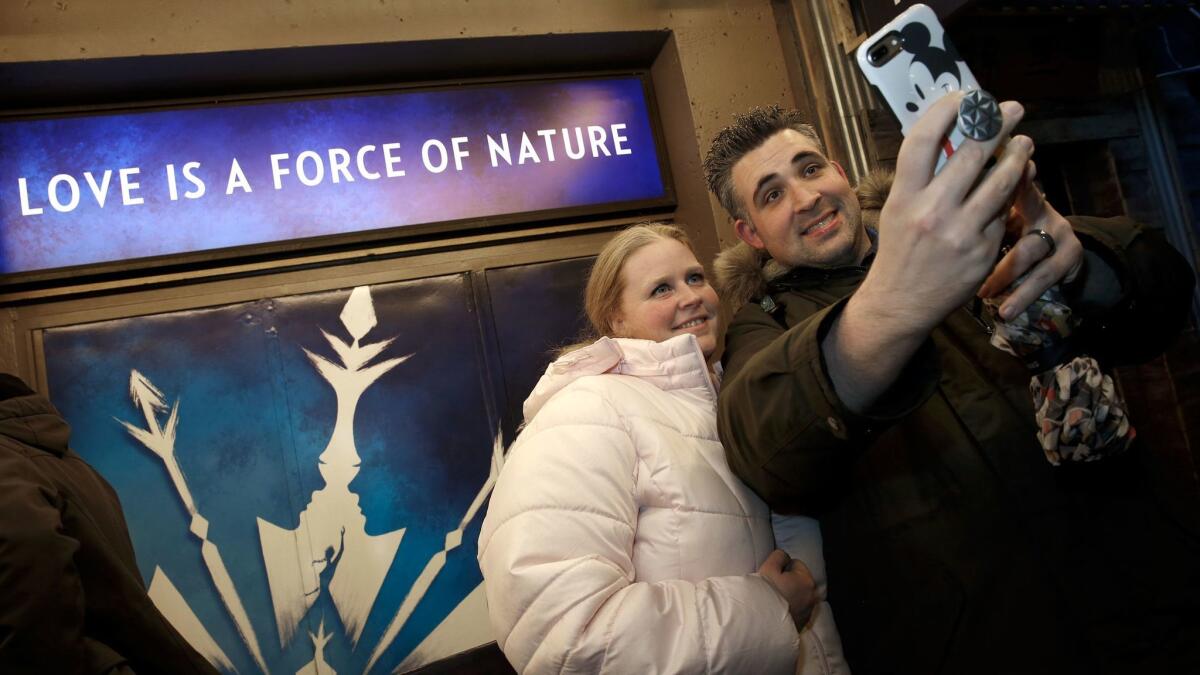 Inside the packed lobby, two young women navigated the crowd while recording video of their trek on a phone. Claudia Lam, a 19-year-old from Hong Kong, emphasized that she has been a "Frozen" fan for five years — "from the beginning."
Lam watched as many behind-the-scenes videos of the musical's making as she could on YouTube. She wanted to attend the first preview because "a premiere can change the script if something doesn't work, and I wanted to be a part of that."
"That was an interview," she told her camera.
Among the notable arrivals: Robert Lopez and Kristen Anderson-Lopez, the couple who wrote the music and lyrics for the show. But this day was all about the fans.
Inside the theater, Brian and Sharon Smith and their 13-year-old daughter Samantha sat close to the stage. They're locals lucky to have recently nabbed tickets through Ticketmaster after watching closely for their release.
"We thought it would be a 'Lion King' situation where we were waiting years and years to see it," Brian said.
Sharon describes her daughter as a "huge, huge princess fan." She's also a huge Olaf fan, and when the rotund snowman appears onstage for the first time she grabs for her mother's hand in excitement.
After the sold-out audience has taken in the shivery spectacle — the glistening fjords, the ice crystals on skirts and in hair and on fireplaces and crisscrossing windowpanes — after it has leapt to its feet and applauded while snowy paper fell from the ceiling during the curtain call, a voice in the crowd implored, "Can that start all over again?"
"Disney does such a good job," Brian Smith said as his family filed out.
"That was spectacular," Sharon said as Samantha did a happy little hop.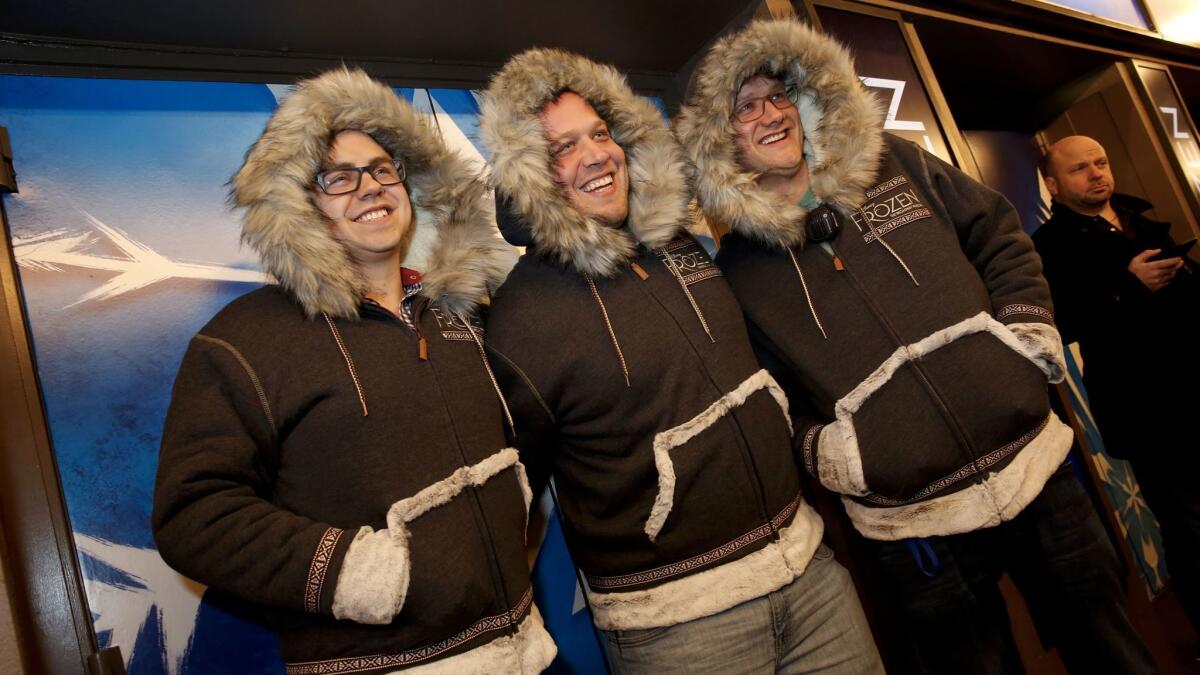 Many veered to the merch booth on the way to the lobby doors. Vendors sell Elsa, Anna and Olaf plush dolls, coronation bracelets, orb jewelry boxes, and logo gloves, magnets and keychains.
Six-year-old Brie Edwards and her mother, Terell, were among them.
"I just liked the whole thing," Brie said, adding that she has doesn't have one favorite character. She has four, she said.
"Sven, Olaf, Elsa, Anna and Kristoff," she said. So make that five.
At this moment, Jelani Alladin, the actor who plays Kristoff, emerged from a backstage door to hug a few waiting friends. A girl in a cape and a sky-blue Elsa dress, clutching a $45 Olaf plush doll, stared with mouth agape.
"Kristoff," she stammered.
As Alladin began to amble off, sisters Kathleen Sanderson and Natalie Brady from Utah and Ohio, respectively, who are in New York for a "sisters weekend," asked for a selfie with the actor.
"We loved it," Brady said. "We didn't expect to cry, but we did."
Brady is the Elsa in the family, they added. Sanderson is the Anna.
ALSO
'Frozen' songwriters are Oscar nominees for 'Coco'
'Frozen's' Jennifer Lee on being a female director
---
UPDATES:
11:30 a.m. This article was updated with additional photos.
Get our L.A. Goes Out newsletter, with the week's best events, to help you explore and experience our city.
You may occasionally receive promotional content from the Los Angeles Times.