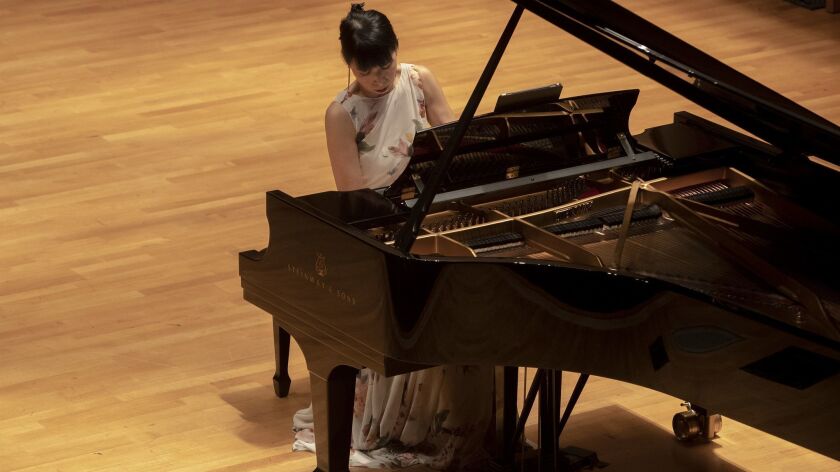 Music Critic
Music is an art form of memory. We remember what we heard before and anticipate what might come next. Even with the most radical of avant-garde attitudes, which discount expectation, we still must remember to forget.
But we also use music for personal recall, such as taking us back to our own youth or reminding us of others' history. Gloria Cheng's Piano Spheres concert "Garlands for Steven Stucky" on Tuesday night at Zipper Concert Hall was unusual for being a little of all of that. She played 32 short piano pieces written by composer friends of Stucky, who died in 2016 at age 66, that on one level eulogized a beloved mentor and musical friend.
On other levels, the pieces became more quixotic, because music captures character only vaguely. I didn't, in any of these pieces, exactly sense the Steve who I knew and loved, like just about everyone who had anything to do with him. I didn't always sense the composer of the piano miniature more, either. What was often evoked was something in between — the Steve who is no more, and the impossibility of retrieving him, yet a pressing desire to please him. Each piece seemed written not about Steve, but for Steve — remembering what he would have liked.
Some of the composers were well known. Esa-Pekka Salonen led off the collection with "Iscrizione." Some are Stucky's former students, now emerging composers. The age range was 65 years, from Julia Adolphe and Michael Small, born in 1988, to William Kraft, 1923. The longest piece was Salonen's, at around 4½ minutes; the shortest, John Harbison's "Waltz (In Memoriam Steve Stucky)," waltzing by in 45 seconds, as if Stucky were a flash of memory, a memory you don't trust, a ghost sensed rather than seen.
Most composers were, like Stucky, American. He spent his career teaching at Cornell, but he also had a 21-year association as resident composer of the Los Angeles Philharmonic that made him an essential figure on the local scene. He won the Pulitzer Prize in 2005 for his Second Concerto for Orchestra, commissioned by the L.A. Phil.
André Previn appointed him composer-in-residence. Stucky later worked closely with Salonen for the latter's entire 17-year music directorship of the L.A. Phil, and Gustavo Dudamel conducted the premiere of Stucky's only symphony and his last major orchestral piece in 2012. His last two major pieces also had local premieres: his only piano sonata, a Piano Spheres commission played by Cheng, and his only opera, "The Classical Style," commissioned and produced by the Ojai Music Festival.
Stucky had his likes and dislikes, as any fine composer must. He was what you might call a traditional modernist. He enjoyed the abstract 20th century composers, with a special passion for the Polish modernist Witold Lutoslawski.
He was very much a composer of memory, some of his most popular pieces being re-writings of earlier, often Baroque era, music. Yet as the overseer of Green Umbrella concerts for two decades, he was distinguished by an openness to just about everything. His was not a give-them-enough-rope-and-they-might-hang-themselves attitude, but rather a they-might-lasso-something-worth-arguing-about-over-a-single-malt-Scotch attitude.
The piano miniatures tried to capture all these sides of Stucky, most with an overriding degree of restraint and sadness. Cheng began with Salonen's sad questioning phrase that then became angry. She ended with the thundering chords of Daniel S. Godfrey's "Glas."
A range of emotions came in between, a continuum between tonality and atonality, between tune and tunelessness, between wistfulness and ferocity, between memory and forgetting. Rarely was there resolution. As one garland flowed into the next, it was easy to lose track of where you were, of who was who.
Judith Weir revealed Stucky's sweetness personified in her "Chorale, for Steve." Anders Hillborg obsessively punctuated "Just a Minute" with repeated notes, as if to insist that Stucky come back. Steven Mackey remembered having snarky fun with Stucky in "A Few Things." Christopher Rouse's "Muistomerkki" brought a tear to the eye by repeating a short phrase, as if summoning up memory. Fang Man included a toy piano in her "That raindrops have hastened the falling flowers," hastening the blossoming of melody.
Lutoslawski was quoted often. Stucky too. E-flat, which is S in the German musical nomenclature, was summoned time and again, a stand-in for his initials. But it was Cheng, who played with her customary refined brilliance for tone color, rhythmic devotion and striking capacity to make every gesture matter, that turned disparate pieces into both garland and garden.
As she does on her splendid new recording of these pieces on the Bridge label, Cheng was joined by mezzo-soprano Peabody Southwell and oboist Carolyn Hove for Stucky's 1982 "Two Holy Sonnets of Donne" at the end. A composer who valued light, a 33-year-old Stucky here starkly demanded that "Death be not proud."
In a shattering performance, Southwell showed just how little Death had to be proud of when it came to Stucky.
---