Review: 'Shuffle On' delivers a powerful kick from Broadway's musical past
reporting from NEW YORK —
A Broadway history lesson is being delivered these days at the Music Box Theatre, and never has anything this educational been so sensationally staged.
All credit to Professor George C. Wolfe, holder of a PhD in theatrical pizazz, for adapting and directing this homage to "Shuffle Along," the 1921 Broadway blockbuster that had the Great White Way jiggling to the fascinating rhythms of jazz.
For the record:
1:12 PM, Apr. 18, 2021The headline on this article incorrectly says the show reviewed is titled "Shuffle On." Its title is "Shuffle Along."
Wolfe has assembled an African American dream team of theatrical talent, led by six-time Tony-winner Audra McDonald, to channel the pluck, perseverance and panache of artists who might be forgotten by Broadway but only after they changed it for good.
See more of Entertainment's top stories on Facebook >>
Just when you think McDonald can't impress us anymore than she already has, she blows you away with a tap dancing prowess that must have left even choreographer Savion Glover in awe. (Don't be surprised if this superwoman one day wins a Tony for performing on the flying trapeze in a Cirque du Soleil extravaganza.)
Just when you think [Audra] McDonald can't impress us anymore than she already has, she blows you away.
The original "Shuffle Along," which had a book by the vaudeville comedy duo of F.E. Miller and Aubrey Lyles and a vivacious score by Noble Sissle and Eubie Blake, was a breakthrough for African Americans on Broadway. But there are reasons the musical hasn't been seen in ages.
Built around a farcical mayoral race in the fictional Southern backwater of Jimtown, "Shuffle Along" unfolds in the anything-goes manner of a '20s revue. Putting aside the use of blackface by Miller and Lyles, who made room in the musical for their popular shtick, this ragtag show isn't an easy fit for contemporary sensibilities.
"Shuffle Along" is probably best remembered for seducing Broadway with syncopation. Resurrecting the original book would be like to trying to bring the zoot suit back into fashion.
Wolfe, who knows Broadway as well as anyone, has wisely written a new book that shifts the focus to the creation of this shoestring African American musical and the dizzying aftermath once it was a runway hit. The updated title, while undeniably a mouthful, spells out his intentions: "Shuffle Along, or, The Making of the Musical Sensation of 1921 and All That Followed."
Make no mistake: This isn't a revival. Though much of the music is from the original show, the old musical has been deconstructed and a new one reconstructed by Wolfe and his matchless choreographer Glover. Their dazzling designed show tells the story, in dance and song, of a group of artists and entertainers carving out a place for themselves in a society not ready to treat them as equal citizens but unable to resist the brilliant originality of their artistry.
The storytelling minimizes traditional narrative and optimizes theatrical pop. Operating in the same thrilling mode of "Jelly's Last Jam" and "Bring in 'da Noise, Bring in 'da Funk," Wolfe builds on his own theatrical past in this salute to trailblazing predecessors. Broadway history is transmitted through the voices and feet of 21st century performers who repay with interest the debt they owe to their courageous 20th century forbears.
See the most-read stories in Entertainment this hour >>
Some may complain that the characters aren't sufficiently developed. And it's true that our only deep emotional connection is with Lottie Gee, the original star of the 1921 production of "Shuffle Along."
Lottie is played by McDonald with a quavering offstage manner that movingly communicates the vulnerability of this black woman trying to live out her dreams onstage. When McDonald's Lottie performs "Love Will Find a Way" and "(I'm Just) Wild About Harry," all insecurity vanishes and she becomes what she was made to be — a star.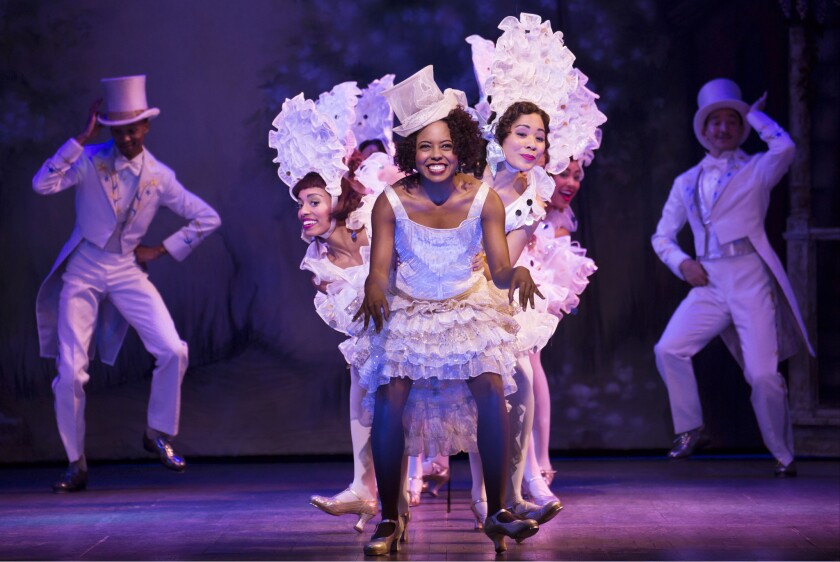 Only when she's in full theatrical flight is she allowed to forget about the lack of professional opportunities and the fact that she's better treated in Europe than she is in America. She is also given a momentary reprieve from the longing she feels for Eubie Blake (a fine Brandon Victor Dixon), who worships her gifts but won't ever leave his wife. For when she sings his songs, their souls are one.
The powerhouse stage presences of Wolfe's actors have to compensate for characters who are only incompletely sketched. But it didn't seem amiss that Brian Stokes Mitchell (a Tony winner for "Kiss Me, Kate" and a Broadway voice of the ages) was front and center as F.E. Miller or that Billy Porter (a Tony winner for "Kinky Boots") was fully present as Aubrey Lyles.
This is a show in which the protagonist is a collective, an improbable Broadway company at a historical crossroads. What's more, this musical celebrates the messy vitality of collaboration. That the inter-generational group effort here involves the clasping of hands between the living and the dead only deepens the feeling behind the rousing flair and finesse.
It's true that in the second half, after the musical the characters have been fighting to make has become the toast of the town, the conflicts and betrayals of the creative team (which includes Joshua Henry's Noble Sissle) are too generalized. A split between the book-writers and the songwriting team merely underscores the old saying that, in showbiz especially, nothing fails like success. Aubrey's fed-up number "Low Down Blues" may not be adequately set up, but Porter crushes the song in an all-out delivery that timelessly connects the struggles of black artists.
What this updated "Shuffle Along" lacks in drama it makes up for in sophisticated showmanship. The dance number "Pennsylvania Graveyard Shuffle" tells you everything you need to know about the trials and tribulations of out-of-town tryouts. And when McDonald's Lottie coaches a bright new star named Florence Mills (Adrienne Warren) to sing with minimal gestures and maximum expressiveness, you see the torch being generously passed down even as Lottie can't help regretting all the opportunities her era denied her.
"Shuffle Along" is, after "Hamilton," the second best new musical of the Broadway year. But it's not the kind of show that will likely enjoy an especially vibrant afterlife. What Wolfe has created is wholly dependent on the magnificent company he has assembled here.
The beauty, poignancy and breathtaking verve of this production are the product of a unique solidarity between troupers of different eras. Under Wolfe's baton, the collaborative march of geniuses and journeymen presses on to make Broadway better and America whole.
Twitter:@CharlesMcNulty
---
Inside the business of entertainment
The Wide Shot brings you news, analysis and insights on everything from streaming wars to production — and what it all means for the future.
You may occasionally receive promotional content from the Los Angeles Times.