Hammer Museum goes to France for part of its 'Made in L.A. 2020' curatorial team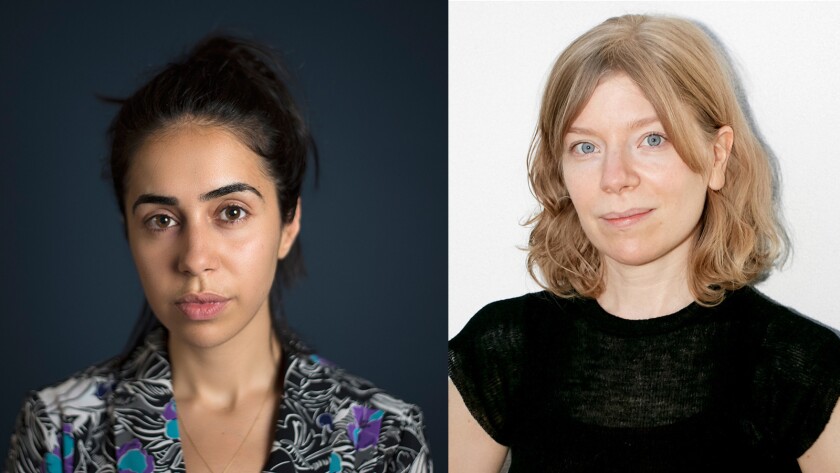 The Hammer Museum on Thursday announced the curators for its fifth biennial: Paris-based writer and curator Myriam Ben Salah and Los Angeles curator and graphic designer Lauren Mackler, founder of the nomadic art space Public Fiction, will steer "Made in L.A. 2020."
For the first time, the museum has appointed an assistant curator for performance. Hammer curatorial assistant Ikechukwu Onyewuenyi will fill the role.
Ben Salah and Mackler will traverse artists' studios over the next year and a half to conceive the exhibition, which highlights emerging and under-recognized artists from the L.A. area and includes painting, sculpture, performance, film and video, literature and music. Mackler, whose Public Fiction installation was featured in "Made in L.A. 2014," said they're interested in how art is communicated to the public and how "the exhibition itself is also a medium."
"It's a starting point for looking at how to move through the biennial," Mackler said. "We're thinking about what artists are making in Los Angeles right now and how we can best support that and communicate it to the public. And how do we build context or scholarship around new artists' work and support the practices of these contemporary artists in Los Angeles."
Ben Salah said by email that she had long admired "Made in L.A." for being "observant, disruptive, avant-garde, just like Los Angeles itself."
"I am not from Los Angeles but I have been building tight relationships with the artistic scene over the past years," said Ben Salah, who is French Tunisian. "I think the Hammer's choice of an 'outsider' was both bold and extremely relevant and I look forward to bringing my vision into the mix, while charting a course among all the great endeavors that have been implemented by the previous editions' curators and the Hammer's team."
The newest curators, museum Director Ann Philbin said in a statement, "are both deeply engaged with the contemporary art scene in Los Angeles, so we're eager to see the fresh perspectives they bring to 'Made in L.A. 2020.' "
The biennial will be on view June through September of that year.
Follow me on Twitter: @debvankin
---
Your essential guide to the arts in L.A.
Get Carolina A. Miranda's weekly newsletter for what's happening, plus openings, critics' picks and more.
You may occasionally receive promotional content from the Los Angeles Times.