Review: A centennial tribute to 'The Divine Mr. Harrison'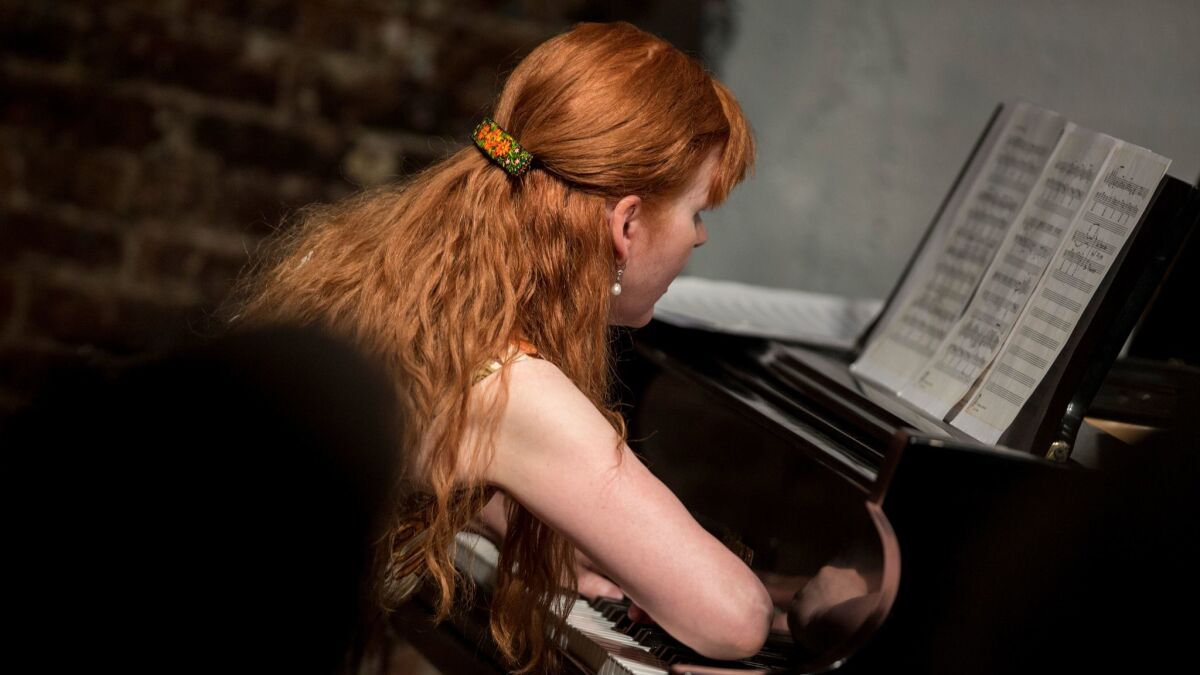 Music Critic
Among the large number of pieces by Lou Harrison that lift the spirit is a short movement titled "In Honor of the Divine Mr. Handel." Now, on the occasion of the 100th anniversary in May of California's irresistibly quintessential composer, the honoring of Mr. Harrison has begun in earnest.
That is not to say that Harrison, who died in 2003 at age 85, is getting anything like the attention he deserves. "You either love Lou's music," choreographer Mark Morris writes in the forward to a forthcoming biography of the composer by Bill Alves and Brett Campbell, "or you haven't heard it yet."
Most of the world is in the latter camp, or the one that Morris doesn't want to acknowledge — those who have heard Harrison and find his music too pretty, or too quirky, or him to be an amateurish, however agreeable, outsider artist. For now, the love fest is pretty much based on the West Coast, and thus far has been centered in the Bay Area. Harrison came of age as a composer in San Francisco and, after a difficult decade on the East Coast, he thrived for most of his career in Aptos, near Santa Cruz.
In Los Angeles, where Harrison studied with Arnold Schoenberg at UCLA, much of the celebration has been in the hands of MicroFest, the annual spring festival of microtonal music held around Southern California. Harrison was a pioneer in curious microtonal tunings, both the kinds used in exotic early Western music and in Asian music, notably with Indonesian gamelan orchestras. On May 14, there will be a 24-hour live (and streamed) Birthday Bash at the Harrison House, the desert straw-bale retreat that the composer built in Joshua Tree shortly before he died and that has been turned into a performance and artist residency site. In June, the Los Angeles Philharmonic will give Harrison's opera "Young Caesar" its belated first staging at Walt Disney Concert Hall.
Tuesdays@Monk Space, the monthly new music series in Koreatown, held a MicroFest event this week that featured Bay Area pianist Sarah Cahill and the local Varied Trio, a violin, piano and percussion ensemble that takes its instrumentation and name from a classic Harrison score. The concert may have been a modest event, held in a small, out-of-the-way space for a devoted audience, but it was important.
There were two aspects. One was a display of early pieces by a pioneer of eclecticism still in his experimental stage. The other aspect was the mature Harrison, as heard in two late pieces — the "Varied Trio" and the solo piano work "A Summerfield Set." Here, Harrison revealed himself a master of the vast everything he touched.
"From the start, I spread my toys," Harrison liked to say with childish glee, "over a large acreage." The revelation of the Monk Space concert, which included a number of unpublished pieces written between 1938 and 1940, was just how many were his toys and just how much musical acreage he accrued.
During those years, while in his early 20s, he studied with Henry Cowell, the dean of California music and inventor of tone clusters on the piano. He palled around with John Cage, writing and performing percussion music, the two of them being the first to find percussion instruments in junk yards. He wrote music for dance at Mills College in Oakland (where Martha Graham was in residence) and danced himself. Write he did, often a piece, and on occasion even two pieces, in a day. Most of this was rejected for what became his oeuvre, but many manuscripts have survived.
Cahill offered three such rarities. "Jig," "Range-Song" and "Dance for Lisa Karon," which probably haven't been played since Harrison himself banged them out, either for dancers, friends or Cowell, whose style the scores employ, including the Cowell trademark of hitting clusters with the forearm. Already you sense Harrison's incomparable pleasure in making music.
With the early violin and percussion pieces, "1st Concerto" and "Omnipotent Chair," Harrison's voice is already clear. He did choose to publish the concerto, originally for flute and piano but easily transcribed for violin. But "Omnipotent Chair" is another rarity. In both, Harrison reveals a love for lyricism in the violin part and a love for going to town with percussion. He cherished anything that rings, be they flower pots, gongs or wood blocks.
Harrison's march through styles didn't leave out the 12-tone system, and Cahill threw in the thorny 1943 "Conductus" from a suite Harrison wrote when studying with Schoenberg. Even here, as Cahill marvelously revealed, you need a spring in your step when playing Harrison.
For the "Varied Trio," violinist Shalini Vijayan, percussionist Yuri Inoo and pianist Aron Kallay brought out what makes Harrison's later style so very ravishing. (All three were also the performers in "Omnipotent Chair"; Vijayan and Inoo performed the concerto.) Here a gamelan-inspired movement might flow like a Schubert song. Here porcelain bowls hit with chopsticks sound like a million dollars. Here an elegy bring tears to the eyes by never losing sight on the joy of living.
That joyful rightness, even when sad, pervades "Summerfield Set" as well. Harrison wrote the piece (playable on piano or harpsichord) for an organist, Susan Summerfield, with a magically light touch. Cahill played more as Harrison himself might have — boldly, exuberantly, with an ear for color and a foot for rhythm.
Now for the bad news. Nothing felt out of place in the Monk Space tribute, and thanks to MicroFest, much more is promised in a similar vein around town in coming weeks. But musical real estate being what it is these days, the acreage remains far too small.
Harrison wrote big pieces too. There are major symphonies (which you never hear) and concertos (which are more often, but not all that often, programmed). Look near and far. America's orchestras, larger ensembles and star performers (Harrison wrote for the likes of Leopold Stokowski and Yo-Yo Ma) are mostly letting us down.
ALSO
Philip Glass, Pat Metheny, k.d. lang, Audra McDonald all turn out for a tribute to a Nonesuch guy
From 'Breakfast at Tiffany's' to 'Pink Panther': The music of Henry Mancini, remembered
With some big opera names behind it, Young Artist Program aims even higher
---
Get our daily Entertainment newsletter
Get the day's top stories on Hollywood, film, television, music, arts, culture and more.
You may occasionally receive promotional content from the Los Angeles Times.