A century-old suffragist's story inspires high school girls to 'Hear Our Voice'
Inside the well-worn choir room at Van Nuys High School, a scuffed-up old grand piano rumbles as composer David O pounds out slow, bluesy chords.
"Who I am," the choir sings soulfully above his accompaniment, their voices rising in pitch with each word, "is a woman who fights a good fight."

For the record:
9:00 a.m. Feb. 16, 2018An earlier version of this article misspelled the last name of student Clara Pierone as Pirone.
Choral director Brianne Arevalo calls out the beats above the piano's chords, signaling the song's climax: "Never afraid to speak my mind. That's who I am. That's who I am!"
In the back row, 17-year-old Clara Pierone's voice rises above the group's harmonies as she belts out the final line with a descending, gospel-style flourish.
With a big gesture, Arevalo — Miss Arevalo to her students — cues the cut-off. There's a brief beat of magical silence.
"What a beautiful piece you wrote," Arevalo says, reveling for a moment in the rich sound. But soon enough, she jumps back into teacher-mode to offer a quick, practical tip on how to brighten a sustained high note in a performance so that it doesn't go flat.
Arevalo and her students are rehearsing "Hear Our Voice: A Woman's Journey," a new oratorio written and composed by Van Nuys High School choir students that explores the history of women's rights. They will premiere the piece Friday (for other students) and Saturday (for the public) alongside 10 student instrumentalists and eight professional singers from the Los Angeles Master Chorale.
The oratorio is the product of the Master Chorale's Voices Within Oratorio Project, a program that embeds Master Chorale teaching artists in school choir departments.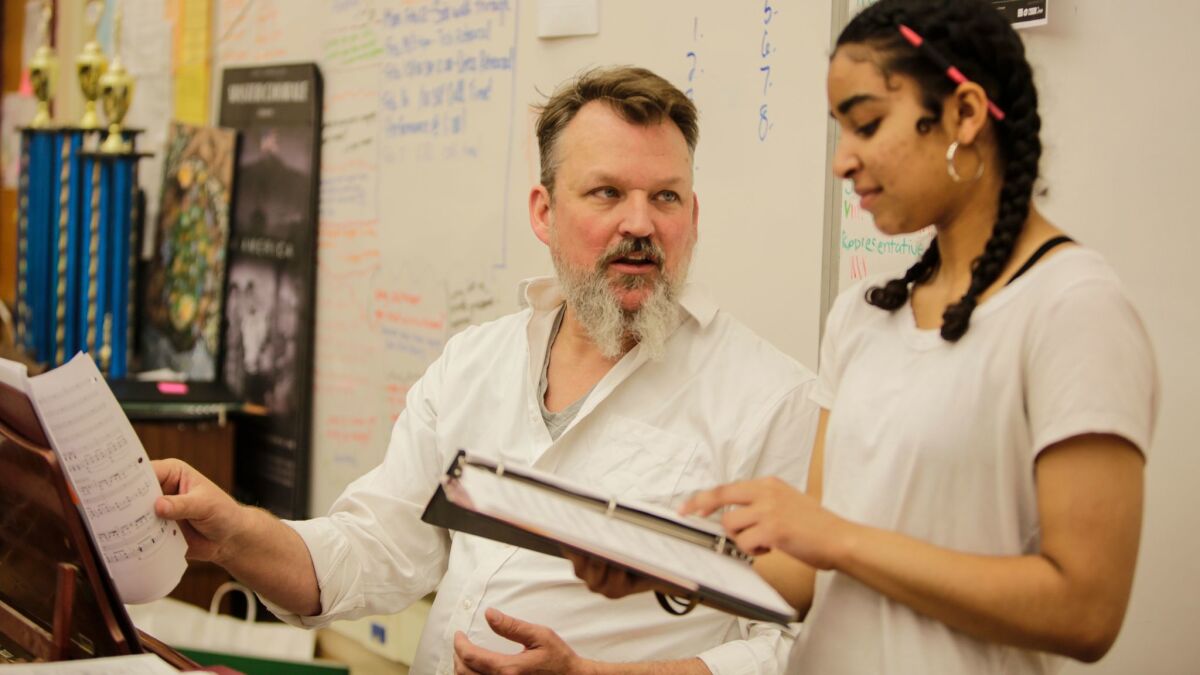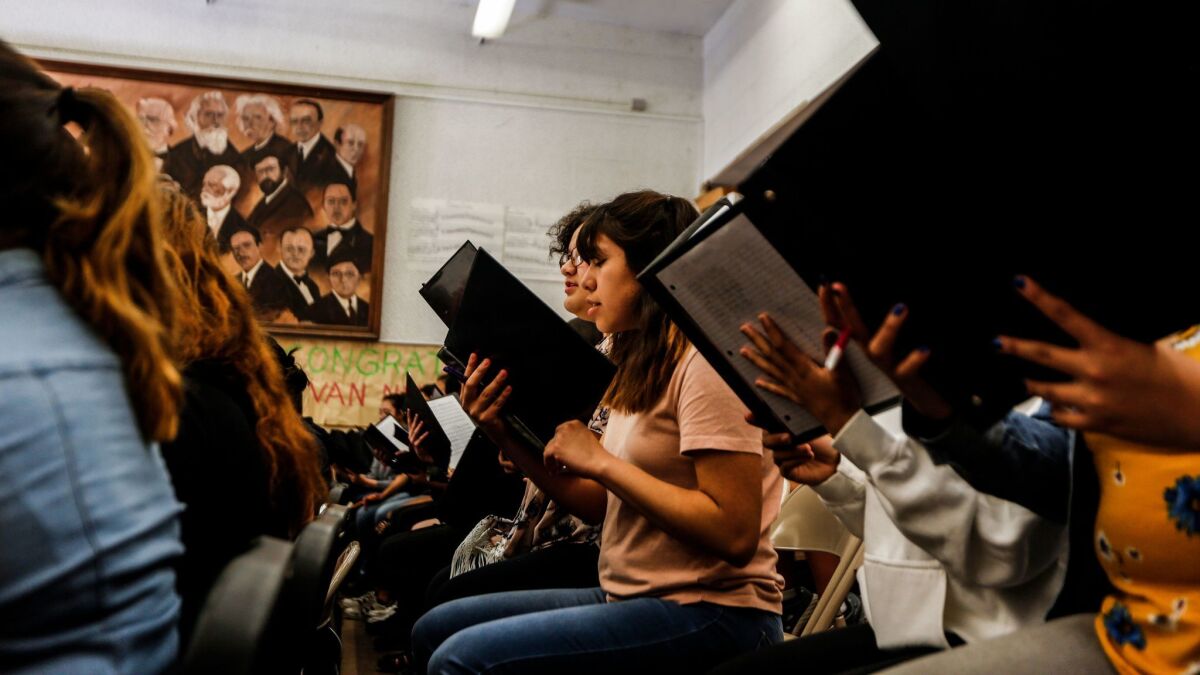 The teaching artists have been working in Van Nuys since August, when they first presented the students with a concept for the piece: a feminist journey centered on the experiences of suffragist Sara Bard Field, who traveled by car from San Francisco to Washington, D.C., in 1915 to gather signatures for a petition asking President Woodrow Wilson to give women the right to vote.
"We're coming up on the 100th anniversary of the 19th Amendment," says Doug Cooney, the teaching artist who helped the students to write the libretto. "It was very interesting to present this history to them and watch them process how much progress has occurred, and how much things haven't changed."
In "Hear Our Voice," Field's road trip transcends time and space, leading her to encounters with early women's right advocates Susan B. Anthony and Sojourner Truth, wage discrimination activist Lilly Ledbetter and Nobel Peace Prize laureate Malala Yousafzai, among others.
The project has prompted students to dig deeper into stories they had touched on in history class, as well as discover new ones.
"I knew about Gloria Steinem because she was referenced in 'Legally Blonde,'" 17-year-old Vincent Macias says with a laugh. "I think it's just so cool to see how you can compare what we wrote about in the oratorio to lots of the things we see going on today."
Seunghyun Baek, 18, plays suffragist Elizabeth Cady Stanton. She had learned about some of these figures in history class, she says, but the research required to write the oratorio gave her a much deeper understanding of the fight for equal rights.
Chatting after choir practice, Pierone, who plays Ledbetter, Baek and Macias are enthusiastic about the music they've written. They are also passionate about the subject matter, which they say informs their own interest in fighting for equality. None can vote yet — Macias and Pierone are too young, and Baek is a Green Card holder — but they still want to make a difference in society.
For Pierone, women's health and access to care is a central issue. Baek started a club called Artemis to raise awareness about human trafficking. Members make and sell art to raise money and awareness.
What ultimately makes "Hear Our Voice" special, the students say, is the act of singing.
"I think for a lot of us, being able to write this oratorio was like us being able to have our voices heard," Pierone says. "For me, singing the parts with the women's choir is really empowering. Some of the stuff Lilly Ledbetter sings about — fighting a good fight and never being afraid to speak your mind — it's the sort of thing that makes me feel like, 'Yeah, I am strong. I do have grace and grit. I can do anything.'"
See all of our latest articles at latimes.com/arts.
MORE ARTS:
Mariachi opera sings an immigrant's tale of love and loss, in potent political times
Jackie Kennedy 'Unveiled,' with help from 'Mozart in the Jungle' star Saffron Burrows
Playwrights get a new stage: Audible announces 15 writers for audio theater project
Get our L.A. Goes Out newsletter, with the week's best events, to help you explore and experience our city.
You may occasionally receive promotional content from the Los Angeles Times.