Review: Her name was Flora — artist, lover of Alberto Giacometti and now subject of a video at LACMA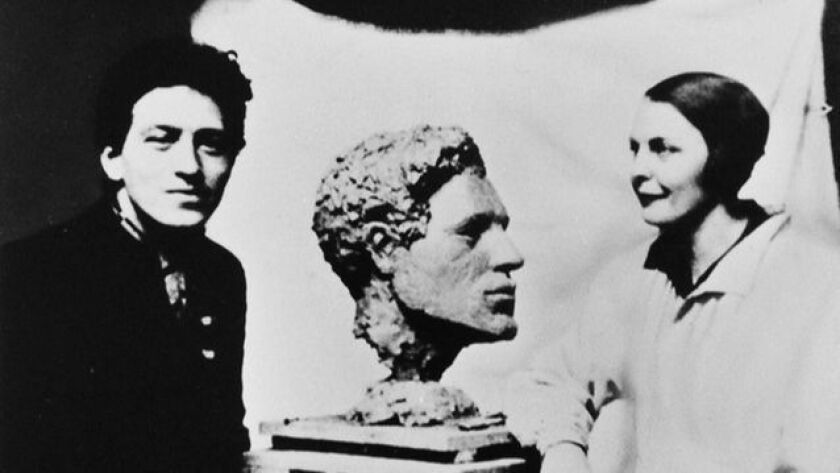 Art Critic
"Flora," a two-channel video projection by the Swiss American duo Teresa Hubbard and Alexander Birchler, offers a melancholic true story of love and loss that is both surprising and somewhat confused. If it doesn't quite jell, it does open a curious window on human frailty.
"Flora" is Flora Mayo, daughter of a wealthy Denver merchant who went to Paris in 1925 with dreams of establishing herself as an artist. A long love affair with a fellow student — a slightly younger man who harbors similar aspirations — in the atelier of sculptor Antoine Bourdelle comes a cropper when the Great Depression sets in. Flora's father pulls the financial plug that had been keeping her afloat, and she's finally forced to return to the United States.
All this would likely be of scant interest if, like Flora, the love interest hadn't ever amounted to much. That he was the then-unknown Swiss sculptor Alberto Giacometti makes his encounter with Flora into a provocative youthful footnote. The Los Angeles County Museum of Art, where the Hubbard and Birchler installation is on view in a show organized by curator Stephanie Barron, has an admirable collection of nine sculptures and one painting by Giacometti, dating from 1934 — the year after Flora left — and 1960.
The two 30-minute videos are projected simultaneously on two sides of a suspended screen, with a single voice-over soundtrack telling the story. The narrative is largely a reminiscence by Flora's son, David. He lives quietly in the San Gabriel Valley, is soon to turn 84 and never knew of his mother's relationship with a subsequently world-famous artist until recently, when Hubbard and Birchler came knocking.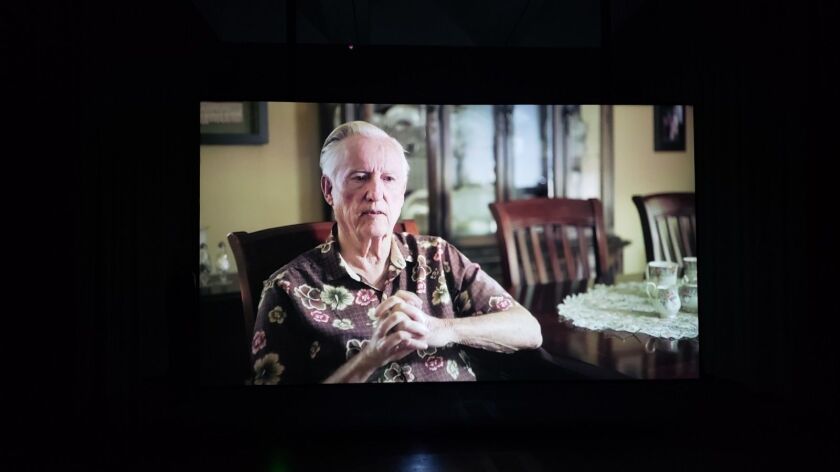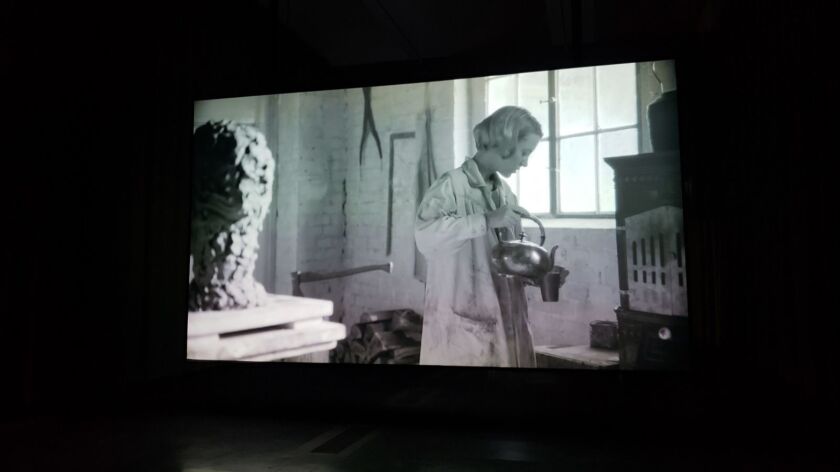 AT MACCARONE: The psychosexual madness of Trulee Hall »
David is on the front side of the screen, where he handles photographs, letters and other primary documents. On the back, actors perform the story in romanticized scenes recorded in black and white. Fact and fiction blur in what requires more than an hour to take in.
Flora lived a hard life. She relocated to Los Angeles in 1936, worked in the local defense industry during the war, became an office cleaning worker in the 1950s and eventually survived on public assistance. Her last residence was the ironically named Versailles Apartments near Wilshire Boulevard and Western Avenue.
Before leaving Paris, she destroyed all the art she had made. At the entrance to the installation, a bronze bust of Giacometti is a new approximation of a larger Mayo sculpture in a photograph of the two art students together, which was reproduced in James Lord's widely praised 1997 Giacometti biography.
AT THE GETTY: A Pontormo masterpiece of extreme imagination »
Perhaps tellingly, the photo shows her looking at him, while he looks into the camera, setting up an implied hierarchy of importance. Son David, understandably miffed at the dismissive comments about his mother in Lord's book, defends her "strength and fortitude."
There's good reason for that. Somewhat buried amid the twists and turns of a poignant family tale is the work's intended focus: As a woman, Flora had barely any room to fulfill her 1925 plan to become an artist in the first place. Sexism blocked the path. To remember her now because of a liaison with a man serves to underscore the heartbreak.
LACMA, 5905 Wilshire Blvd., L.A. Through April 7; closed Wednesday. (323) 857-6000, lacma.org
---
From the Oscars to the Emmys.
Get the Envelope newsletter for exclusive awards season coverage, behind-the-scenes stories from the Envelope podcast and columnist Glenn Whipp's must-read analysis.
You may occasionally receive promotional content from the Los Angeles Times.