Prepare for the invasion.
The anonymous French street artist known as "Invader" has landed in L.A. — again — and he's armed with a bucket of cement.
Since 1999, Invader has made nine trips to L.A. (this is his 10th), each time installing his colorful mosaics featuring pixilated versions of the Space Invader video game character on the facades of restaurants, car washes, bowling alleys — even the Hollywood sign. About half of the 200 works he's installed here over the decades are still up citywide.
This past May, Invader announced his presence in the city with an alien mosaic in the downtown exhibition "Beyond the Streets." He installed 28 other works around town during that trip, but won't say where exactly — that's for his fans to figure out.
On Saturday, Over the Influence gallery downtown will debut a new solo show of Invader's work, which includes canvas paintings. But Invader won't be at the opening, he says. For starters, there's that pesky anonymity thing. And: there are new invasions to be had!
Download his Smartphone app "Flash Invaders" (it's free), snap photos of the works in the streets, and rack up points if the mosaics are, authentically, his. Which is more difficult than it seems. In recent years, some fans have begun replicating, and replacing, works of his on the streets with the help of "Invasion Kits" that the artist sells on his website.
But the playful "hide and seek" process is more the point, Invader says. "Like finding a treasure," he told The Times in a recent interview. "I just want to put something in the landscape that people can smile about it," he said. "It's something positive. My goal is to produce art for everybody in the city and create some beautiful things."
Here are nine of his installations from the May invasion, which included the Silver Lake, downtown, Little Tokyo and Santa Monica neighborhoods. He won't verify locations, but the photos should provide ample clues. …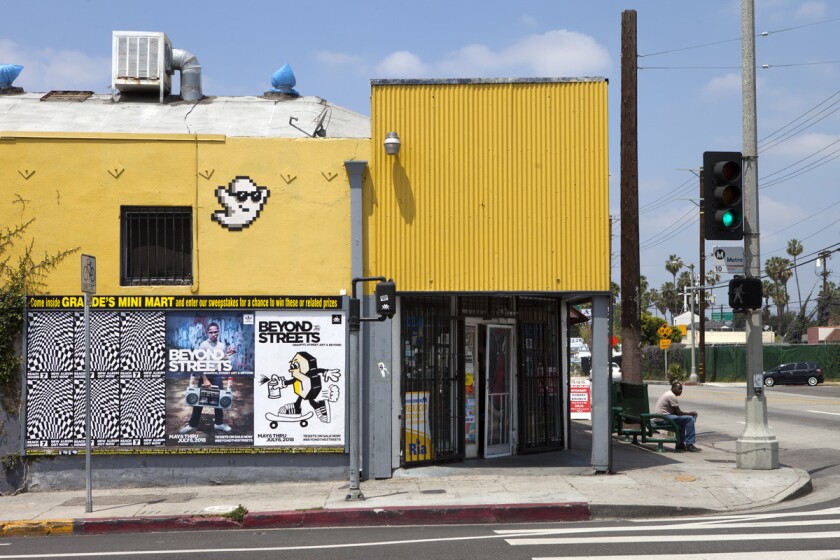 RELATED: How I discovered I was living with an alien 'Invader' »
Follow me on Twitter: @debvankin
---