Arts Preview: Graffiti art exhibition aims to go 'Beyond the Streets'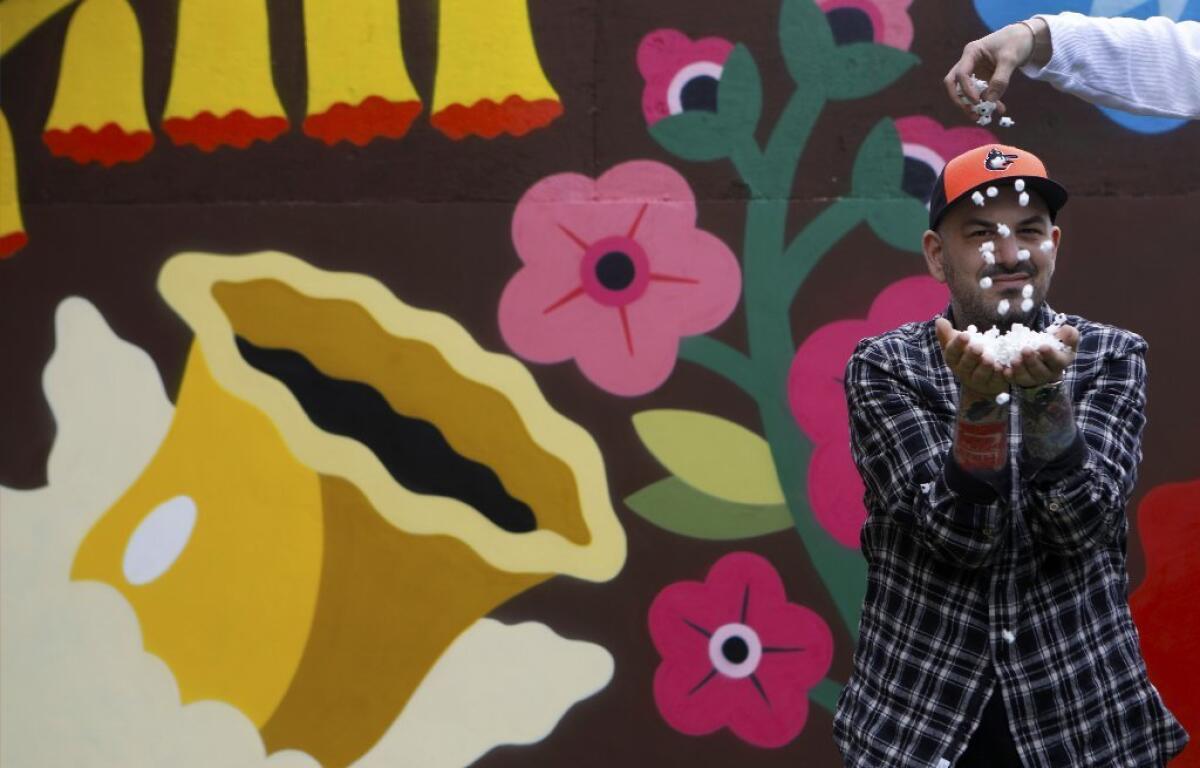 Roger Gastman says he's taking street art "beyond the streets," at least for nine weeks this spring.
The man who co-organized the Museum of Contemporary Art's 2011 "Art in the Streets" survey has put together an independent exhibition of more than 100 international graffiti and street artists. "Beyond the Streets," which opens May 6, will fill more than 40,000 square feet of a warehouse on the edge of Chinatown with mostly new painting, sculpture, photography and installation works by artists such as Shepard Fairey, Takashi Murakami, Kenny Scharf, RISK and Guerrilla Girls.
But is street art even street art if it's not in the streets? And is the exhibition, with its $25 entry fee, just another pop-up event to serve as a backdrop for selfies, like the Museum of Ice Cream, 14th Factory or 29Rooms?
"It's art," Gastman said, whether indoors or outside. Selfies just help "spread the story."
"People want to take photos and interact with things. It's fun. So of course, during our exhibit, we'll have that," he said. "But we also want to educate and entertain. Part of [the exhibition] will be ephemera, part will be historical, and part will be more of a photo opportunity mixed in with the paintings, sculpture and other art."
Indeed, nothing is defined simply in the realm of street art, a medium inherently shot through with contradictions. It's anti-establishment in nature, with works often produced on the fly, illegally, and meant to be seen outside the walls of traditional museums and galleries. But it's long been commercialized by corporate brands, by art galleries tapping the subculture for its hipness and by artists themselves.
Over the last five or six years, Gastman said, the popularity of the culture — no longer sub — has reached a new peak, with "everyone jumping on board and everyone calling themselves street artists." A main reason Gastman wanted to create this exhibition is to "strip away the noise" and showcase who he sees as the real, true street and graffiti artists of the last several decades.
Some of those artists may be all grown up now, but they remain "cultural outlaws" who put in ample time working in the streets or as illegal graffiti writers, he said. From that pool of artists, he focused on the ones who established studio art careers instead of, or in addition to, their street work. He also showcases fine artists who may never have worked in the streets but who he feels respect street and graffiti art or have been inspired by it.
"I didn't want to rehash the historical timeline. I didn't want to retell the story of graffiti and street art A-Z," Gastman said. "This show is about moving beyond the streets and into the studio, to show how things evolved."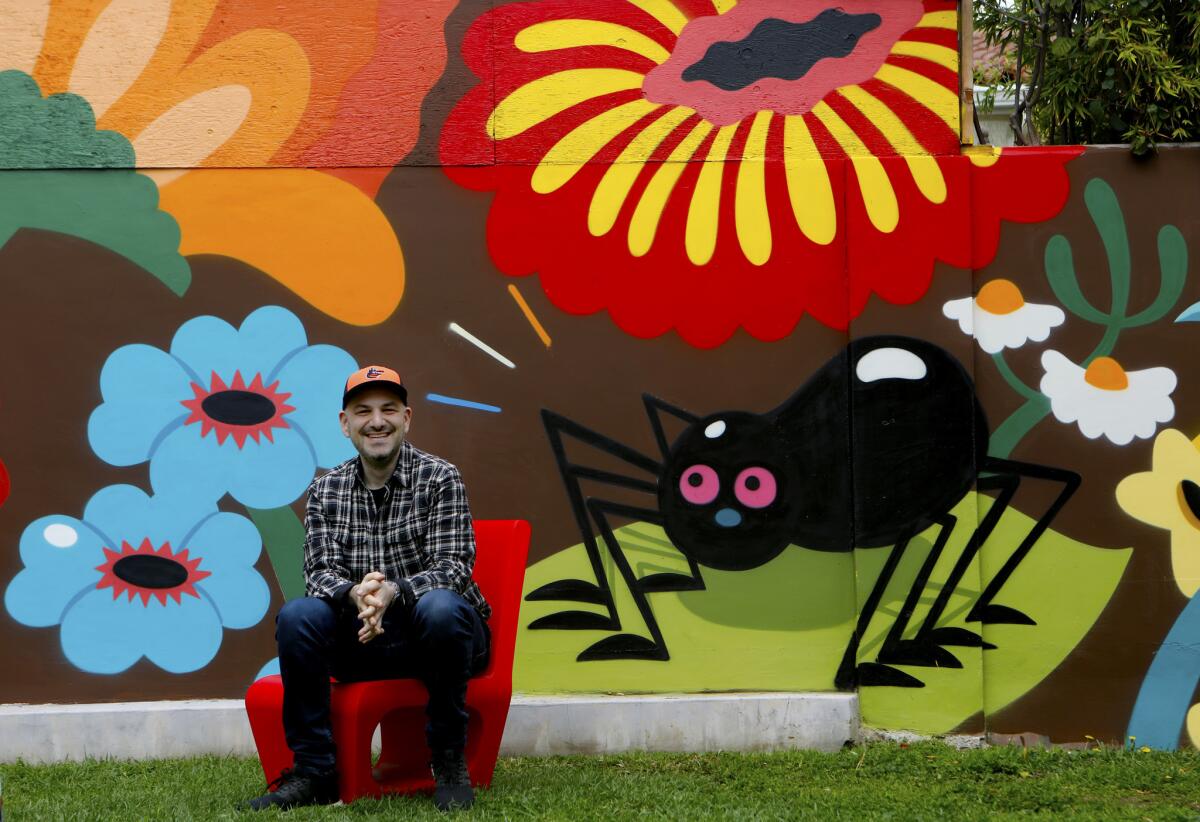 Gastman's co-curators are Evan Pricco, editor in chief of Juxtapoz magazine, and artists Caleb Neelon and David "Chino" Villorente. They decided that variety, placed in context, was the way to go. One exhibition area will feature more traditional fine artists such as Jenny Holzer and Gordon Matta-Clark, the latter of whom began photographing graffiti art in 1973, together with artists who came out of the graffiti scene, such as Barry McGee, Eddie Martinez, Todd James, Alicia McCarthy and Ruby Neri.
Another area will bring together "art stars who have different threads you can link together and who've never shown together before," Gastman said. "Murakami was influenced by graffiti and street wear, and Futura is one of the godfathers of street wear. [C.R.] Stecyk is one of the earliest intervention artists doing graffiti and postering, and he's next to Retna, known for his typography."
L.A. artist Gajin Fujita made a 16-foot-long painting with a gold leaf background that's layered with spray-painted graffiti tags by his former crew members and friends. Another Angeleno, Patrick Martinez, creates acrylic paintings that incorporate neon. Spanish artist Felipe Pantone and New York's Katsu are developing multimedia pieces.
"Beyond the Streets" will have a few large-scale interactive "installation destinations." That includes a playable handball court by New York artist Lee Quinones, a re-creation of his 1982 Brooklyn lion mural handball court, "The Lion's Den." Next to it, Ron Finley is building a "garden intervention" that visitors can wander through. British artist Paul Insect is filling an entire room with puppets made from old trash, soda cans, pizza boxes and other found objects.
Murakami will create a 20-foot-tall, double-sided mural-on-canvas that will hang in an almost-complete circle with a hollow interior, so that visitors can walk around and inside of it. The Brooklyn artist duo Faile will erect a stone installation, "Temple," which first showed in Lisbon in 2010; it will travel to Los Angeles in three semi-trailer trucks. Gastman's team is also creating a replica of the old, graffiti-scribbled, Venice skating pavilion from the 1980s and '90s, in which visitors will be able to skate.
The show — co-sponsored, not surprisingly, by a shoe company with additional funding from Gastman and his co-producer, Ian Mazie — will travel to New York after L.A., with plans for other destinations. The works on view are on loan from the artists and not publicly for sale, though the promotion that the exhibition provides no doubt could later result in private sales.
All of which raises more questions about whether the commercial ethos is counterintuitive to the spirit of street art.
But Gastman said part of the show's mission is not only celebrating a global "modern art movement" but also its themes of "mark making and rule breaking."
"Vandalism through contemporary art, contemporary art as vandalism, it's here to stay," he said. "Love it or hate it."
Follow me on Twitter: @debvankin
MORE SPRING PREVIEW:
Art: Times critic Christopher Knight's picks
Classical: Times critic Mark Swed's picks
Theater: Times critic Charles McNulty's picks
Broadway, the L.A. way: 'Waitress,' 'Hamilton' and more
Dance: A Bowie-themed 'StarDust,' an angry 'Giselle' and plus ...
Chamber music: 15 groups to know on a more intimate scale
Get our L.A. Goes Out newsletter, with the week's best events, to help you explore and experience our city.
You may occasionally receive promotional content from the Los Angeles Times.