Reporter's Notebook: How I discovered I was living with an alien 'Invader'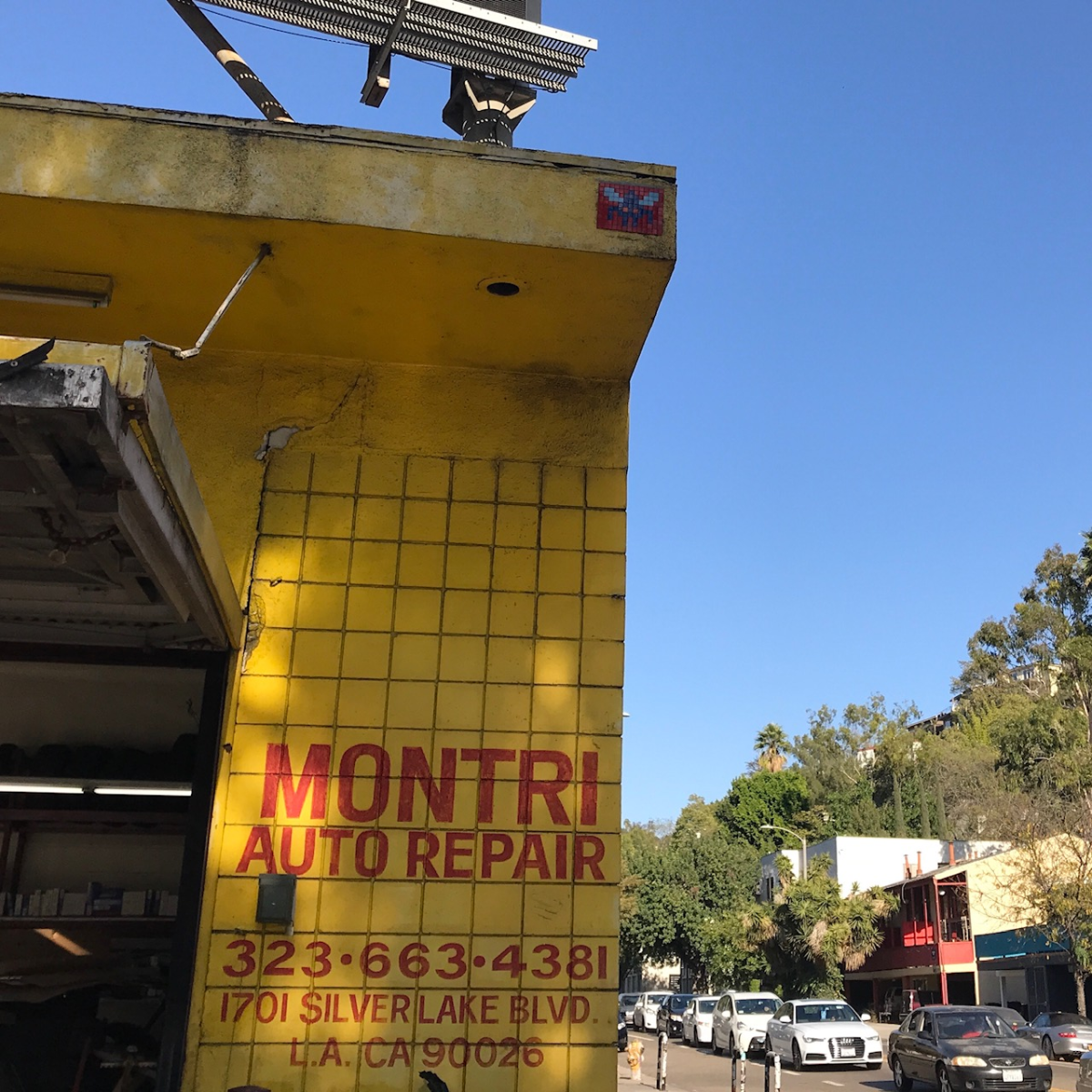 It had been living right under my nose for nearly a decade and I'd had no idea.
The anonymous French street artist Invader is known for, among other things, being prolific. He travels the globe, surreptitiously blanketing cities with his colorful, pixilated mosaics, often featuring a version of the Space Invaders video game character.
The mosaics "live amongst us," hiding in non-descript corners in well-trafficked locations. "Little treasures" to be stumbled upon, Invader told me in a recent interview. His fans hunt them down on the streets, racking up points on his Smartphone app, "FlashInvaders," when they find one.
Recently we were at an arts district gallery, where his solo exhibition would soon be opening. To illustrate how vast his footprint was, he showed me documentary-style photographs taped to a wall of his street art works hanging in far flung locations: in an Arab souk in Kathmandu, on a bridge by the Eiffel Tower, under a freeway in Hong Kong, on a concrete apartment building in Dhaka, Bangladesh.
RELATED: French street artist Invader heads 'into the white cube' for a solo show — and into the streets for a new L.A. 'invasion' »
"Wait, is that my house?!" I said of one picture.
Invader chuckled beneath his rubber Salvador Dali mask (de rigueur for an anonymous artist). "You joke."
"No, really," I told him, "I think that's my house!"
I leaned in for a closer look. The photograph depicted a blue and red mosaic alien, with butterfly-like wings, in the far, upper corner of an auto repair shop on a palm tree-lined street. I was familiar with the image it was the view from my front door.
Invader said he'd taken the picture himself, in 2005, after installing the art work.
But was it still there, 13 years later?
I raced home, jumped out of the car and dashed across the street, my neck craned upwards. Sure enough, there it was, a little dustier and more battered than in the photograph, but still watching over the neighborhood.
"They live amongst us."
The auto repair shop exterior is now lemon yellow, with red signage, and the nightclub next door has since changed its name from what appears in Invader's photo. But the little mosaic creature had been hovering since the day I'd moved in.
RELATED: Test your street art IQ: Invader lands in L.A. Can you find him? »
Linda Nuanlaoong, the manager of the auto repair shop, said she hadn't given the art work much thought over the years. It had been there since the day the shop moved into the building in 2008, she said. She'd noticed people stopping by to snap pictures of the building's exterior from time to time but had thought nothing of it.
"I thought they were location scouting for movies, or they were looking at the view," she said.
She glanced up at the mosaic, squinting into the sunlight. "It's cute." Then she headed back inside.
"They are like time capsules, these photos," Invader had said in the gallery. "I love these pictures that show my piece, but also the landscape and the people. Because the way people dress, the routine … everything's changing."
He pointed to a photograph of a crowded street in Europe, an alien mosaic tucked above a restaurant's neon sign.
"When I start in 1998, you don't have people with cellphones in the street, and now you see this," he says of the cellphone-wielding pedestrians in the picture. "And maybe, in 50 years, people will have some crazy [antenna] in their ears. And maybe, in the background, there will be also an Invader."
3,698 public art works to date, in 77 cities, across five continents is a lot. Check your street.
Follow me on Twitter: @debvankin
Get our L.A. Goes Out newsletter, with the week's best events, to help you explore and experience our city.
You may occasionally receive promotional content from the Los Angeles Times.