Q&A: Big Time Rush's James Maslow graduates from 'pretty boy' roles as Watson in stage version of 'Sherlock Holmes'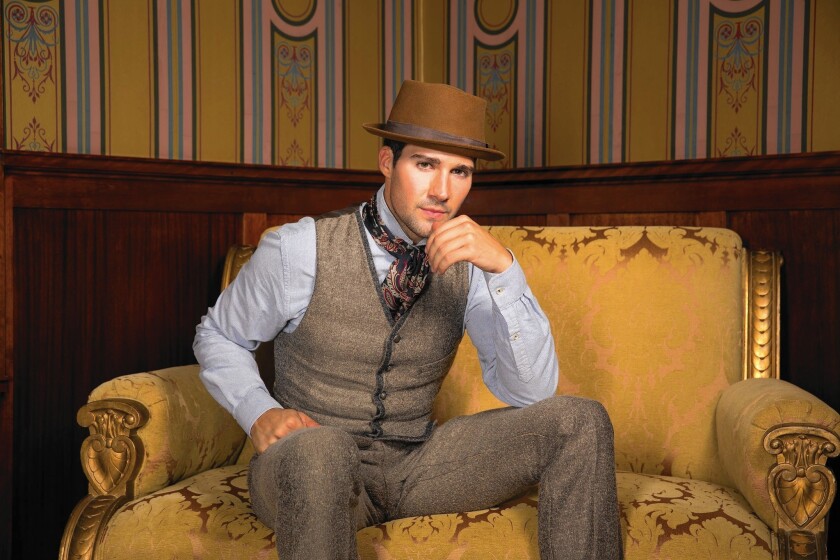 Don't call Big Time Rush alum James Maslow a "boy bander."
Although the group's television series on Nickelodeon was Maslow's claim to fame, the actor-musician, now 25, says he is moving on from "pretty boy" roles.
The New York native grew up in La Jolla, where he graduated from Coronado School of the Arts for All of San Diego. After "Big Time Rush" ended in 2013, Maslow became a contestant on Season 18 of ABC's "Dancing With the Stars." He's also played in the Sony Crackle series "Sequestered" and in Lifetime's adaptation of the V.C. Andrews novel "Seeds of Yesterday."
------------
FOR THE RECORD
Oct. 15, 12:56 p.m.: An earlier version of this article incorrectly stated that Maslow and the "Sherlock" cast had 21 1/2 weeks to prepare. It was actually just two and a half weeks. It also incorrectly used the word "any" instead of "many" when quoting Maslow.
------------
SIGN UP for the free Essential Arts & Culture newsletter >>
Up next: Maslow will play Dr. Watson in a new traveling stage version of "Sherlock Holmes," alongside David Arquette, who plays the titular character. We talked to Maslow about his theater debut for this edited conversation ahead of the show's run Thursday through Sunday at the Montalban Theatre in Los Angeles. The production then heads to Toronto, Washington and Chicago.
What drew you to this role as Watson? When were you first approached?
They came to me with the offer — it might have been a couple of months ago — and it was intriguing. It seemed unconventional. I grew up doing theater, but it's been 10 years because I've been lucky enough to be doing film and TV and pop music. All I stressed to my team is that any role I take coming off years of a Nickelodeon show needs to be something I can stick my teeth into. It needs to be a good role, something where I can show my chops and work. This definitely encapsulated that pretty much down to the T. It's theater, it's live, it's a character people may not have seen me as initially. I feel confident I can bring something new and unique to that.
What was it like making the switch from film and TV projects to a theater role?
With all due respect to film and TV, you can't fake theater. You can't fake live performance. You can do multiple takes on a TV show or a movie. I'm working with 110 pages of nonstop British dialogue. There's no faking that. I'm at David's house right now running lines before we get to rehearsal. You have to put the work in. To me, that's really attractive because I don't think many TV and film actors can do stage. I think a lot of people will be uncomfortable in this environment. There are no redos. If you mess up, you have to keep going. I have such a mad respect for theater actors.
What's your experience been like working with David Arquette?
I met him two days before we started rehearsal. We happened to be on same red carpet. He really is such a generous and nice guy. He's so excited about this. His version of Sherlock is very different than what people might perceive, and my version of Watson is not nerdy. He's been doing this for 30 freaking years. This project is really special, and there are definitely things I can learn from him.
Tell me more about your version of Watson.
We're still finding it. We spent the first week reading, and tackling the British accent is something new for both David and me. Watson has stereotypically been portrayed as a little bit more upper class. But I had to find a counterpoint to David's Sherlock by taking Watson and giving him a little bit more grit. He's a little more South London, still educated enough to be a doctor, of course, but didn't necessarily come with the best background.
How have your fans reacted to the news of your theater debut?
I think the fans that have been watching what I have done since "Big Time Rush" know they are closer to roles I want to do, more grungy. They've realized I'm not going to sit here and just play pretty boy roles for as long as I can help it. Not anything against that type of role, but it's that time in my career where I'm going out of my way not to play that. Frankly, professional theater is one of the only things I don't have on my resume. Growing up at performing arts schools, we were taught you should do anything, and this is my way of showing the world maybe you can.
What are you most nervous about?
We haven't had much time. We've only had two and a half weeks to put together this entire show. I guess the biggest fear is missing any major points and forgetting dialogue, which is inevitable, but hopefully not too much of that will be seen by the audience.
Follow me on Twitter @saba_h
---
The complete guide to home viewing
Get Screen Gab for weekly recommendations, analysis, interviews and irreverent discussion of the TV and streaming movies everyone's talking about.
You may occasionally receive promotional content from the Los Angeles Times.