Of doughnuts and power tools: Jason Rhoades' art of the American man
I first saw Jason Rhoades' installation "My Brother / Brancuzi" at the 1995 Whitney Biennial. It was a weird, chaotic accumulation of construction materials, power tools and homemade vehicles, fronted by a fully functional doughnut machine.
Rhoades lined the walls with photo collages, juxtaposing images of his brother's bedroom with the cluttered studio of modern sculptor Constantin Brancusi. In contrasting the muscular, reductive forms of Brancusi's sculpture with his brother's gargantuan fish tank and weightlifting equipment, the work was a humorous commentary on the devolution of masculine endeavor from something raw and heroic to something caricatured and a little sad. Rhoades' answer to Brancusi's iconic "Endless Column" sculptures was a teetering tower of doughnuts.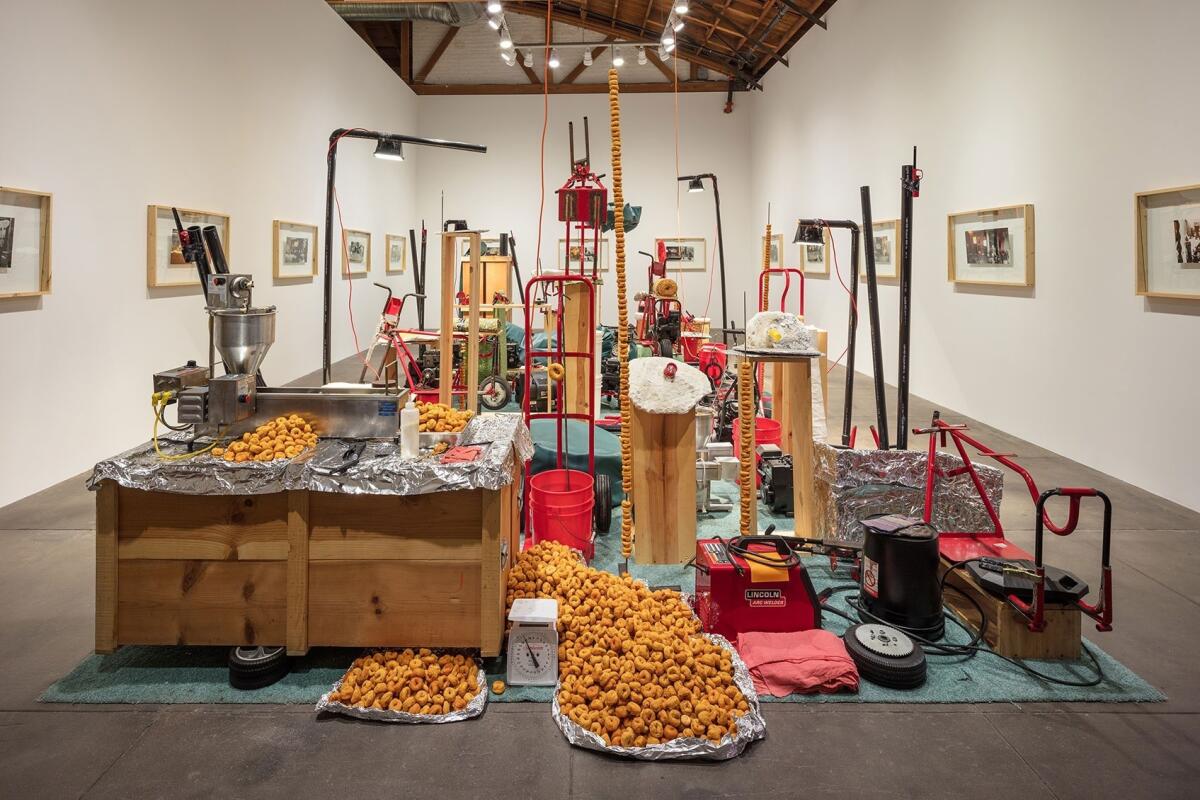 SIGN UP for the free Essential Arts & Culture newsletter »
This work is reprised at Hauser Wirth along with five other installations. All are enormous, messy works that express a manic energy of accumulation.
"The Creation Myth" from 1998 is a three-dimensional map of the body, complete with a toy railroad "train of thought" at its head and a sphincter-like form that belches perfect smoke rings out the other end. This behemoth is "fed" with logs wrapped in pornographic imagery, its belly filled with video games, dictionaries and high-school-grade scientific equipment. It's a gross parody of the self-professed misunderstood genius, sitting in his mom's basement constipated with loneliness and rage. It's installation art for the Unabomber.
The show is also rife with misogynist and racist stereotypes. Neon signs of slang terms for female genitalia are featured prominently in half of the installations, and racist and sexist tchotchkes appear throughout. But despite a carnivalesque atmosphere (furthered by crowds of selfie-takers), a pervasive air of sadness hangs over the proceedings. Rhoades' accumulations feel grasping and desperate, not celebratory.
In the 1990s, the artist's deconstructions of a masculine mythos paralleled the dismantling of so many other stereotypes and identities. Now, as angry white men reassert their power in American society, Rhoades' work feels prescient. It channels — perhaps warns us about — the underbelly of masculinity.
Hauser Wirth, 901 E. 3rd St., L.A. Through May 21; closed Mondays and Tuesdays. (213) 943-1620, www.hauserwirthlosangeles.com
Follow The Times' arts team @culturemonster.
ALSO
At Richard Telles Fine Art, Jim Isermann's illusions stack up
With pointed new work, Llyn Foulkes, 82, shows he's far from finished
L.A. in the 1970s: A visual and architectural treasure trove at LAXART
ICA LA will open in September with show by Martín Ramírez
Get our L.A. Goes Out newsletter, with the week's best events, to help you explore and experience our city.
You may occasionally receive promotional content from the Los Angeles Times.