'Anna Christie' a new stage in Jeff Perry, daughter Zoe's relationship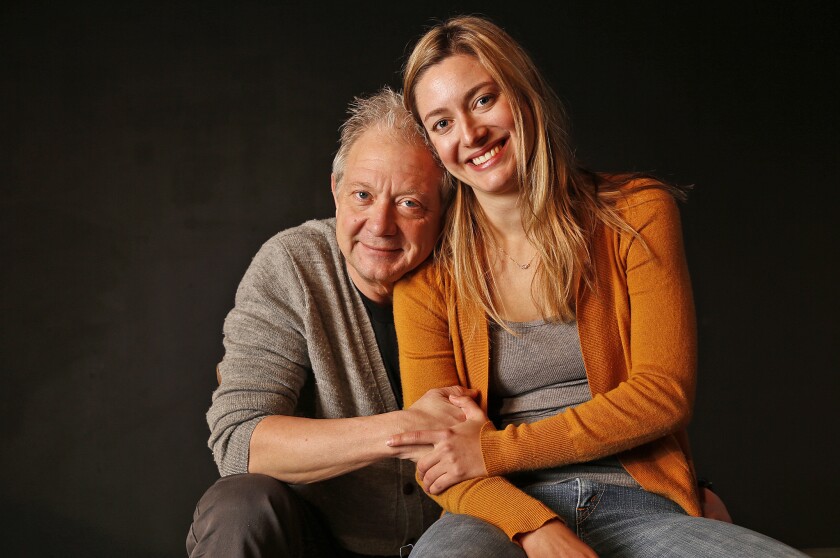 "Scandal" star Jeff Perry was "gushing and crying" when he saw his actress daughter Zoe Perry on Broadway in 2013.
The Northwestern graduate not only made her Broadway debut in Sharr White's thriller "The Other Place" but she also received much attention for starring opposite her mother, Emmy winner Laurie Metcalf of "Roseanne" and "The McCarthys" fame.
------------
For the Record
Jan. 22, 1 p.m.: An earlier version of this post listed incorrect ticket prices. Tickets are $34.99, not $25. The article also misspelled the name of Linda Lowy as Lowry.
------------
"I just loved it so much," said the effusive Jeff Perry, who comes across as the opposite of the Machiavellian White House chief of staff he plays on ABC's addictive melodrama.
Dad had been looking to do a play with his daughter, and watching her act with his ex-wife "just lit more of a fire for me."
"I said, 'Zoe, not just with your mother, me too.'"
Now, two years later, they are acting together in Eugene O'Neill's Pulitzer Prize-winning drama "Anna Christie," which opens Saturday at the Odyssey Theatre Ensemble in West Los Angeles. Kevin McKidd, who plays Dr. Owen Hunt on "Grey's Anatomy," also stars in a production directed by Kim Rubinstein.
On a crisp Friday morning, Jeff, 59, and Zoe, 31, were having a highly animated conversation about acting, their relationship and their exploration of "Annie Christie" in the green room at the Odyssey.
Zoe Perry, who is just as effusive as her father, did some gushing of her own over her dad's juicy performance on "Scandal." In the November midseason finale, explicit photographs of his character's affair with a male prostitute were leaked in the press. To save his job, he got engaged to the young man. (The series returns Jan. 29.)
"Oh my God," Zoe said, glancing over at her father. "How amazing."
Jeff described his character, Cyrus Beene, as a gift from series creator Shonda Rhimes.
"I think in the pre-television era, she would be writing the great ensemble plays of the 1930s and '40s," he said.
Jeff, who in 1976 co-founded Chicago's award-winning Steppenwolf Theatre Company with Gary Sinise and Terry Kinney, came up with the idea of doing "Anna Christie." He said he had never read it or seen it before.
"I think you were looking for something age-appropriate," Zoe said.
"Anna Christie," which opened on Broadway in 1921 and won the Pulitzer the following year, revolves around a young woman who, after a 20-year separation, is reunited with her coal barge captain father. Life is difficult for Anna. She was raped. She worked as a prostitute. But she hopes to turn her life around when she falls in love with a sailor, played by McKidd.
Though O'Neill's play was written more than nine decades ago, "it could have been written yesterday," Zoe said. "He writes about the complexity of humanity, and that never goes out of date. That is what is so prescient about this. I mean, it is so topical. We had a reading of it a couple of years ago for the first time around [the] dinner table, and I just immediately thought, 'I'm in love with it.'"
Her father noted that the play has "three incredibly balanced roles."
"It's something you don't come across as beautifully crafted," he said.
The big question is how Jeff Perry, a pivotal part of "Scandal," has been able to rehearse and perform a play while working on an hourlong drama.
He said he discovered last year while directing the play "A Steady Rain" at the Odyssey that he could juggle both commitments by having a long rehearsal period that fit into his shooting schedule.
"I am part of a 10-person TV ensemble, and it takes nine days to shoot shows," he said. "My heaviest weeks, they got me four to five days out of the nine."
The "Anna Christie" rehearsals began in November at a space McKidd was able to obtain on the Prospect Studios lot, where "Grey's Anatomy" films. "Scandal" films nearby at the Sunset Gower Studios.
"Kevin would run in from shooting in his scrubs," Jeff Perry said. "It was theater club."
Theater has always been a playground for the actor. That's the one thing his daughter noticed while watching her parents rehearse and perform onstage. (Perry and Metcalf divorced more than 20 years ago; he's married to Linda Lowy, the casting director on "Grey's Anatomy" and "Scandal.")
The theater, Zoe said, was sacred to her parents. "It was the place where fun things happened and where I got to really see them professionally and also personally light up. I guess I feel really lucky that I share the same passion."
Father and daughter are already looking for their next project, but they aren't quite ready to let "Anna Christie" go when it closes on March 8. Will it hit the road?
"Kevin is bothering people in London," Jeff said, "and I'm bothering people in Chicago."
Twitter: @mymackie
--------------------------
'Anna Christie'
Where: Odyssey Theatre Ensemble, 2055 S. Sepulveda Blvd., Los Angeles
When: 2 and 8 p.m. Saturday, 2 p.m. Sunday, through March 8
Admission: $34.99
---
From the Oscars to the Emmys.
Get the Envelope newsletter for exclusive awards season coverage, behind-the-scenes stories from the Envelope podcast and columnist Glenn Whipp's must-read analysis.
You may occasionally receive promotional content from the Los Angeles Times.