For choreographer Jessica Lang, her company's final tour is a beginning, not the end
On a rainy night, about 250 people gathered in Malibu for the final California performance of the noted New York contemporary-ballet company Jessica Lang Dance. But the company's founder and choreographer had an important message: Don't call it a goodbye.
Last November, Lang announced her company's closing season with a 19-city tour ending April 30. But sitting in a music classroom shortly before her dancers took the stage Tuesday at Pepperdine University's Smothers Theatre, Lang wanted to set the record straight.
"Referring to it as a farewell tour is maybe for outsiders," she said, adding that the atmosphere around the company has remained positive in the last few months. "It's a tour. We do the same amount of hard work everywhere we go."
The Bessie award-winning choreographer responded to whispers that she pulled the plug on her company because of budget shortfalls.
"This isn't a financial reason," she said. "This is really about my creativity and turning all our focus on allowing me to do just that."
After graduating from the Juilliard School, Lang danced in Twyla Tharp's company, Tharp! She then became a freelance choreographer for more than 10 years, creating works for companies including the American Ballet Theatre and Alvin Ailey American Dance Theater. In 2011, she created Jessica Lang Dance and began building a repertory of 25 original works performed across the country and abroad.
Financial pressures are a common reason for dance companies to shut down, Lang said, and she found it hard when people assumed that's what prompted her decision to close. "I had really wonderful donors and supporters and foundations, and I would be remiss not to acknowledge that," she said, adding later: "This is just a decision; like a good television program, it's time to end. We'll leave on the up."
ARCHIVE: Jessica Lang's vision is far-reaching »
The Tuesday program featured six works by Lang including "Solo Bach," a sprightly solo by dancer Patrick Coker that opened the show; "Thousand Yard Stare," featuring all nine dancers in the company; and a tribute to singer Tony Bennett, "This Thing Called Love," which premiered in 2018.
For "Thousand Yard Stare," the curtain opened to reveal the company standing in two lines facing each other. Against the exposed brick and light-rigging back stage, the dancers moved in variations of rigid walking patterns. The 20-minute piece evoked the the military and stirred emotions.
One moment, when some dancers lined up in an awkward down-dog pose as others army-crawled their way through, drew laughter. And in other moments, when flashing lights and chaotic movement simulated the feeling of being in battle, there were sniffles.
Lang called "Thousand Yard Stare," a piece that premiered in 2016, one of her favorite works presented that night.
Like a good television program, it's time to end. We'll leave on the up.
— Choreographer Jessica Lang
The idea came from the company's board president, a former Marine who proposed tackling the theme of war through choreography.
"I was really hesitant at first; it's such a sensitive matter," she said.
Lang began talking to veterans and a therapist who had experience working with veterans. She also gathered members of the military to listen to music from the piece — Beethoven's String Quartet No. 15, Op. 132, third movement — and asked them to sketch what came to mind. Costume designer Bradon McDonald later turned the drawings into textiles used on the dancers' costumes.
It's like camouflage, Lang said.
"It sits in a way that's poetic and beautiful and a reminder to my dancers that there are people that we're really trying to honor and remember and support in this decision to serve in the military," she said.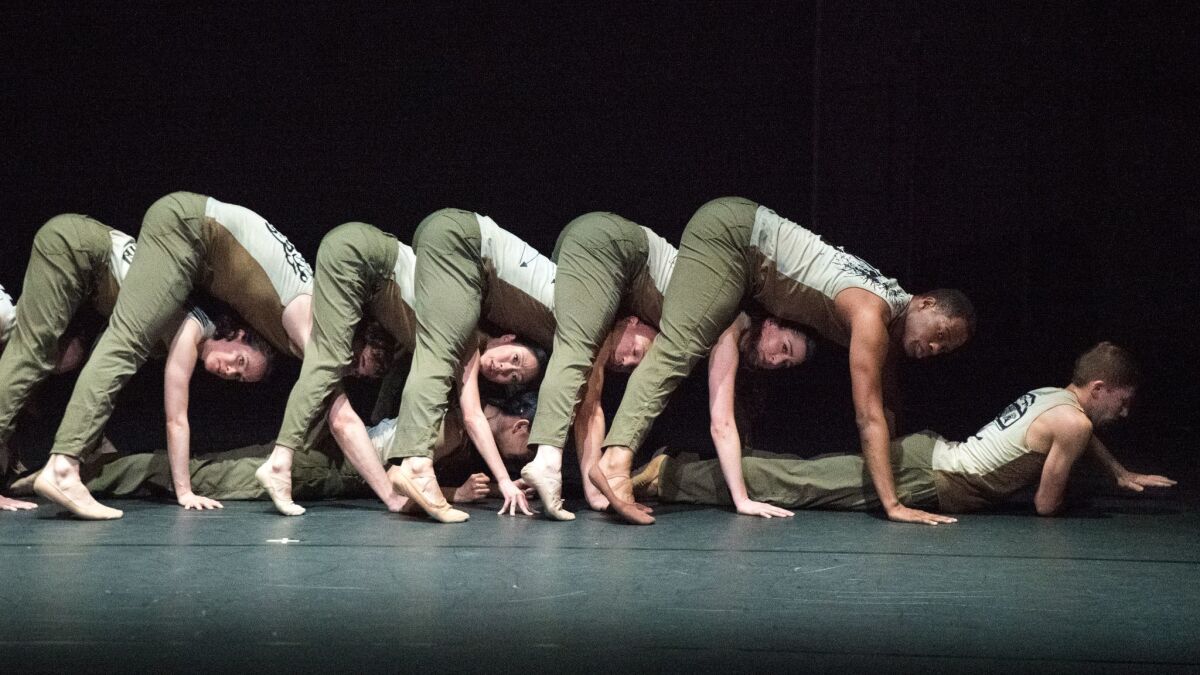 "Glow," a playful work featuring five dancers and a color-changing neon light, opened the show's second act. Next was "The Calling." When the curtain lifted to unveil dancer Julie Fiorenza in a shockingly large white skirt, gasps rang out from the audience.
The piece was rooted in Fiorenza's expressive upper body as she gracefully navigated the dramatic costume, making it smaller, or larger, or melting into the floor.
The final work of the night was the jubilant 22-minute piece "This Thing Called Love." The choreography played on Bennett's voice, his lyrics and the specifics of the music. The audience laughed in one section when dancers walked onto stage with others perched on their shoulders, as Bennett's lyrics from his 1962 hit played, "To be where little cable cars climb halfway to the stars."
Lang watched it all with her stage manager from the empty back row of seats. Bittersweet is how she described the night.
"Sure, it's our last performance together in California, but there's been a lot of lasts, and we also never know when the last is," she said. "My work will be in California again, maybe with some of these dancers wherever they land."
Once the tour ends, Lang plans to refocus on being an independent choreographer. Her first job will be working with the Birmingham Royal Ballet in England in June.
"I'm going on 20 years as a choreographer. I think that's really, it's amazing," Lang said. "I'm looking forward to taking a little break and getting back into my imagination and fully invest in that journey in my mind."
ARCHIVE: Former 'Runway' finalist Bradon McDonald's costumes create character for Jessica Lang Dance »
Get our L.A. Goes Out newsletter, with the week's best events, to help you explore and experience our city.
You may occasionally receive promotional content from the Los Angeles Times.