Review: At 'Ken Price: Drawings,' life's little details in broad strokes
"Ken Price: Drawings" is an intimate affair, despite the number of works in the exhibition (35), the number of rooms it fills (five) and the years it covers (1969 to 2011). Everything at Matthew Marks Gallery in Beverly Hills gives infectious form to Price's fascination with details and the wide-eyed delight he found in his surroundings.
Price (1935-2012) spent a good chunk of his life in the studio. So it shouldn't come as a surprise that the works he made there formed a big part of his surroundings. His ceramic sculptures (five of which are in the exhibition) are depicted in 20 of the drawings on display.
What's remarkable about Price's pictures of his own works is that they have the presence of portraits. Not still lifes. Nor studies that explore future possibilities. But full-blown portraits: visual transcriptions of what passes between a sitter and an artist when both sit down so that the latter might convey the 3-D reality of the former in a 2-D image.
The best portraits capture an essential facet of their subjects while suggesting that many other facets lie just beneath the surface — that life, in all its impossible-to-depict richness, is present.
That is the sense you get from Price's drawings. You also see that he treated his sculptures as autonomous beings — as complex creatures that have lives of their own.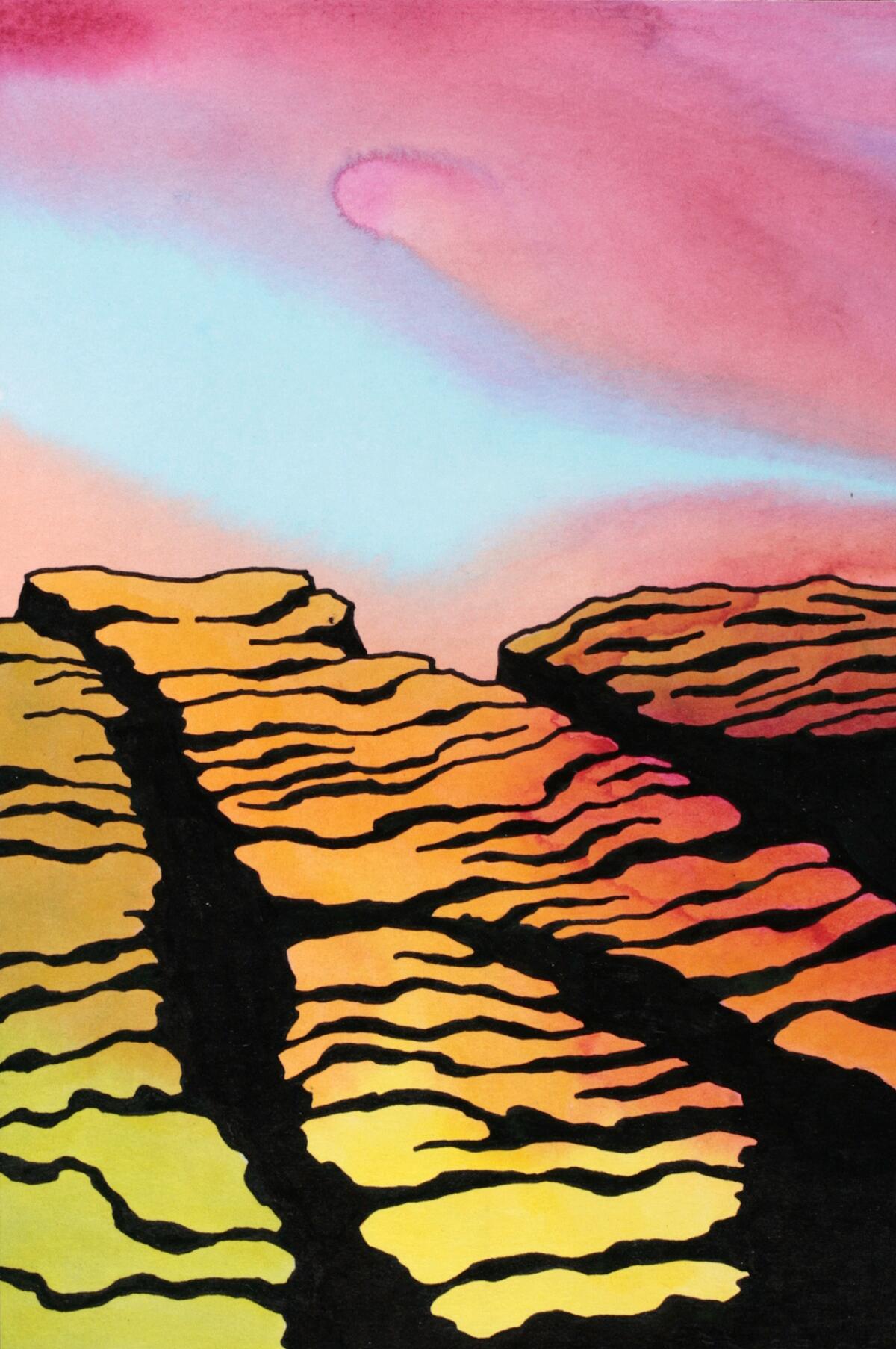 At different times and in different moods, they elicit different interpretations, evoke different emotions and trigger different responses. Some seem to be chatting with one another as they stroll in the sunshine. Others hang out on tabletops. One appears to be playing shadow-puppets, simply for amusement. Many sit stoically, the seriousness of their stances bumping up against the cartoon goofiness of their forms, the comic strip feel of Price's palette and the casual gracefulness of his draftsmanship.

His eight little landscapes and two interiors similarly show his fondness for contrast and complexity. Colors puddle and blend. They also get circumscribed by decisive lines and black shadows. Some form plump landscapes, a la Grant Wood. Others recall the golden age of Sunday comics and the pleasures of getting lost in little pictures.

"Ken Price: Drawings" paints a picture of an artist who had no interest in the god-like control some artists pretend to. Instead, he found transcendence in the most incidental of details. That is what he gives visitors, repaying, in spades, our attentiveness to life's mundane wonders.

Matthew Marks Gallery, 1062 N. Orange Grove, West Hollywood. Through Sept. 10; closed Sundays and Mondays. (323) 654-1830, www.matthewmarks.com

Follow The Times' arts team @culturemonster.
ALSO
The 'Maverick Modernist' you don't know but should: Peter Krasnow at the Laguna Art Museum
Richard Prince show plays more like a fan tribute than art exhibition
The sculptures that help you to see (and feel) color in a new light
Get our L.A. Goes Out newsletter, with the week's best events, to help you explore and experience our city.
You may occasionally receive promotional content from the Los Angeles Times.