Review: Lessons shoehorned into 'Kinky Boots'
Charlie (Steven Booth, second from left), the inheritor of a hard-luck shoe factory, turns rhapsodic as the first pair of a new product rolls off the line. A touring production of the musical "Kinky Boots" is at the Pantages Theatre in Hollywood through Nov. 30.
(Lawrence K. Ho / Los Angeles Times)
In need of sturdier shoes is Lola (Kyle Taylor Parker), a drag performer whose life intersects with that of shoemaker's son Charlie in the musical "Kinky Boots."
(Lawrence K. Ho / Los Angeles Times)
Athleticism in high heels is the order of the day in "Kinky Boots." Lola (Kyle Taylor Parker, in blue) looks on.
(Lawrence K. Ho / Los Angeles Times)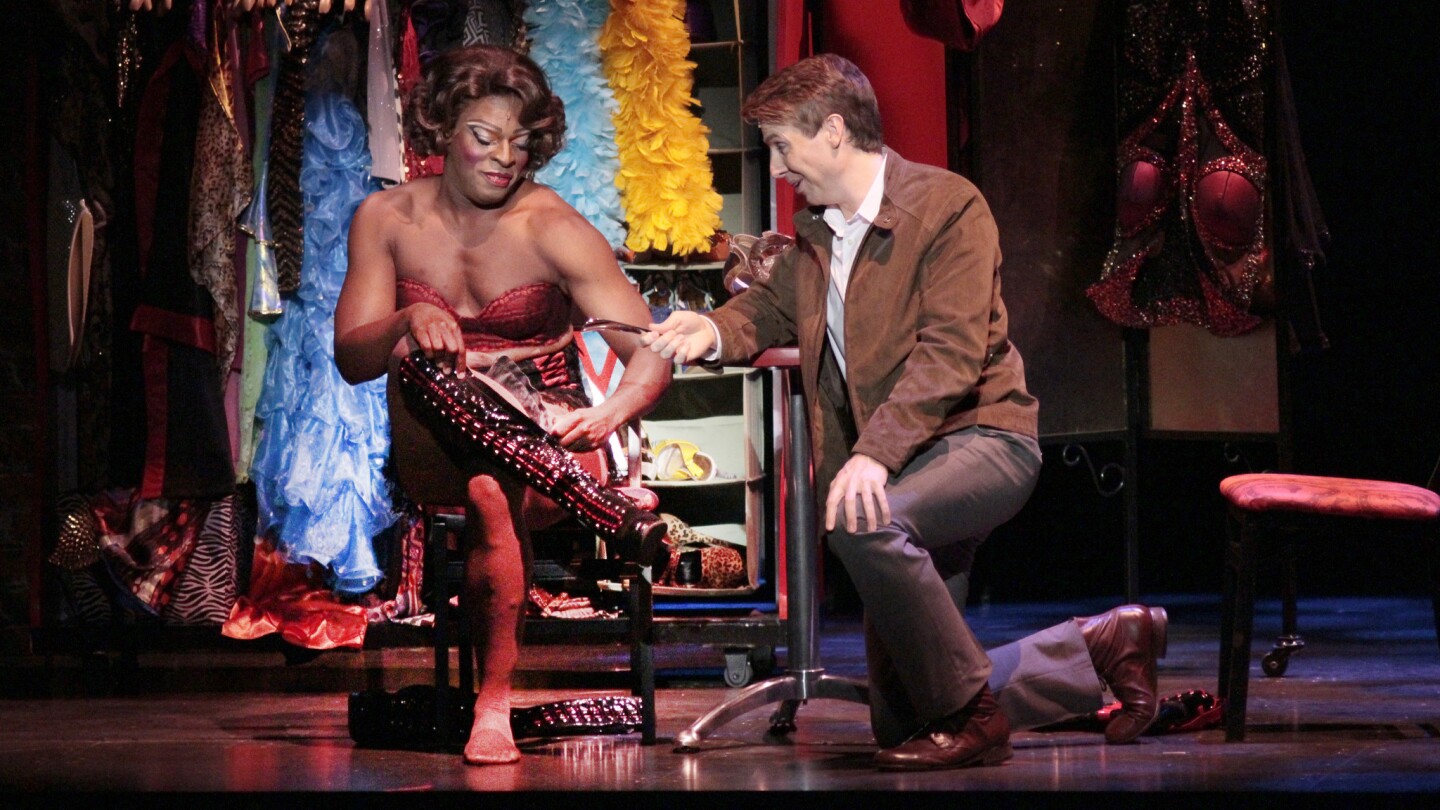 The lives of drag performer Lola (Kyle Taylor Parker) and Charlie (Steven Booth) intersect in "Kinky Boots."
(Lawrence K. Ho / Los Angeles Times)
Life for Charlie (Steven Booth, left), inheritor of a failing shoe factory, and employee Lauren (Lindsay Nicole Chambers) takes a razzle-dazzle turn when they link up with Lola (Kyle Taylor Parker). "Kinky Boots" is on tour.
(Lawrence K. Ho / Los Angeles Times)
Kyle Taylor Parker portrays Lola in the touring production of "Kinky Boots" visiting the Pantages Theatre in Hollywood through Nov. 30. Harvey Fierstein wrote the book, Cyndi Lauper the music.
(Lawrence K. Ho / Los Angeles Times)
In "Kinky Boots," a shoe factory in Northampton, England, is transformed by its changeover to making boots for drag queens.
(Lawrence K. Ho / Los Angeles Times)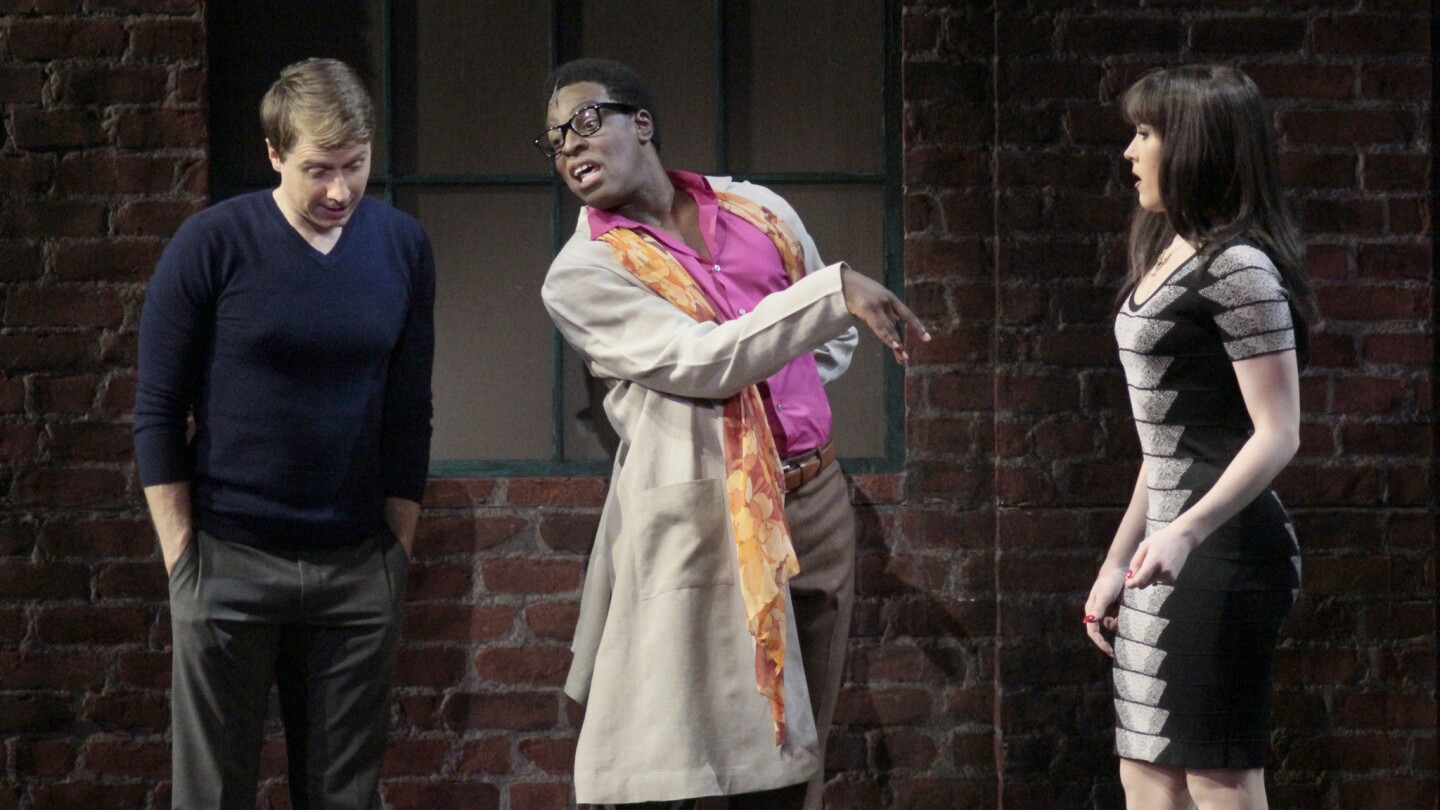 Charlie (Steven Booth, left) watches awkwardly as his upwardly mobile girlfriend, Nicola (Grace Stockdale), meets Charlie's new acquaintance, Lola (Kyle Taylor Parker).
(Lawrence K. Ho / Los Angeles Times)
In a story-setting scene at the beginning of "Kinky Boots," young Lola (Andrew Theo Johnson) slips on his favored pair of shoes.
(Lawrence K. Ho / Los Angeles Times)
Lola (Kyle Taylor Parker, in blue) and the Angels demonstrate what a fashionably designed boot should look like. "Kinky Boots" is at the Pantages Theatre in Hollywood through Nov. 30. It's at Segerstrom Center in Costa Mesa Dec. 30-Jan. 11.
(Lawrence K. Ho / Los Angeles Times)
Would you believe that in the Broadway juggernaut "Kinky Boots," which has just arrived at the Pantages Theatre, nobody even wears boots?
Of course you wouldn't. I'm kidding. The show, which won six Tonys last year, including awards for musical, choreography and score, fulfills half of the promise of its title: boots, and plenty of 'em. By the end of the evening, the stage has become a forest of colorful, thigh-high, stiletto-heeled, feathered and tasseled and sequined contraptions that look as though they could snap a badly planted ankle like a twig.
Whether these boots (by costume designer Gregg Barnes) are all that kinky, however, is another story. Although some of Cyndi Lauper's melodious songs have playfully risqué lyrics, Harvey Fierstein's book doesn't delve into the psychology of sexual fetishes or really anything that would disconcert a worldly 13-year-old (or the parent of one). Under its sheen of subversiveness, the musical preaches a conventional and familiar message about respecting people's differences. Indeed, it presents dressing in drag as not only a wholesome but even a heroic choice: the ultimate expression of true masculinity.
"Drag queens are mainstream!" argues drag queen Lola (the amazing Kyle Taylor Parker, who was an understudy for the role on Broadway). It's a statement that's hard to deny, at least in the context of musical smash hits like "La Cage aux Folles," "Hairspray" and "Priscilla, Queen of the Desert." The last show, especially, left me with the belief that economically struggling towns throughout the Australian Outback are being steadily overtaken by razzle-dazzle.
"Kinky Boots" could be cynically seen as a cunning pastiche of those previous blockbusters, mixing and matching their most heartwarming ingredients into a concoction aimed at eliciting a triumphant "Woo-hoo!" and "You go, girl!" from the audience.
Affable, directionless Charlie Price (Steven Booth) is the heir to Price & Son, a shoe factory in Northampton, England (a lovely set by David Rockwell). His fiancée, Nicola (Grace Stockdale), persuades him to give up his birthright and move with her to London, but no sooner do they arrive than his father dies, and Charlie must return to Northampton to close down the failing business.
His resolve weakens as he develops a sense of responsibility for the employees, a charmingly colorful ensemble. By coincidence, in London one night he meets the drag performer Lola, who complains in passing about the poor quality of the shoes she is obliged to wear. What she wouldn't give, she says, "for a shoe that can stand up to me."
The next part is like microwaving a frozen meal: You know exactly what you're going to get, but you have to wait while it spins and spins.
The show cuts back and forth between Lola's act with her deliciously costumed backup dancers, the Angels, and Charlie's negotiations about the fate of the factory. Maybe he doesn't have to shut it down. What if he switched from boring old men's brogues to another type of shoe for a hitherto unidentified niche market? But what niche market? Spin, spin, spin ... Drag queens!
"Kinky Boots" is based on a 2005 movie of the same name, which was in turn inspired by a true story, though the real-life factory probably didn't redesign its products with so many inspirational song-and-dance routines. Charlie first creates a conservative, low-heeled boot ("Step One"). Then Lola arrives, accompanied by the Angels, to school him in what she really wants, in the exuberant and catchy "Sex Is in the Heel."
Her flamboyant designs don't even start coming off the assembly line until just before intermission, when director and choreographer Jerry Mitchell celebrates with a wonderfully athletic dance, drag queens and factory workers alike hopping on and off moving conveyor belts, to the raucous if generic anthem "Everybody Say Yeah." (A management consultant would be apoplectic.)
Along the way, Charlie promotes Lauren, a line worker played by Lindsay Nicole Chambers whose creativity and pluck he begins to admire as his rapport with the self-centered Nicola, still in London, has grown strained. Although Lauren is underwritten, obliged to stand around exuding enthusiasm most of the time, when Chambers gets her chance to shine, in "The History of Wrong Guys," she nearly runs away with the show. A gifted comic, she adds quirkiness and heart to what might otherwise resemble an assembly-line musical.
At this point, there hasn't been a great deal of conflict, to say nothing of kink, in "Kinky Boots." The stakes are pretty low. The creators compensate by abruptly revealing cracks in Lola's hyperconfident persona: She and Charlie bond over disappointing their fathers in the pretty, melancholy ballad "Not My Father's Son."
More discord is fomented in the second act, when Lola challenges factory worker Don, the requisite lout with the heart of gold (Joe Coots), to a masculinity contest. (You may be able to guess who wins: all of us!) At the same time, stress gets to Charlie: He starts micromanaging, treats Lola cruelly and experiences self-doubt ("Soul of a Man"). Yet these manipulative and frequently preachy sequences allow the actors to add layers to their characters; as Charlie, Booth, particularly, grows in power and appeal.
Predictable and implausible, the finale ("Raise You Up/Just Be") is nonetheless delightful.
Although I tend to be skeptical about the power of any garment to effect lasting spiritual change, all those stilettos evidently tenderized me to a pulp: I drove home beaming, filled with affection for the characters and all but convinced that wearing thigh-high red leather boots is the manliest thing a guy can do.
---
The complete guide to home viewing
Get Screen Gab for weekly recommendations, analysis, interviews and irreverent discussion of the TV and streaming movies everyone's talking about.
You may occasionally receive promotional content from the Los Angeles Times.