Review: Cue the mermaids, it's Esa-Pekka Salonen's 'Wing on Wing'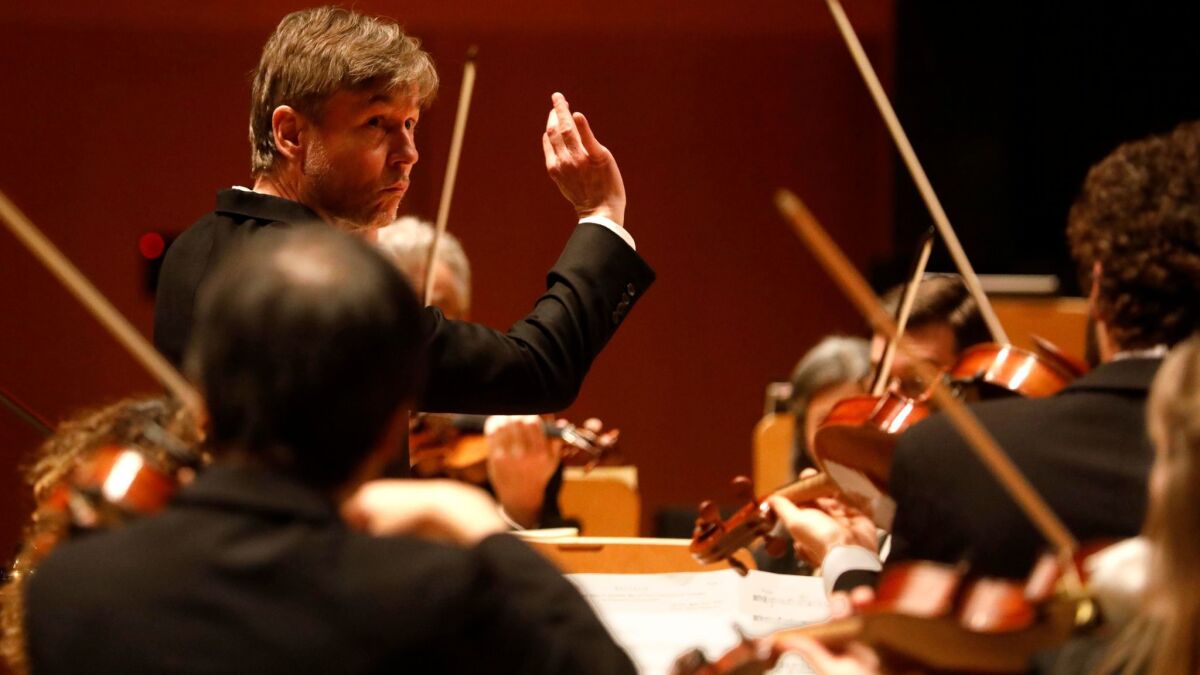 Music Critic
When invited to become music director of the Los Angeles Philharmonic in spring 1989, Esa-Pekka Salonen reminisced Friday night onstage after conducting a program in tribute to Frank Gehry at Walt Disney Concert Hall, the bait was that he would be given the opportunity to create the orchestra of the 21st century and that he'd have a new concert hall in which to do it.
"That seemed a pretty tall order," Salonen said, somewhat dubiously, for a 30-year-old conductor and composer.
He had reason to be wary, if, no matter, game. Nearly three decades later, the hall stands as a local and international artistic symbol of our times; the L.A. Phil rules the symphonic roost; and Salonen, now conductor laureate of the orchestra and sporting a gray beard, is one of the world's leading conductors. But the process proved arduous, and integral to it all has been Salonen's fast and enduring friendship with Gehry.
So for what was the second of his two weeks conducting the L.A. Phil this season, and part of his 60th birthday celebration by the orchestra he headed for 17 years, Salonen brought on the fog machine and cued the mermaids.
That is to say that Salonen has always had a brilliantly quirky instinct for program making. He began ordinarily enough with Beethoven's Violin Concerto, introducing willowy young Norwegian violinist Vilde Frang as soloist. He ended the program with a reprise of "Wing on Wing," the large orchestral work he wrote for the 2004 climax of Disney Hall's first season. He introduced "Wing on Wing" with a curiosity: Mozart's short, and rarely encountered, comic opera, "The Impresario."
Though not immediately obvious, there was method to such musical madness. Frang is a serpentine Beethovenian. There is an ethereal aspect to both her appearance and her playing that extends even to the way she holds her instrument — dangling the violin by the scroll as though it were an extension of her fingers.
She floated through the concerto, eschewing drama and heroism. Her tone was often delicate but never fragile, as she demonstrated in the Fritz Kreisler first movement and the soulful Larghetto, showing she could apply as much sonic pressure as she liked. But mainly, she liked to remain mysteriously allusive.
That she served as a preliminary mermaidenly siren in the fog became clear only later. FOG is how Frank Gehry was once known, when he signed his name Frank O. Gehry. And Frank happens to be the name of the impresario in Mozart's opera, which is a parody of putting on an opera. A speaking role, Frank contends with competing prima donnas (Hila Plitmann and So Young Park). A tenor (Joshua Dennis) and a bass-baritone (Christopher Job) attempt to placate the egotistical sopranos vying for the starring role by reminding them of the higher purposes of their art.
There is a showy aria for each soprano, followed by a trio and a quartet. Salonen removed the dated spoken dialogue, replacing it with cheeky, laugh-out-loud subtitles parodying all. Mozart, the conductor, himself and the audience were not spared. An unseen, unheard and unmentioned Frank was simply implied by being the Prospero behind the scenes pulling all the strings.
"Wing on Wing" is a love letter to Gehry. Plitmann and Park, both spectacular in "The Impresario," were back as outright sirens in what now becomes an orchestral fog. Salonen here celebrates what he loves most about the hall — its fabulous bass response, its visceral embrace of instrumental sound, its openness, its sense of surround-sound presence, its character of a being like a ship's cabin, its Gehry-ness.
The Gehry-ness extends to Salonen's electronic soundscape produced from recordings he made of the architect's voice, evoking wind and water (Gehry being a sailor) and a very weird Pacific Ocean fish, the plainfin midshipman, iridescent purple with golden light-emitting organs. (Primeval fish are a Gehry design motif, his feisty response to architectural Postmodernism going back only a puny few centuries.)
The sopranos — first onstage, then on the side terraces and finally, mysteriously on high at the top rear of the hall — appear as enchanting sirens, mermaids real and mythic, calling from the foggy far away.
The work is a kind of ride on a mythical Gehry sailboat. (Wing on wing is a nautical term for the configuration of sails, and it's the inspiration for Disney's exterior.) Hearing Gehry's voice, indistinct but utterly recognizable, at the start of "Wing on Wing," after the silent Frank of "The Impresario," was pure coup de théâtre. The architect becomes the orchestral ship's captain.
Salonen portrays him as a lovable, if nerve-wrackingly aggressive, sailor plowing through wind and storm, but all the while gazing with an artist's eye at the ever-changing beauty of the landscape. Salonen's orchestra writing is lush and gorgeous and has never sounded better than in this tremendous performance. The boat has a glass bottom to check out the plain midshipman, conveyed through the bottom of the orchestra, with the contrabass clarinet and contrabass bassoon doing the uncanny honors.
"Wing on Wing" has caught on and has been widely played. Scandalously, though, Deutsche Grammophon, going through a tightwad phase, recorded it 14 years ago not here but in Helsinki with the Finnish Radio Symphony. The time has come to make a new recording, with the latest hi-res surround sound technology and the orchestra that can play Salonen's music like no other, in the place where "Wing on Wing" belongs.
An update on Salonen's new orchestra work that Gustavo Dudamel will premiere in April: It's said to be finished, though not yet orchestrated.
MORE MUSIC
50 years of Morton Subotnick's 'Silver Apples of the Moon'
Israel and Egypt, then and now, through Handel and the Master Chorale
Get our L.A. Goes Out newsletter, with the week's best events, to help you explore and experience our city.
You may occasionally receive promotional content from the Los Angeles Times.