Review: The global implications for a Scottish piano concerto based on the Rosary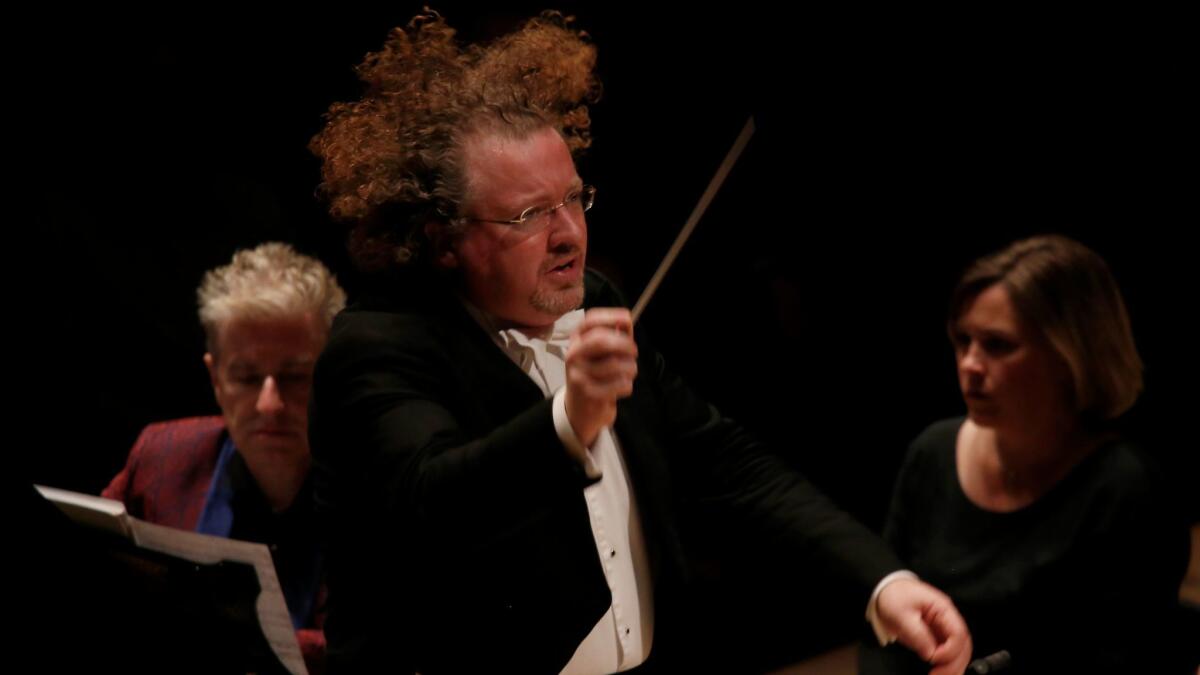 Music Critic
Once again, we're in one of those global periods of nationalism. The anxiety of identity, as emigrants from one part of the world enter another, as individuals empower themselves by practicing identity politics, is a great issue of our day.
Music can help, as even a seemingly innocuous and poorly attended concert by the Los Angeles Philharmonic at Walt Disney Concert Hall showed Friday night. The conductor, Stéphane Denève, and the soloist, pianist Jean-Yves Thibaudet, were French, yet as personalities as different as they are alike.
The concert contained two French pieces, Fauré's Suite from "Pelléas et Mélisande," a work so pleasantly genial and well known that it no longer signifies a national style. The other, Debussy's "La Mer," however, was crucial in defining French music for the 20th century.
The news of this St. Patrick's Day night happened to be the West Coast premiere of a recent piano concerto of an avid Scottish separatist, James MacMillan. The concert began with the Passacaglia from Benjamin Britten's "Peter Grimes," a landmark in liberating the identity of British opera.
What kind of welcome mat would we today give someone like Britten, a pacifist who fled London to avoid fighting in World War II? It happened to be at a used bookstore in Los Angeles in 1941 that Britten found a copy of the book that became the source for "Grimes," which he composed after returning to Britain and which had its triumphant premiere four years later.
Britten was back in L.A. in 1949 to conduct the L.A. Phil in his music, including the "Four Sea Interludes From 'Peter Grimes.' " On that occasion, The Times described him as the world's greatest living composer (Schoenberg and Stravinsky both lived in L.A. then) and reported that Britten had told the orchestra in rehearsal that his music had never been better played.
The Passacaglia, adapted from the opera (and never better recorded than by former L.A. Phil Music Director André Previn) sounded startlingly unsettled Friday, with the theme eerily plucked out in the lower strings and principal violist Carrie Dennis' solos adding exceptional emotional weight. Denève condensed a remarkable amount of the psychic energy of the opera into seven minutes.
A great deal of MacMillan's music is informed by his not unconnected passions for Roman Catholicism and Scottish nationalism. His Piano Concerto No. 3, which was written for Thibaudet and premiered by the Minnesota Orchestra in 2011, is titled "The Mysteries of Light" and takes its inspiration from a set of reflections on the Rosary introduced by Pope John Paul II in 2002.
Each of the five interconnected movements is a meditation on the luminous, on light as found in the life of Christ. The concerto begins with the sweet otherness of chant, which frequents the concerto. The piano plays filigrees, occupying another musical realm. This is the first mystery, the Baptism. In the process of working through miracles and proclamations and transformations, the orchestra becomes ever more rapturous, enticing the piano in. As one for the Eucharist in the end, orchestra and soloist enter into the spirit of unequivocal joy with something resembling a Scottish jig for celestial deities.
For a concerto representing a subculture of a subculture — Scottish Roman Catholics — "The Mysteries of Light" unveils far more than sectarian mysteries. First of all, there is the sheer welcoming power of MacMillan's music, and the idea that national spirit can and maybe must be illuminated by spirituality not as dogma but as something more universally unifying. MacMillan's brilliance here is to do that by making the music sound, well, French.
In brief comments to the audience before the performance, Denève and Thibaudet noted that MacMillan was inspired by hearing the pianist play the solo in Olivier Messiaen's "Turangalîla" Symphony, an ecstatic, erotic display of Catholicism. In addition, the odd fellowship of the soloist and conductor offered further reflection on the intricacies of comprehending a national style.
The dapper Thibaudet, in a red brocade jacket, is for all his virtuosic flash a pianist of glittery elegance. The tall Denève, with his mad scientist hair and his emphasis on a robust orchestral sound, has an inner elegance that keeps him too at, but never over, the edge of overindulgence. Together, they make an exceptional pair.
There is, nonetheless, French, and there is French. It would be hard to find a greater variety of approaches to "La Mer" than from the great French conductors. Pierre Boulez's clarity and rigor used Debussy as a model of Modernism. Pierre Monteux's quiet sensuality placed Debussy squarely as Impressionist. Charles Munch's grandeur brought out all that might be Romantic in the composer.
Denève comes closest to Munch, but with 21st century touches. The orchestra was very large and the performance grand and glorious. A conductor as connoisseur of fine lines, Denève tempered enthusiastic wildness with a sense of poetry, might with a feeling for the distinct personality of orchestral sections and, indeed, discrete instruments. The L.A. Phil was at its best being treated as both a body of individuals and a collective, which is to say an enlightened citizenry.
ALSO
Cameron Carpenter unleashes his International Touring Organ at CAP UCLA
In a startling coup, New York lures L.A. Phil chief Deborah Borda
L.A. Phil President Deborah Borda's departure sends arts world spinning
Rachel Barton Pine on her comeback and the advice she got from Itzhak Perlman
Get our L.A. Goes Out newsletter, with the week's best events, to help you explore and experience our city.
You may occasionally receive promotional content from the Los Angeles Times.