Review: Lauren Halsey takes a fantastic voyage in MOCA's 'we still here, there'
Art Critic
When the Getty Villa in Pacific Palisades recently unveiled its reinstalled galleries of Greek and Roman antiquities, it also opened a small, rather tepid show of contemporary work related to the ancient tale of Plato's cave. That's the philosopher's famous meditation about mistaking appearances for reality.
Ironically, a new and far more bracing example of the genre was just getting underway across town. Lauren Halsey's "we still here, there," on view downtown through the summer at the Museum of Contemporary Art, locates the shifting shadows and perceptual conundrums of Plato's cave in the backyard and garage of her grandmother's house in South Los Angeles, where the artist built the show's big grotto.
Tepid the installation is not. Absorbing it is.
A sizable gallery has been transformed into a paradoxically jaunty, even cheerful cavern of lumpy, bright white chambers, columns, sinkholes, tunnels, grottoes and other assorted speleothems — those decorative underground shapes and freeform constructions made from redeposited earthly minerals dissolved in water. Overhead, multicolored spotlights enliven the scene.
So do assorted artificial plants, some potted and others seeming to grow out of folds in rocky crevices. Among the fake ferns and dracaenas are green, orange, yellow, blue and fuchsia plastic specimens, some sparkly — the kind that might be used in the bottom of a fish tank. The rocky cave doubles as an undersea redoubt, like those little castles made for a kid's aquarium but here blown up to mammoth size.
Halsey even gives us the water. Several trickling fountains and little waterfalls are embedded in niches in the installation's pseudo-rock formations. Their shimmer is enhanced by silvery CDs, cut into scale-like pieces and pasted around the openings like homemade diamond necklaces.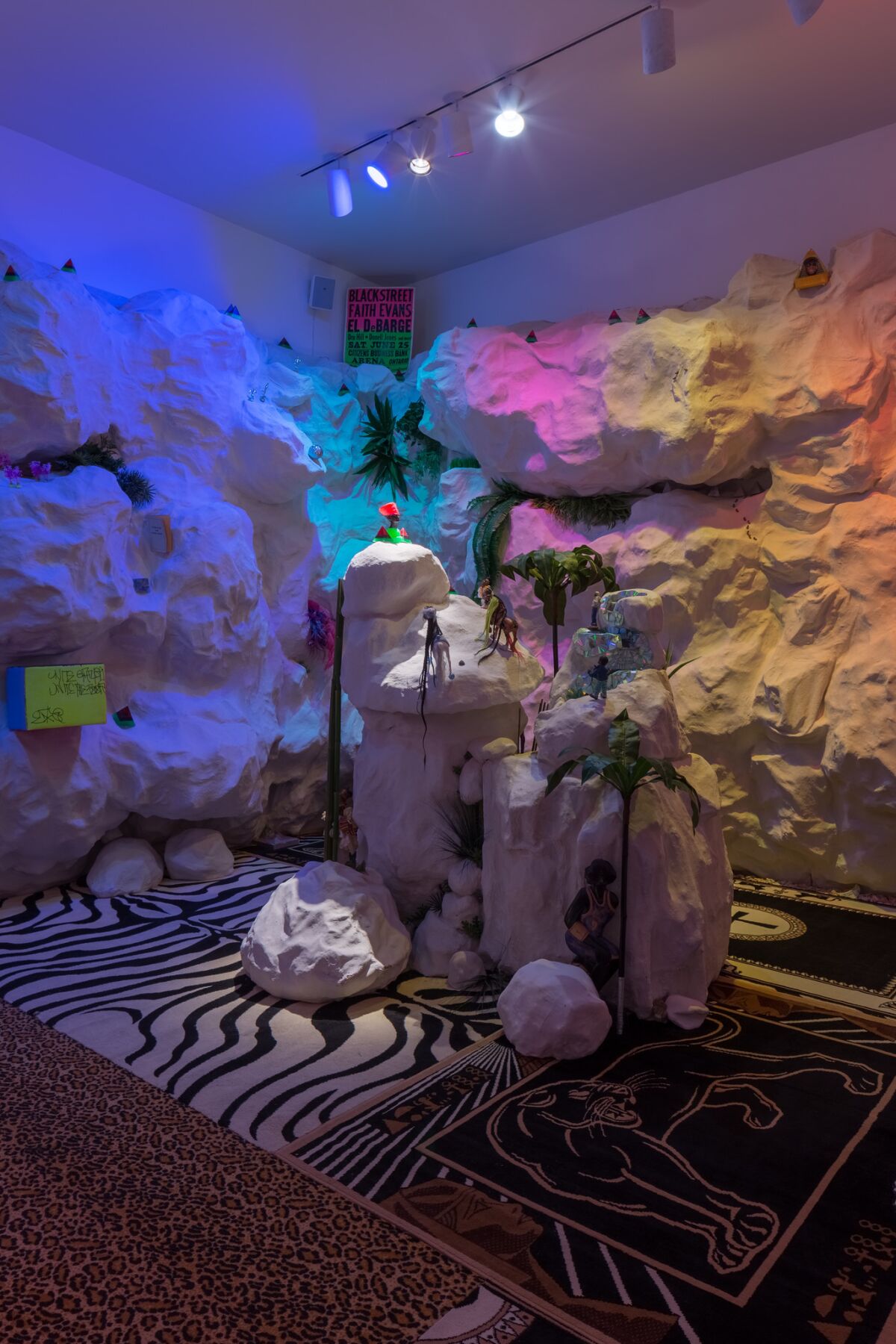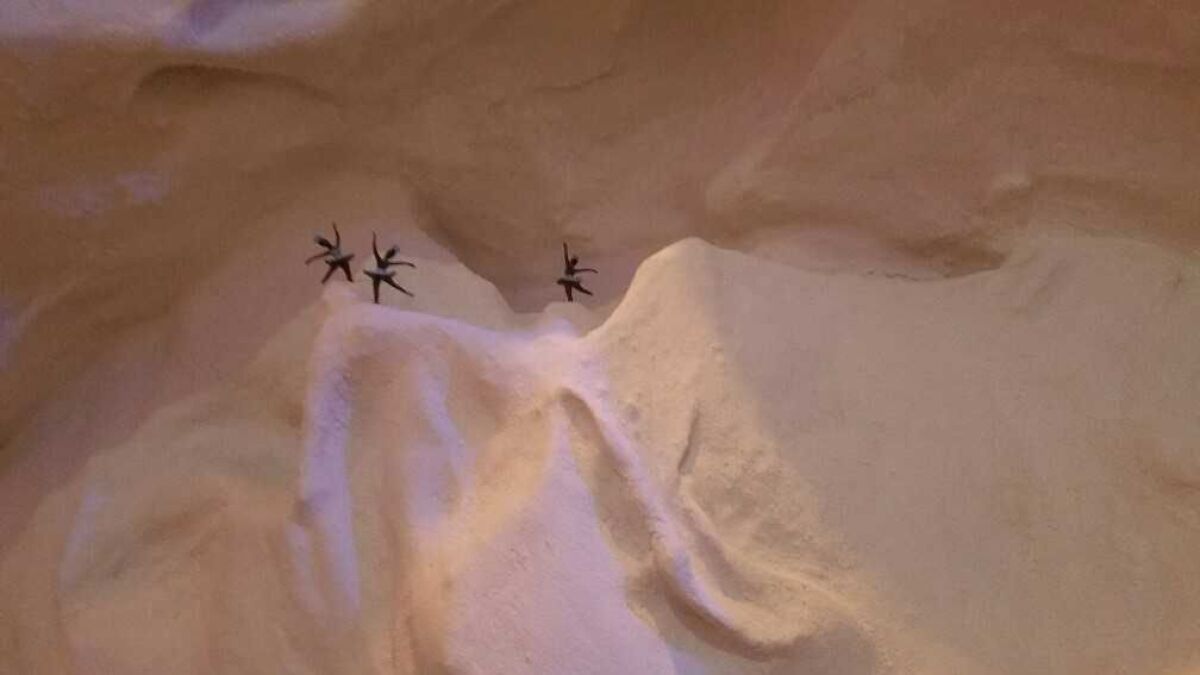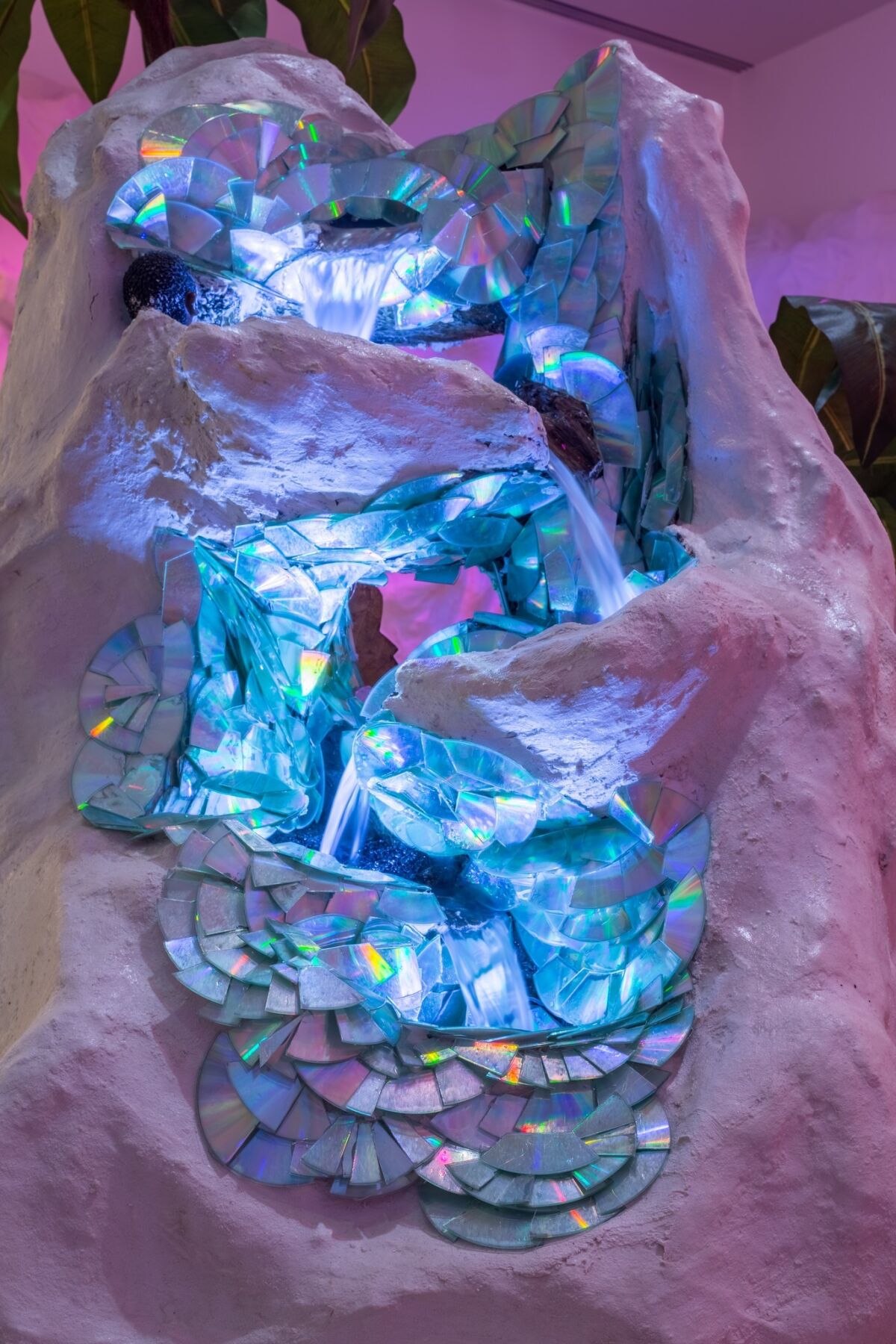 The cavern's design looks freestyle, but it isn't exactly improvisational or made up on the spot. Halsey's big rocky environment was built off-site to fit the particular dimensions of the gallery. Plaster was slathered over cloth on a Lego superstructure, then brought to the museum in sections and replastered and decorated in place.
Instead of winging it, the form is more like the original freestyle rap ethos that means being "free of style" — displaying no real purpose other than showing your dexterity and expertise. Halsey's deft installation blends delightful improv with eloquent formal rigor.
One entry is flanked by images with cultural heft. To the right is the arm of a female African American mannequin holding aloft a flag — the stars and stripes of Old Glory in green, red-orange and black, acknowledging at once the Pan-African idea, the black power sculptures of David Hammons and the influential optical-illusion flag-paintings of Jasper Johns. To the left is a dollhouse-size model of a church lined in Ghanian Kente cloth.
A black panther adorns the rug at the threshold. The sleek cat plays in the jubilant fields of this year's blockbuster Hollywood movie, while nodding to the powerful political history of Bobby Seale and Huey P. Newton.
Inside, small vignettes turn up here and there, composed from little toys, knickknacks and accoutrements with African and African American ties — basketball players, Egyptian sphinxes, braided hair extensions, black ballerinas. Cardboard boxes, many for Black 'n Gold acrylic braids, as well as handmade street signs are casually strewn about. The signs mark identity ("Black Owned"), advertise home businesses ("Lupe's Design"), sloganeer ("Peace Bro," "Reparations Now") or offer confessional stories, such as recounting a fantastic dream.
One sign incorporates the Mafundi logo that was painted on the side of a Watts building by artist Elliott Pinkney in the wake of the city's 1965 rebellion, designating the birth of a neighborhood cultural institute. Mafundi is a Swahili word for "artisans" or "master technicians," which Halsey, who grew up in South L.A., hereby credits as a forerunner. It illuminate's the title she affixed to her own work at MOCA: "we still here, there."
Halsey's day-glo cavern is a successor to Mike Kelley's "Kandor 10B (Exploded Fortress of Solitude)," a 2011 sculptural cave that invited viewers to enter an ancestral sanctuary. Her use of cardboard signs plucked from neighborhood fences is the first example I know of of an artist successfully recruiting a material distinctively employed by celebrated painter Mark Bradford. She transforms the street signage in a wholly idiosyncratic way, building on Bradford's work and making it her own.
She does something similar with the beaded curtain environments of Felix Gonzalez-Torres. Here, a row of rainbow-colored braids is suspended from the ceiling in a format that suggests the symbol of LGBTQ liberation. This luxurious Plato's cave is also a sexy love grotto.
Being inside "we still here, there" reminded me of nothing so much as "Fantastic Voyage," the 1966 science fiction film about a submarine crew that gets shrunken to microscopic size and injected into the bloodstream of a seriously injured scientist to repair the damage to his brain. That movie won Oscars for art direction and special effects — quaint-looking now, transporting back then.
Halsey's grotto takes it in another direction, though, emphasizing the ad hoc and handmade against an era dominated by digital razzle-dazzle. She enlisted friends and family to make her DIY installation — her grandmother cut up all those shiny CDs — and the result is an abstraction of bodily viscera both individual and communal.
The show, ambitiously organized by MOCA curator Lanka Tattersall, has an unusually long run. (It opened in March; since then, Halsey has been at work on a second large installation for the imminent UCLA Hammer biennial.) During the next three months the artist plans to make subtle additions. Tinkering will keep alive the gently flickering shadows inside her splendid cave.
'we still here, there'
Where: MOCA, 250 S. Grand Ave., L.A.
When: Through Sept. 3; closed Tuesdays (open Memorial Day)
Information: (213) 621-2766, www.moca.org
christopher.knight@latimes.com
Twitter: @KnightLAT
MORE ART:
Miró masterpiece was sold to the highest bidder. It belongs in a museum
Meleko Mokgosi's provocative show at the UCLA Fowler Museum
Get our L.A. Goes Out newsletter, with the week's best events, to help you explore and experience our city.
You may occasionally receive promotional content from the Los Angeles Times.