Tony nominee Laurie Metcalf on the heartbreak of playing Hillary on Broadway
Reporting from New York —
Laurie Metcalf has a photo taped on her dressing room door of Hillary Clinton in sunglasses checking her Blackberry. Clinton looks cool, even imperious, but that persona is not in the house when Metcalf takes the stage in "Hillary and Clinton," Lucas Hnath's new play that gives us an imagined glimpse of the private Hillary.
The performance earned Metcalf her sixth Tony Award nomination Tuesday. Her competition in the lead actress category includes some acting titans: Annette Bening in "All My Sons," Laura Donnelly in "The Ferryman," Elaine May in "The Waverly Gallery," Janet McTeer in "Bernhardt/Hamilton" and Heidi Schreck in "What the Constitution Means to Me." Then again, Metcalf is a winner for two years running, taking home honors as lead actress in Hnath's "A Doll's House Part 2" in 2017 and as featured actress last year in Edward Albee's "Three Tall Women."
Metcalf helped to launch Chicago's Steppenwolf Theatre Company to fame in the 1970s. She made her off-Broadway debut in 1984, but her Broadway debut for the short-lived "My Thing of Love" in 1995 came during her "Roseanne" years, by which point TV stardom meant spending less time onstage.
Since 2008, however, Metcalf, 63, has resumed life as a creature of the theater. She returned to Steppenwolf twice, took to the stage in Los Angeles three times, played in London's West End and appeared off-Broadway four times. This is her seventh Broadway show in that span.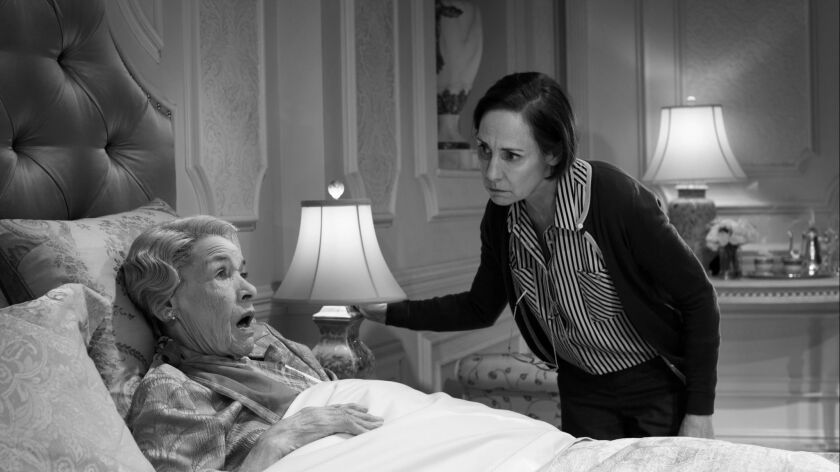 Of course, she still found time to deliver her Oscar-nominated performance in "Ladybird" and to join the return of "Roseanne," now famously renamed "The Conners" after Roseanne Barr's implosion.
"Bouncing around and doing other things is what keeps me from burning out on theater," Metcalf says. "I like theater by far the most and I like being busy, but five months of it is a stretch and then I need a little break."
Hnath sets "Hillary and Clinton" in a hotel room during the 2008 primary season, a self-proclaimed alternate universe very much like but maybe slightly different from this one. The actors do not wear wigs or do impersonations, but there's something about Metcalf that's perfect for giving us the private Clinton: She naturally embodies strong but vulnerable women as well as vulnerable but strong women — a slight distinction but a description that Metcalf considers "a huge compliment."
TONY AWARDS: The complete list of nominees in every category »
Hillary is on the verge of losing New Hampshire and is frustrated enough with her top aide, Mark (Zak Orth), that she defies him and brings in her brilliant husband, Bill (John Lithgow), with his astute insights and endless baggage. Later, the show features a semi-polite confrontation between the Clintons and the rival candidate, Barack Obama.
The show is funny but also features heartbreaking moments. The audience empathizes with Hillary as she confronts Bill, but even as everyone is rooting for her as the protagonist, she is briefly overshadowed when Obama walks in. Even though it's a fictionalized version, you can feel the audience react with a frisson of excitement — a poignant reminder that her loss after the play's action ends yielded something historic and wonderful for Democrats, something many in the audience actively supported.
"I'm sure each audience member brings their own thoughts of her and them, but maybe those thoughts get a little turned to a different angle," Metcalf says. "It's gotta be such an interesting experience. I wish I could walk in blind and see this show. I think I'd really like it."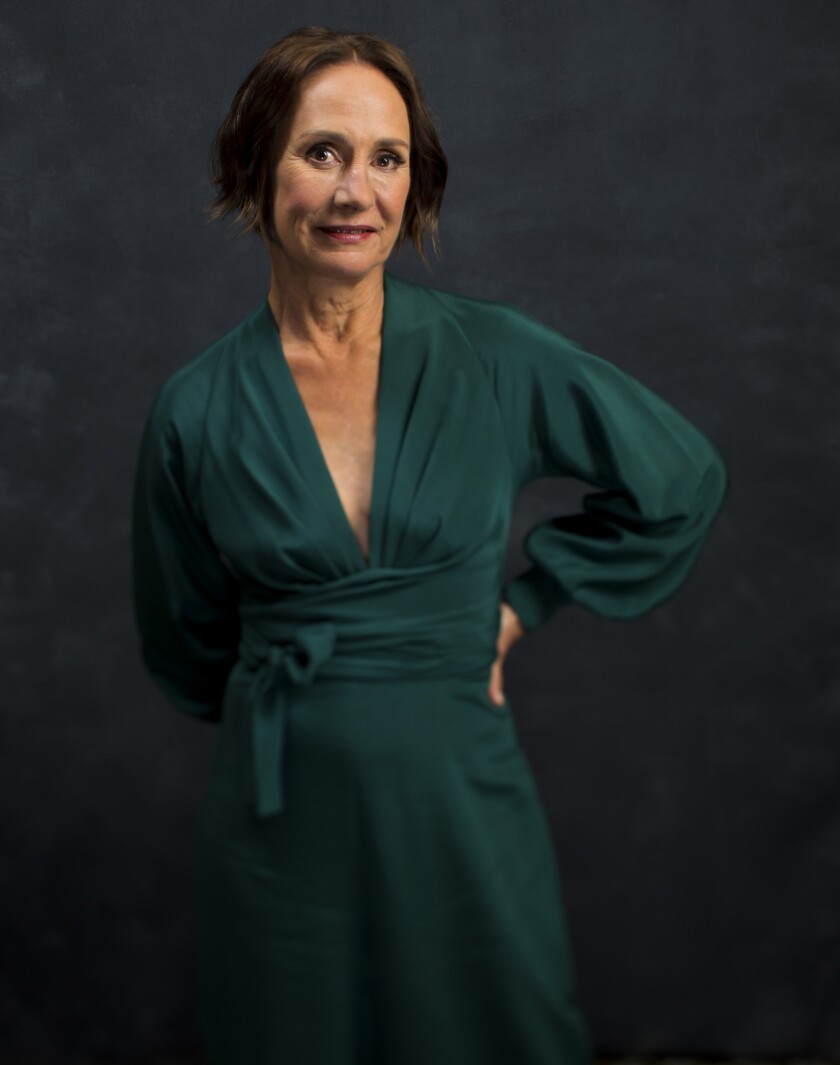 You mostly do new plays, although you mix in occasional modern classics by Arthur Miller, Eugene O'Neill and Edward Albee. How do you choose?
Sometimes it's whether I respond immediately to the material; other times it's who you want to be in the room with. This had both, so it was an extremely easy decision. I'm a huge fan of Lucas and of director Joe Mantello.
I have no interest, frankly, in doing Shakespeare. I'm interested in contemporary pieces.
Have you developed a shorthand with Mantello after working with him on "The Other Place" and "Three Tall Women"?
I wouldn't describe it as shorthand, but we share a common sense of humor and sense of drama. What makes us able to work faster is that I trust him so completely I don't have to second guess or ask about any note he gives me. I write it down in this [she pulls a pad off her desk], and then I go over it the next day and put it in. If actors and a director aren't clicking, there's going to be some hesitancy or pushback on both sides. That's been eliminated.
Is it difficult to balance the humor and the drama? The play is very funny in parts, but it always tilts back to these intimate moments.
That's what we've been learning during previews. Early on, when Bill and Hillary have been fighting and Bill says, "Can I touch you?," we found a way quickly to play that for comedy, but we took that away. We made it start awkward and then have them come together for a real embrace. It's what resets them so they can start talking.
If it was played as funny, it would be too hard to then go into the monologues, especially when she talks about why she's got a wall up.
This is a play about a marriage. There are moments where you can't believe what they just said to each other, and others where you think, "Oh, they are a good couple." They've been through something together and individually that the majority of us might not even survive — just the campaign trail, let alone one booby-trapped all over the place, not to mention everything else.
You and John Lithgow give performances that are anti-impersonations. But Peter Francis James as Barack has a hint of that famous Obama speaking cadence, and at one point, Lithgow is wearing the kind of running shorts Bill Clinton once did. Were you at all tempted to wear a pants suit?
Lucas stipulates in the script, "Please don't do it."
If this play required an impersonation, I'd never get cast. So this was very freeing for us to start from scratch
Yet it feels real and there are real events, like Hillary tearing up at a speech in New Hampshire, that are central to the play.
We're not imitating the real people, but there's real history in there. I can't have the experience that the audience does, but I have a feeling that these conversations, which may or may not have been like this behind closed doors, go in and out of focus for people. Yes, it's Hillary and Bill, but it's not them too.
And then you're left to imagine, "Did that happen? Did Obama come over and talk?" It must be like an optical illusion at some parts and make you doubt what you knew about them.
Some people have said it feels kind of cathartic for them. Some things get said that you wish Hillary would have — could have — given a voice to, and she just couldn't because of when the play is set and because of having so much of the deck stacked against her for so long.
There's no reference to Donald Trump. Is the play more poignant and powerful than if Hillary had won in 2016?
I don't know that it would be produce-able if she had won. It's only worth revisiting this moment because of what happened. At the end, the whole audience knows what's in store for her in the next 10 years and the character doesn't. I find that really heartbreaking.
Support coverage of the arts by becoming a digital subscriber.
See all of our latest arts news and reviews at latimes.com/arts.
---
Inside the business of entertainment
The Wide Shot brings you news, analysis and insights on everything from streaming wars to production — and what it all means for the future.
You may occasionally receive promotional content from the Los Angeles Times.