Shepard Fairey and 30 other artists turn Maya Angelou school into an outdoor gallery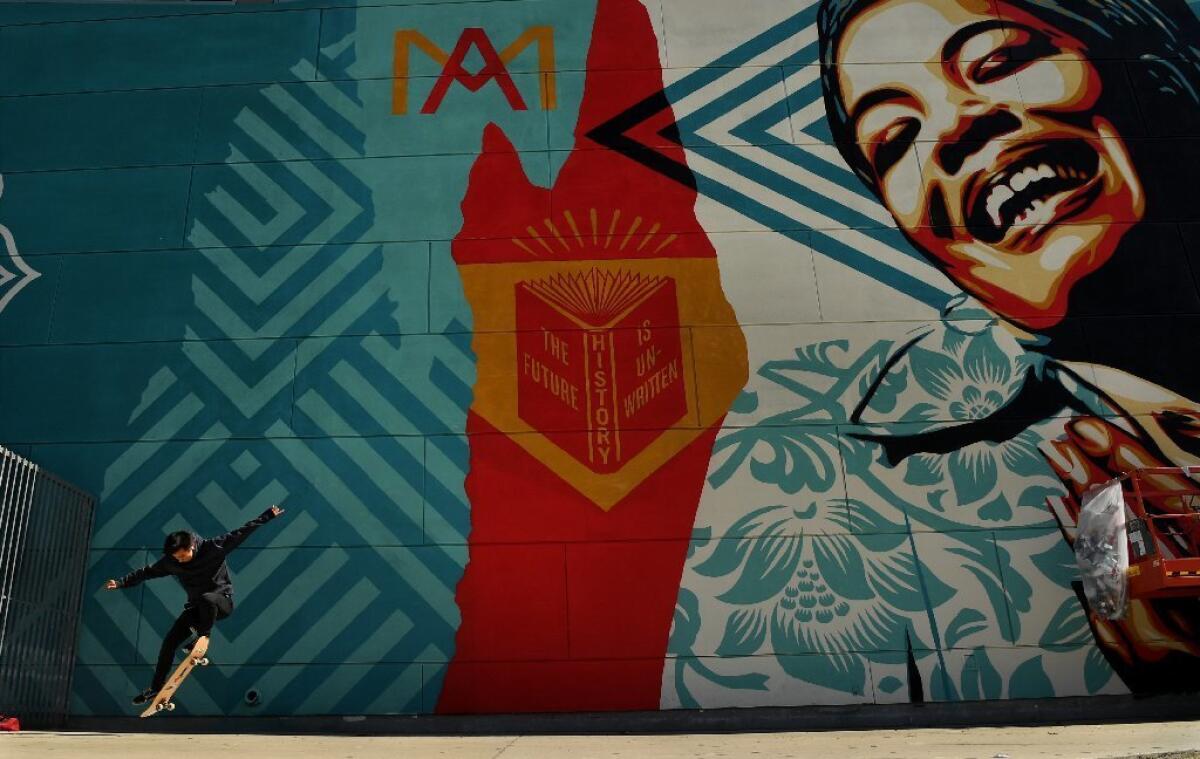 School was out for the day at Dr. Maya Angelou Community High School, but the campus was bright with activity. More than two dozen enormous murals were going up at the South L.A. school, transforming the mostly gray and drab-green buildings into an explosion of color and story.
Skateboarders performed soaring whirlies in front of a freshly painted Shepard Fairey mural of Angelou's beaming face as food vendors shuffled by, pushing carts stacked with fresh mangoes on ice.
The paintings — done by 31 artists as part of a weeklong festival co-produced by the L.A. firm Branded Arts and the Los Angeles Unified School District — were the first major LAUSD mural project since a similar 2016 effort at Robert F. Kennedy Community Schools in Koreatown became a lightning rod for protest after some community members found one of the murals offensive. It sparked a debate over cultural sensitivity versus freedom of expression in the realm of public art.
As a result the Maya Angelou school project, which includes prominent artists such as the all-female collective Ni Santas, the artist known as Rabi of the collective Cyrcle and French artist JR's Inside Out Project, has undergone rigorous planning during the last three years, organizers said. Students brainstormed themes for the artists to work with. The ideas, Branded Arts founder Warren Brand said, "fall within the cultural landscape of the community and the ideas of Maya Angelou."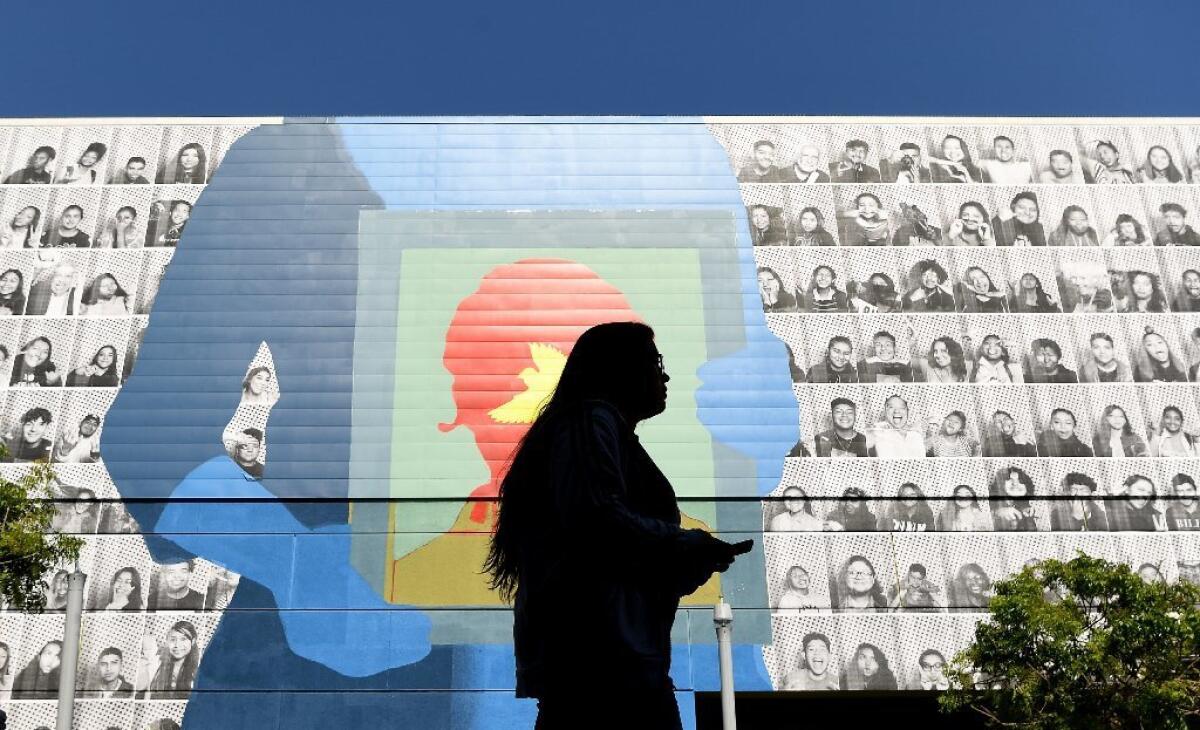 Mural subjects include artistic expression, immigration, female empowerment and individuals from the immediate neighborhood. Spanish artist Axel Void created a portrait of the young son of immigrants on his front lawn two blocks from the school; another mural features wheat pasted photographs of schoolchildren's faces by JR's Inside Out Project, with an embedded image of Angelou by Rabi.
Artists submitted concept sketches, and project organizers held monthly town hall meetings with the community for about five months.
"No objections," Brand said of the meetings.
Organizers are trying to "touch as many members of the community as possible," said Paul Strand, LAUSD's arts integration specialist for the local central district. "Everything's been very carefully vetted and the district is very, very enthusiastic about this project. The district didn't have any hesitation whatsoever. This community has been 100% supportive."
In the days leading up to the public unveiling Saturday, the school's paint-splattered sidewalks were crowded with students and artists working side by side.
The L.A. artist duo known as the Perez Bros. put the finishing touches on a mural meant to capture lowrider culture with the images of current students. The female Mexican artist Valfre's work depicts female athletes and defiant cheerleaders.
The idea behind the mural festivals is to treat building exteriors as canvases and to transform campuses into alfresco galleries, all in the name of promoting art and creating inspiring surroundings. The works, commissioned by Branded Arts and LAUSD, are permanent.
Fairey said public artists walk a tricky line.
"Every time I go into a new project I'm thinking, 'What's meaningful here that also overlaps with what's meaningful to me?' so that it's a win-win," Fairey said. "But if you go forward working through design by committee every time, you'll basically end up with crap. Because there's always gonna be somebody who says, 'I don't like this, I don't like that.'"
Fairey glanced up at his work, Angelou's face shining in the sunlight.
"You do what's fair and rational and go into the situation looking at how to be sensitive," Fairey said. "Then you stand behind what you've done."
The 28 murals on the RFK Community Schools campus are still up, including the mural by artist Beau Stanton that critics said was reminiscent of a World War II-era imperial Japanese battle flag. The artist said that wasn't his intention, and others have noted the same sun-ray motif is prevalent not only in other artists' work but also in commercial advertising and graphic design.
LAUSD, Strand said, is working out a solution with the artist, school stakeholders and community members, but no decision has been reached yet.
The Maya Angelou school project also includes an enormous steel paper airplane sculpture, "Launch Intention," by L.A. artist Griffin Loop. On Saturday, students wrote their "life intentions" on the work before it was slathered with a clear, protective coating.
During the public unveiling Saturday, singer-songwriter Miguel talked about the healing benefits of meditation and mindfulness before he gave an acoustic performance. Darryl McDaniels of the hip-hop group Run-DMC talked about his upbringing in New York City.
The long-term plan, Brand said, is to develop audio tours of the murals in multiple languages.
"The kids realize this is a big thing," Strand said. "And they are so excited about Saturday because the whole world is here."
Get our L.A. Goes Out newsletter, with the week's best events, to help you explore and experience our city.
You may occasionally receive promotional content from the Los Angeles Times.