Q&A: Halloween horror translated for ballet: How 'Inferno' will turn Dante into dance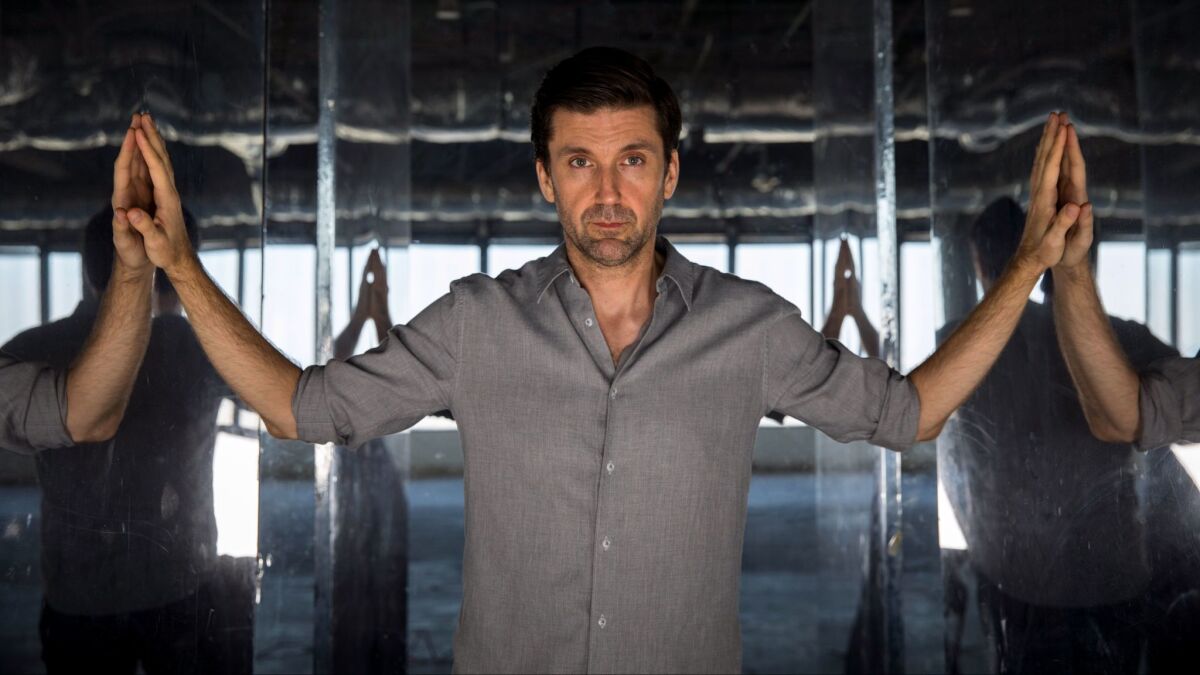 Lincoln Jones spends his days working with dancers in a studio high above Los Angeles. He can glimpse the San Gabriel Mountains, the Pacific and a well executed port de bras with a sweep of his eyes. The artistic director and choreographer of the American Contemporary Ballet, Jones is known for digging through books and scores in searches for fresh interpretations of ballets.
He chose a bit of darkness for the company's upcoming performance of "Inferno" from composer Charles Wuorinen's ballet "The Mission of Virgil." The work, which features new choreography from Jones, was inspired by Dante's "Divine Comedy" and arrives in time for Halloween. During a break in rehearsal, Jones talked about horror films, our political times, Los Angeles versus New York, and why his dancers glide so close to the audience.
It's an auspicious time to stage a ballet inspired by Dante. Why did you choose the work?
There's a certain horror element to Dante's poem, and I've been interested in Wuorinen's score for a long time. What ultimately brought it home was that we wanted to do something that shared in the spirit of Halloween. It occurred to me that serial or 12-tone music is not much in the popular consciousness except through horror films. So I thought it'd be an exciting opportunity to do a 12-tone work for an audience in the one kind of genre in which they'd be used to that language.
You've described the score as a violent piece for two pianos that's compressed yet completely alive. What challenges did you face in the choreography?
As far as I know, it's the most complex ballet score ever written. In a lot of pieces, the meter is changing every bar. Between the two piano parts, you'll have quintuplets moving against triplets and all sorts of iterations of unusual breaking up of notes. But I don't know of another living composer who has created music as danceable as this. He really knows dance. He studied George Balanchine. When I met with Wuorinen in New York, he was able to speak of Balanchine's choreography so articulately from a musical stand point.
Dante's "Divine Comedy" was written in the 14th century. It deals with human nature, our sins, transgressions and foibles. How does it speak to our current political times?
You can really draw a parallel between Dante's time and our time because of the incredible divisiveness. The issues were different on the surface but underneath, probably a lot the same. In Dante's time, cities would fight wars with each other. Dante wanted to get his point of view heard and send the people he thought should be in hell to hell. I think maybe there's a lot of similar feeling with the diatribes people are writing today against those they feel have it wrong. So there's a lot of similarities, political corruption, factions.
You're a student of history and do a lot of research before you settle on the music for your ballets. When do you know you've found a work that's right for the company?
It has to be a type of music I feel I'm ready to work with that will showcase the dancers we have and provide something new for our audience. I'm constantly absorbing pieces and collecting them. One of my attractions to this piece is that Balanchine choreographed some serial/12-tone music by Stravinsky and I thought it was very unique and evocative and it was something I wanted to try my hand at. And Wuorinen was the ideal guy to do that with. I wanted to see that done again.
How do you fit a dancer to the music?
As I'm working on a ballet with a lot of roles, a certain dancer will start popping up in my mind, and at the base of that they'll have a choreographic personality that will play well into the music I have in mind. Then they start influencing the decisions I'm making. Sort of a symbiotic back and forth. Our Dante, for instance, is a woman. One of the reasons I did that is because the relationship between Dante and Virgil seems to be a father-child relationship. A woman's body allowed him [Virgil] to do more manipulation in ways that would have been very difficult with another man.
You're from Fullerton. You lived and worked in the New York ballet world and have been in Los Angeles since 2011. How would you describe the artistic temperaments of both cities?
I find an openness in Los Angeles. New York to me felt very institutionalized, very decided. You can take the Los Angeles geography to be a metaphor. It's this big, spread-out place, and people are left to decide for themselves rather than being so driven by a few centers. L.A. feels decentralized, which to me spells a lot of opportunity. There's a real cross-breeding here between the commercial worlds and the fine art worlds. It's led to a lot of great inspiration and a chance to meet many people in different fields. Not that it doesn't happen in New York, but here, it feels a lot more democratic.
What strikes a lot of people about your company's performances is how close the audience is to the dancers — sometimes only a foot or two away. That creates intimacy but it also leaves little room for mistakes. Why is such proximity important to you?
I want to give the visceral experience, the wide-screen experience. As a choreographer, one of the great challenges is that ballet, in addition to being a musical art form, is a sculptural one. So in being that close, you're seeing so much more from the dancer, especially in her face. A great distance can hide a multitude of sins in terms of what the face is expressing. You have to work with the dancer to be radiating the expressions from every part of her body. A lot of times, effort and frustration and stress come out in the face. If you're 20 or 30 feet away, you're OK. But up close, it's right there.
'Inferno'
When: Opening performance with benefit costume party at 7 p.m. Friday; regular performances at 8 p.m. Saturday, Oct. 19-21 and Oct. 26-28.
Where: 700 S. Flower St., Suite 3200, L.A.
Price: Opening benefit $250; regular performances $40-$80
Get our L.A. Goes Out newsletter, with the week's best events, to help you explore and experience our city.
You may occasionally receive promotional content from the Los Angeles Times.