Review: Go ahead, touch the art. That's the point of 'Twiddle, Poke, Hold'
Liz Nurenberg's handheld sculptures demonstrate that some of the assumptions we bring to art and technology are silly. And silliness — along with whimsy, friendliness and goodwill — form the heart and soul of "Liz Nurenberg: Twiddle, Poke, Hold."
Installed in the small front gallery of Elephant in Glassell Park, the L.A. artist's exhibition is a playground for your fingers, palms and wrists. On each of three walls, Nurenberg has affixed a 6-foot-long shelf. Each shelf has been divided into six colored sections. Atop each section rests an oddly shaped or tactile object.
Made of synthetic fabrics, hand-molded plastics, smoothly sanded wood, metal rings and fasteners as well as the fluffy stuff that fills pillows, Nurenberg's works are meant to be picked up. The rule that you can look but you better not touch goes out the window.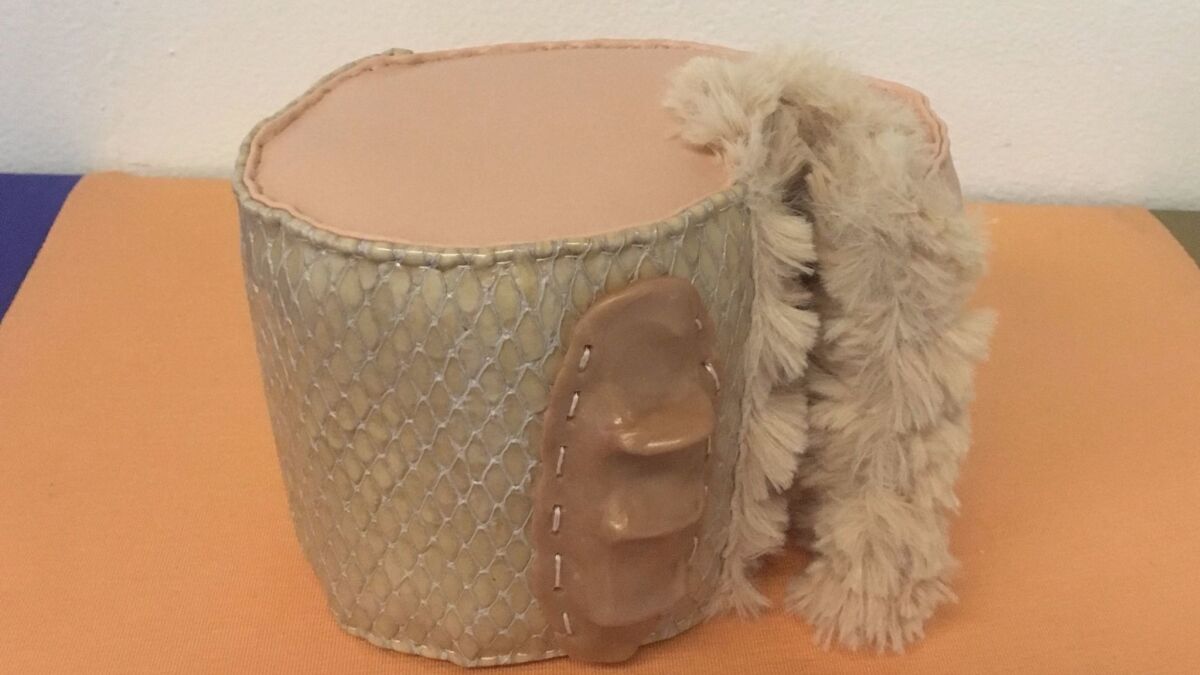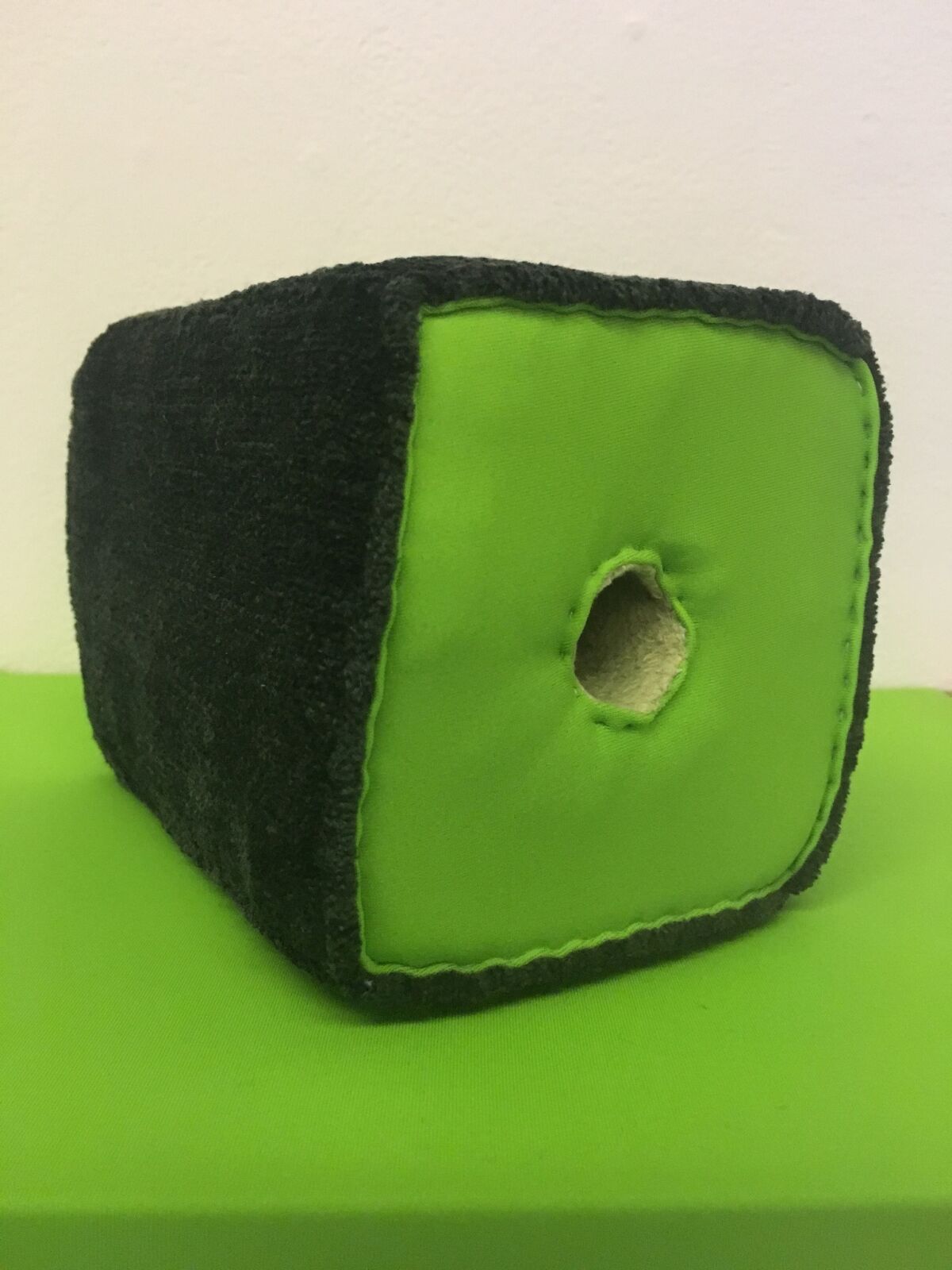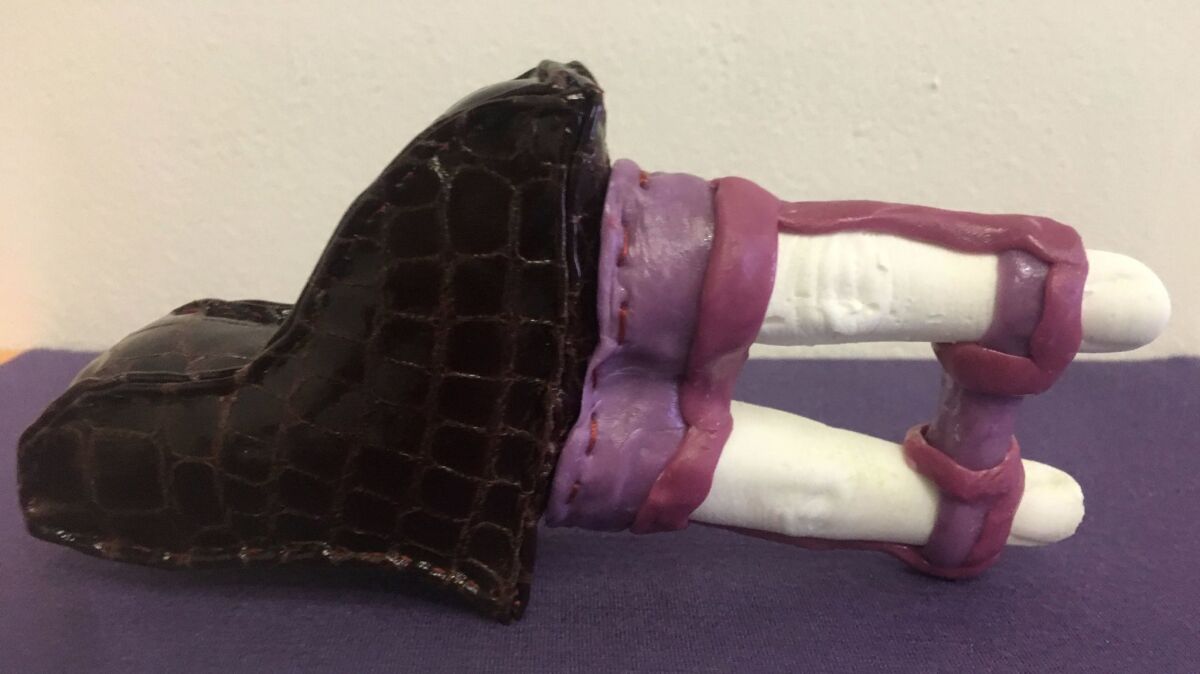 You find yourself turning Nurenberg's playful pieces around in your hands, sticking your fingertips in form-fitting orifices, grasping protuberances and running the back of your hand across furry folds. Squeezing and squishing like nobody's business, your hands are free to frolic in a wonderland of possibility.
Even better, your imagination is let loose. Sex comes to mind. Same for sensuality. Food follows suit — the shapes, colors and textures of hot dogs, tacos and doughnuts evoked by Nurenberg's single-serving-size sculptures.
Illogic predominates. One comical piece resembles the offspring of a pistol and a peace sign, by way of the Three Stooges. Another looks like a padded cell. A third recalls a pair of discombobulated binoculars.
In Nurenberg's hands, Sigmund Freud's notion of polymorphous perversity is not a problem to be solved but a talent to be cultivated. Her works are as much fun to look at as they are to prod and fondle. Better yet, do both. Moving them around on their color-coordinated shelves results in an array of abstract still lifes.
People often imagine that digital technology will affect art by making it slicker and swifter and more quickly transmitted to more people, who will probably consume it on handheld devices. Nurenberg's low-tech sculptures suggest otherwise. Her interactive works reveal that art works best when it behaves in unexpected ways.
Elephant, 3325 Division St., Los Angeles. Through April 29; noon to 4 p.m. Saturdays only or by appointment. www.elephantartspace.com
SIGN UP for the free Essential Arts & Culture newsletter »
Follow The Times' arts team @culturemonster.
ALSO
A groundbreaking show to confront the gender bias in art: 'Women of Abstract Expressionism'
Auction battles and encounters with royalty: LACMA curator looks back at 24 years of adventures
With bold brush strokes and luminous neon, L.A. painter Mary Weatherford comes into her own
Kerry James Marshall's paintings insist on black self-representation
---
Get our L.A. Goes Out newsletter, with the week's best events, to help you explore and experience our city.
You may occasionally receive promotional content from the Los Angeles Times.