Lyn Kienholz, a tireless advocate for Los Angeles artists, dies at 88
Lyn Kienholz, a fierce advocate for California artists and the founder of the California/International Arts Foundation, has died. She was 88.
Her death at her Hollywood Hills home on Friday afternoon came after she had fallen ill and been hospitalized with congestive heart failure, her sister Melinda Maddock confirmed to The Times.
"She had said for years, 'I love this place that I live in and I want to go out feet first' — and she did," Maddock said. "She loved Los Angeles. She loved her home. And she loved her friends."
Kienholz was well-known within the art world for her commitment to raising the profile of California artists abroad — not to mention her lively dinner parties that connected artists, writers, politicians and tastemakers from all over the world.
"She's been a formative influence in a lot of things that have happened in L.A. — particularly in the contemporary arts scene," said longtime friend Thomas Rhoads, who founded the Santa Monica Museum of Art in 1988. "And she loved to meet people. The ones she liked would invariably get invited to the house for dinner. I kind of think of her as a downtown Buffy Chandler: you wouldn't get filet mignon, you might get meatloaf and lots of wine, and you could smoke as much marijuana as you like. Meanwhile, she'd be out probably feeding the coyotes."
Kienholz's most recent celebration of the Golden State's artistic contributions were chronicled in the book "L.A. Rising: SoCal Artists Before 1980." Released in 2010, the encyclopedic volume paid homage to the Los Angeles art scene between 1940 and 1980 — spotlighting nearly 500 artists who exhibited in a museum, gallery or public space in Southern California. And with Henry Hopkins, the former San Francisco Museum of Modern Art director, she helped spark the idea for a showcase spotlighting L.A. artists that would become Pacific Standard Time, a popular multi-venue arts initiative funded by the J. Paul Getty Trust.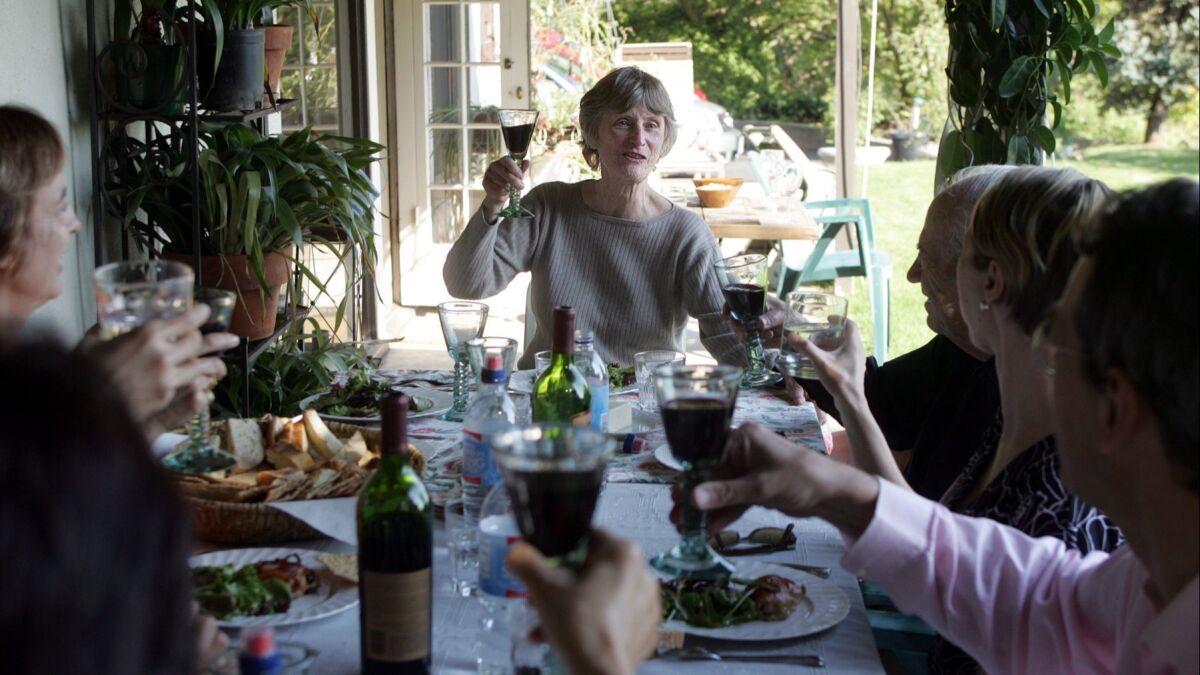 She leaves behind a legacy that came about almost by accident.
Born Marilyn Shearer on Sept. 16, 1930, in Chicago, she grew up in the suburbs of Evanston and Lombard along with her two sisters and a brother. Her father was an executive at a printing company; her mother was a homemaker. Her college years were spent at Sullins in Virginia and Maryland College for Women, but she did not finish her education.
She moved to Los Angeles from Washington in 1961 and took a day job as a gallery sitter at Ferus Gallery, located on La Cienega Boulevard in West Hollywood, to support her theater and film aspirations. She acted in several plays and had ambitions of becoming a producer, but found that path in Hollywood to be unwelcoming toward women. Her attention shifted to the nascent L.A. art world.
"I had been in a museum exactly once until I left home," she told The Times in 2006.
During her first year working at Ferus, the gallery gave Andy Warhol his first solo show. One of the exhibits she assembled, "Roxy's," which took viewers through the rooms of a brothel-like space populated by mannequins, prompted a visit by police. It was also during this time that she was rooming with painter Marcia Hafif — and their shared cooking skills made their West Hollywood home a social hot spot for L.A.'s art luminaries.
Kienholz's proximity to the art world got even closer during her marriage to Los Angeles sculptor and assemblage artist Ed Kienholz, from 1966 to 1973. She served as his office manager and studio assistant, often traveling abroad with him for his exhibitions — forming her own connections with tastemakers of the art world in the process. (Ed Kienholz died in 1994.)
"Living with Ed was tough and I was vulnerable," she shared in Richard Hertz's book "The Beat and the Buzz: Inside the L.A. Art World." "He was always right. He was totally manipulative, all of that bad stuff. … Nevertheless, it was a great life and wouldn't be doing what I am today, if I hadn't married him. He taught me to fish, but also taught me how to see."
In 1974, she was hired by Pontus Hulten, founding director of the Pompidou Center in Paris, to establish a foundation to procure American artworks for the museum. It spurred the idea to create her foundation.
Using money she received from selling Ed Kienholz's controversial 1964 assemblage "Back Seat Dodge '38" to the Los Angeles Museum of Contemporary Art — which she had purchased after selling some family stock — she founded the California/International Arts Foundation in 1981. Her vision for the nonprofit was to organize exhibitions that would increase the visibility of L.A. artists around the world.
The foundation's early events included "The California Sculpture Show" during the 1984 Olympics Arts Festival in Los Angeles — it toured five countries — and an early solo show for the architect Frank Gehry that toured Europe in the early '90s. In the years since, the foundation has organized more than 100 SoCal-centric art shows with for an international audience.
Her advocacy hadn't slowed in recent years. Joan Weinstein, the acting director of the Getty Foundation, recalled the meeting with Kienholz and Hopkins where they expressed concern that the history of Los Angeles art was being lost. The Getty supported her to conduct a survey of all the archives — that would go on to serve as the inspiration for Pacific Standard Time.
"Lyn was a force of nature," Weinstein said. "She was an unrelenting advocate for Los Angeles art."
Kienholz had spent her later years focused on bringing attention to sometimes overlooked African American artists in L.A, such as John Outterbridge. It had been her hope to put together an exhibition of black artists work to showcase at Venice Biennale. But it ultimately didn't come together, partly because of her deteriorating health.
"She valued creative risk-taking that is often necessary for artists to do new things, to carve out new paths, to approach things differently," said artist Dominique Moody, who had collaborated with Kienholz on the stalled Venice Biennale project. "That was her life's work of art support. And there was something special about the way she would invite people to her home; those dinners did more than just introduce artists to each other, it created a community."
Beyond her mark in the arts world, friends and family recall Kienholz as a great travel partner— particularly because she was willing to sit in the middle seat and didn't mind sharing her canapé sandwiches.
"She taught me all about things like eating vegetables that were fresh; as opposed to in a can; she taught me about entertaining and she had more energy than you and me and three other people combined," Maddock reflected. "But more than anything, she was always saying how lucky she was to be doing something through the years that she passionately loved. She loved art and artists and showcasing California artists, specifically."
Kieinholz is survived by two stepchildren, Noah Kienholz and Jenny Kienholz, as well as her siblings, Melinda, Mitchell and Lizbeth.
Twitter: @villarrealy
---
Get our L.A. Goes Out newsletter, with the week's best events, to help you explore and experience our city.
You may occasionally receive promotional content from the Los Angeles Times.