Review: Susanna Mälkki brings more news to the Los Angeles Philharmonic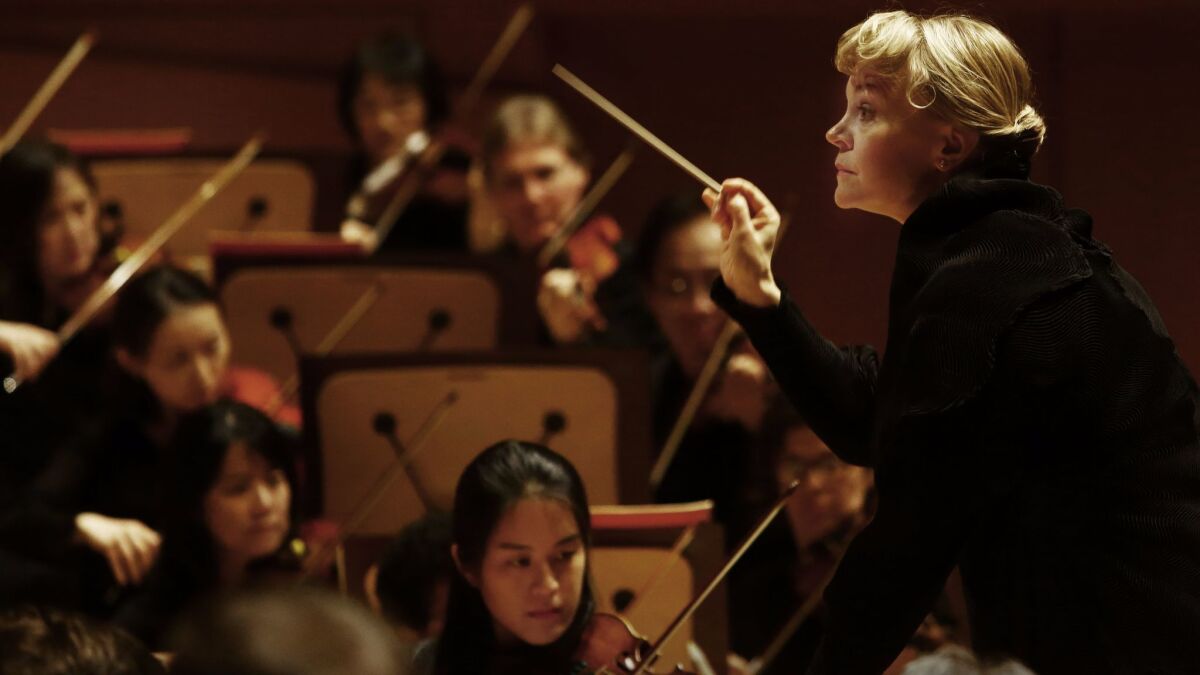 Music Critic
"News, news, news," Richard Nixon prophetically sings upon landing in Beijing in John Adams' opera "Nixon in China," "has a kind of mystery." Indeed it does these days, and that has hardly been lost on the Los Angeles Philharmonic, which began its new season a month ago making news just about every time it took to the stage of Walt Disney Concert Hall.
This included Gustavo Dudamel's two-week survey around Mozart's last year followed by a festival of music from Mexico City, for which seven works were commissioned. Next came the spectacular appearance of Mirga Grazinyte-Tyla, a Dudamel and L.A. Phil prodigy who, at 30, is commanding international attention.
Month 2 of the season began Friday night with the first appearance of Susanna Mälkki as the orchestra's new principal guest conductor. It is rare enough with American orchestras to appoint a principal guest. The reason for the post more often than not is to fill in something lacking in a music director. The last time the L.A. Phil had principal guests was three decades ago, when it brought in the especially versatile and tuned-in young conductors Michael Tilson Thomas and Simon Rattle to complement an old master, Carlo Maria Giulini.
In the case of Mälkki, the natural first reaction may be that she's a woman. While American orchestras have begun hiring female music directors, this is the biggest crack, thus far, in the increasingly fragile glass ceiling about to crash down on top-tier orchestras. The L.A. Phil is making big news this fall with female conductors reaching parity with men; four women are leading the subscription concerts.
But the main thing with Mälkki, who is music director of the Helsinki Philharmonic in her native Finland and former music of the Paris-based Ensemble Intercontemporain, is not that she brings something foreign to, or lacking in, the L.A. Phil. More to the point is how much a natural she is for this versatile and venturesome orchestra. She is a product of the same conducting program at the Sibelius Academy that Esa-Pekka Salonen was in before her (and Salonen became one of her mentors). She began her professional career with the Gothenburg Symphony; a decade later it was this Swedish orchestra that made an unproven Dudamel its music director.
What the 48-year-old Mälkki does bring is, first and probably foremost, the ability to create viscerally arresting performances. She ended Friday's program with a rousing performance of Berlioz's "Symphonie Fantastique." There was a sharp-edged, crystalline clarity to the sound of the orchestra — every solo instrument and every section — making a striking effect. There was, equally, exceptional vitality. Imagine a Pierre Boulez who could dance. The orchestra was as thrilled as the audience, and it showed.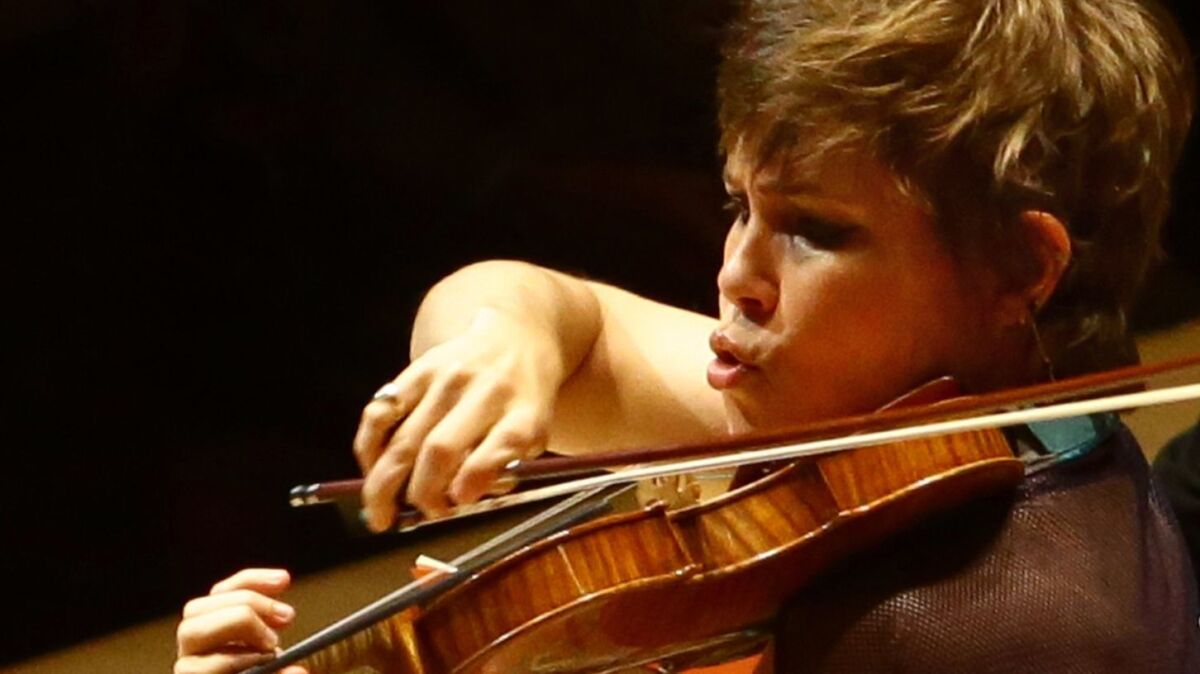 Still, however well she fits in in L.A., Mälkki may wind up making the biggest difference through her strong connection with many of the most important European composers (at a time when America has become more provincial than I've ever known when it comes to the musical news from overseas). One such composer is Luca Francesconi. The U.S. premiere of the Italian's violin concerto, "Duende: The Dark Notes," was the major work on the first half of the Friday program. It was written for Leila Josefowicz, another of Mälkki's close collaborators and a violinist who also happens to be a member of the extended L.A. Phil family. Salonen's Violin Concerto and Adams' "Scheherazade.2," arguably the two finest violin concertos of this century, were written for her.
Francesconi's makes three. The title refers to the demonic side of flamenco music, the dark spirit that can overtake rational control. When asked about the inexplicable in a pre-concert talk, Francesconi and Josefowicz shared a kind of nervous laugh. Mälkki looked away, as though glad she wasn't asked as well. Some things are best performed and not talked about.
"Duende" begins in the spirit world. Squealing in the upper harmonic reaches of the violin are echoed by barely audible squeaks in the orchestral violins, along with taps at the top registers of a distant piano and xylophone. Something spooky is scratching on the bedroom window in the middle of a dark, sleepless night.
Weird sounds throughout the orchestra sneak through the cracks, not into the room but your consciousness. Nothing is real and rarely will it be. For a half-hour and through five movements, Josefowicz plays possessed. She inhabits an entire stratosphere of hyperventilated harmonics. Her fingers scurry up and down the strings as though massless particles shot through the CERN accelerator.
The world does ultimately invade these distorted dark notes, once the orchestra takes on more body. An accordion occasionally injects what appears to be the memory of once-upon-a-time gypsies. A solo cadenza near the end of the concerto is too astonishing for words. It is no surprise to witness remarkable feats from Josefowicz. But this, which is maybe best described as a vision of a 22nd century Paganini, is news.
Mälkki, whose estimable job was to keep the balmy "Duende" spirits at bay, started the concert with the madness of the 19th century Paganini-inspired "Queen Mab" Scherzo from Berlioz's "Roméo et Juliette." She did not enforce expectable tidiness, but rather eeriness, brilliantly setting the scene for the fantastique of Francesconi as well as the psychedelic craziness of Berlioz's symphony, well aware that best and most surprising news needs, indeed, a kind of mystery.
ALSO:
The L.A. Phil's CDMX festival puts Mexico City in the limelight
Gustavo Dudamel searches for meaning in Mozart's last year
The 'L.A. Phil Effect' hits New York, Cleveland and beyond
Get our L.A. Goes Out newsletter, with the week's best events, to help you explore and experience our city.
You may occasionally receive promotional content from the Los Angeles Times.