Review: Mirga's majestic moments at the Bowl before her glass-ceiling breakthrough in Birmingham
The Democratic National Convention in Philadelphia wasn't the only place to witness a woman's prospect of breaking a glass ceiling Tuesday night.
Two years after a newly named 28-year-old Los Angeles Philharmonic assistant conductor made her Hollywood Bowl debut, leading a marvelous performance of Mahler's First Symphony, Mirga Grazinyte-Tyla, now an L.A. Phil associate conductor, was back at the Bowl, exactly one month before she begins her potentially historic tenure as music director of the City of Birmingham Symphony Orchestra.
News of her appointment to the orchestra from which Simon Rattle sprang to prominence made the front page of the Times of London. The Aug. 26 concert in Birmingham will be repeated the next night at the Proms in London for an audience of more than 5,000. Broadcast and streamed by BBC Radio 3, it will certainly attract major attention from musical Britain and beyond.
This is Mirga's moment, and Tuesday she showed herself ready.
The appeal begins the instant she proudly strides on stage, prepared for action. The video cameras can't resist her purposeful expression, the combination of the authority, adamancy and sheer pleasure with which she conducts the National Anthem. A Lithuanian who lives in Germany she may be, but Los Angeles and its Hollywood Bowl are, for now anyway, her second home. The Dems missed a great opportunity not inviting her to open the convention.
The L.A. Phil program featured two favorite Bowl composers, with pairs of works by Beethoven and Ravel. But there was a quirk. Along with the suites from Ravel's two popular ballets — "Mother Goose" and "Daphnis and Chloe," as well as Beethoven's "Leonore" Overture No. 3 — there was his oddball Choral Fantasy.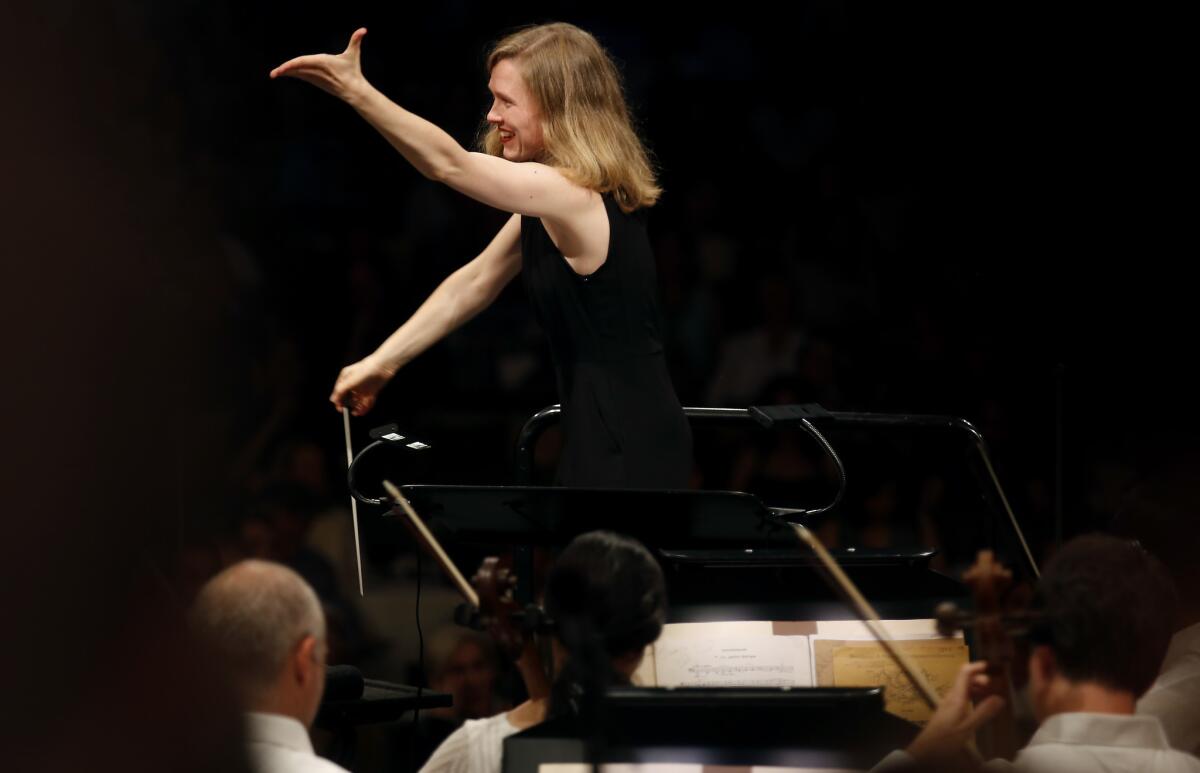 Grazinyte-Tyla has already proved herself a crackling Beethovenian in the composer's Seventh Symphony. She conducts with lightning-quick gestures that, while clear and precise, can also be a challenge for any orchestra player not raised on video games. As a listener, you are never quite prepared for what's coming at you. Sparks fly.
The Choral Fantasy is both a kind of small piano concerto, a trial run for the Ninth Symphony, with an early version of the "Ode to Joy" theme sung by a chorus and six vocal soloists, with a pretty awful text about love and harmony and the like. On top of that is some of Beethoven's strangest piano writing.
The score begins with what had been a long piano improvisation by Beethoven that he later wrote out. The soloist Tuesday was Jean-Yves Thibaudet, who is best known for a sparkling style. He is little heard in Beethoven.
I hope that will change. His is a unique flashiness that is all musical business, and he suited the Fantasy and his conductor ideally. There isn't a trace of sentimentality in either musician. Both favor luminosity and clarity. Thibaudet delighted in Beethoven's flights of fancy as gaudy scales led to transcendent trills, and Grazinyte-Tyla was on the ready to react to anything.
There is also a singing style to her conducting. The daughter of a chorus conductor and trained as a choral singer from childhood, Grazinyte-Tyla brought a combination of grandeur and expressivity to the brief choral finale, which featured the Los Angeles Master Chorale and, for the soloists, outstanding emerging opera singers, two of whom — soprano Janai Brugger and mezzo-soprano Peabody Southwell — have recently starred in Los Angeles Opera productions.
In the "Leonore" Overture, a mini-drama about the exultant overthrow of political oppression, Grazinyte-Tyla (who heads a small opera company in Salzburg, Austria) conveyed cogent theatricality. Meanwhile, in the "Mother Goose" Suite, she proved a fondly evocative storyteller, exquisitely careful with colorful orchestral details yet refusing, even here, to sugarcoat.
The "Daphnis" Suite revealed still another of her sides. Grazinyte-Tyla's conducting style is notable for the balletic expressiveness of her arm motion — helped in part by her favoring sleeveless tops, one of the few perks for a woman conductor — and she practically danced the score for the benefit of the orchestra.
She conjured the opening sunrise nymph-like, spreading her arms to let in the light. The General Dance was explosive but not orgiastic. It too became a mini-drama, this time of quicksilver changeability, full of furious instrumental incident. With Grazinyte-Tyla always a nano-second head of the orchestra, nothing could be taken for granted, including tidiness. Instead, the podium dancer offered a flashing, blinding sequence of Mirga moments, as she buoyantly rushes to the big one in Birmingham.
ALSO
Review: Puccini extreme: Dudamel's gloriously pessimistic 'Tosca' an indictment on the appeal of fascism
The L.A. Phil's mesmerizing Mirga Grazinyte-Tyla leaps to the Birmingham orchestra
Review: Mirga Grazinyte-Tyla takes the lead in an inspired women's night with the L.A. Phil
Get our L.A. Goes Out newsletter, with the week's best events, to help you explore and experience our city.
You may occasionally receive promotional content from the Los Angeles Times.