Review: Mirga's first major recording is a magical debut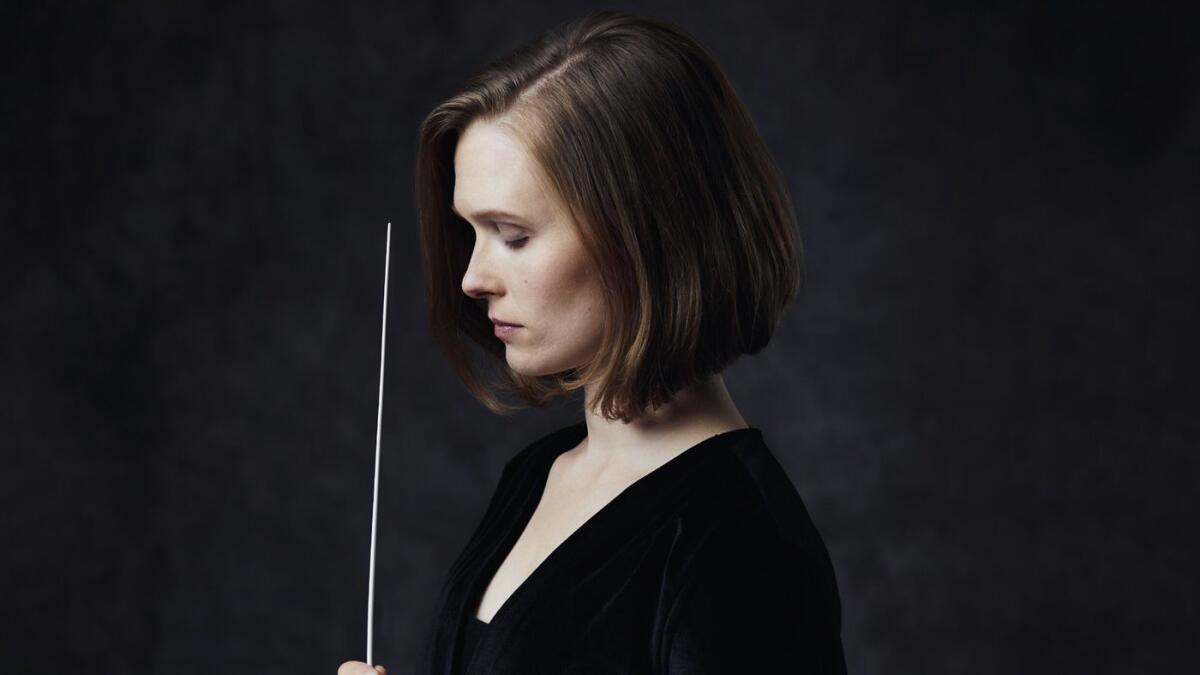 Music Critic
Mirga Grazinyte-Tyla's first major recording contains two symphonies by Mieczyslaw Weinberg, aka Moisey Samuilovich Vaynberg, as the Polish-born Jewish composer was called in Russia. How's that for a mouthful of names?
These are somber and at times excruciatingly slow symphonies that teeter on the edge of existence. No. 2 is music for the aftermath of World War II, during which most of Weinberg's family died in the camps. (Weinberg himself immigrated to Russia in 1939 to escape the Nazi occupation.) No. 21, written in 1991, is Weinberg's Opus 152, the second- to-last piece by a composer who died five years later at age 76. It has the title "Kaddish," the Jewish prayer for the dead, and seems like it contains the last fragments of memory from what is surely the largest body of death-obsessed significant music ever written.
And yet this happens to be a uniquely resplendent, life-affirming recording, far and away the most impressive conductor debut on disc or mobile phone or however you get your music these days. In evocations of musical landscapes, Weinberg, abetted like never before by Grazinyte-Tyla, finds pockets of new life blooming, of stubborn old life surviving and of the ghosts of lives lived, all conspiring to remind a listener of what it means to still breathe. The beauty of an eloquently elemental violin or clarinet melody, the celestial awe produced by a single pluck on the harp or tinkle on a celesta, is all you need to appreciate the mindful magic of consciousness.
Mirga has come out of the gate producing a classic.
This may not sound like the young Los Angeles Philharmonic Dudamel Fellow who would bound onto to the Hollywood Bowl podium and conduct with a consuming enthusiasm that swept thousands of listeners off their feet. From the start we called her Mirga and by the time she rose to associate conductor, while still in her mid-20s, she had become widely recognized as someone on the verge of a major career. What we couldn't yet know is that this young woman, who waved her arms in such a way that they seemed to magically reach the percussion section in the back of the band, possessed a bewitched key to the deepest, darkest, most secretive music. Could it be that there really is a Harry Potter, and it's Grazinyte-Tyla?
A Weinberg revival has been going on for a few years now, and it has been spirited in part by the violinist Gidon Kremer, who has been a champion of Grazinyte-Tyla and who is the violin soloist for the new recording's two symphonies. The Second is for string orchestra and uses members of the violinist's orchestra, Kremerata Baltica. The 21st features the City of Birmingham Symphony Orchestra, of which Grazinyte-Tyla has been music director since 2016.
This is technically not Grazinyte-Tyla's first recording or even her first important Weinberg recording. She conducts the Chamber Symphony No. 4, the composer's penultimate work, as part of a Weinberg set that Kremer released two years ago, although her name is hidden away in the credits. Likewise, she is hardly the selling point for a chart-topping recording of Shostakovich's Cello Concerto No. 1 performed by the young British cellist sensation Sheku Kanneh-Mason that was released on the heels of his appearance at the royal wedding of Prince Harry and Meghan Markle.
But it is the first real Mirga release. It inaugurates an exclusive contract with the prestigious Deutsche Grammophon label, promoted as the first for a female conductor. She is stylized on the cover, demonstrating, at 32, gravitas and grace as if she posed for Vogue. That's pure PR. What this recording is about is grave, stunning music making. Once Weinberg's 21st grabs you, it will not let you go. Maybe ever. But we'll have to see about that.
REVIEW: Review: Gustavo Dudamel makes Mahler's 'Symphony of Thousand' a symphony of spirit »
The first reaction may be the Shostakovich-like quality of Weinberg's style. The two composers were close. Shostakovich championed Weinberg, and Weinberg's scores frequently paid explicit tribute to Shostakovich. But the musical temperament of the two men was very different.
There is next to none of Shostakovich's extravagance or self-indulgence. His symphonies are so personal, so tormented, so descriptive, so heroic, so tragic, so everything under the sun, that they beg for a narrative.
Weinberg's pared-down style, on the other hand, shows what is left, the mystical essence of life, when we remove narrative. For instance, a tiny quote of Chopin in the 21st, a spectral wisp of a phrase on the piano, serves as an eerily eloquent evocation of a past not allowed to be buried. Weinberg may have his explosive moments with machine-gun percussion and all the rest of the horrific orchestral war arsenal at his employ, but they never sound ego-driven. They are descriptive of an action not a reaction. They devastate but they don't destroy. This "Kaddish" is for the living, a statement that too much mourning, like too little, is a sin.
There have been recordings over the last few years of most of Weinberg's symphonies, mainly by outlier Eastern European orchestras that are decent enough to get an idea of a composer essential to revive. But it is Kremer's recordings (he's just released a compelling set of Weinberg's 12 preludes arranged for violin) and now, especially this by Grazinyte-Tyla that are the most gripping.
FESTIVAL: How Thomas Morris brought Ojai to the big time »
We have simply never heard a Weinberg symphony sound like this. DG offers a vibrant recorded sound. Grazinyte-Tyla has taken the city of Birmingham and its orchestra by storm, and the playing is gorgeous.
And she sings! The symphony ends with a soprano solo, which Grazinyte-Tyla, who was trained as singer, takes on in a strong, focused voice, with little vibrato. Her voice is somehow immediately recognizable as hers even if you have never heard her before. The impression is that of a symphony absorbed in a conductor's DNA.
What DG does not include are the small-print warnings about side effects, because recordings by hot-shot young conductors tend not to need them. Still, take care. This is music that must be taken with no distractions. Every sound has to have space in which to speak, and some do so very faintly with lasting effect. Listen late at night or early morning, before email or news or social media pollute the atmosphere. Use at the highest resolution your equipment can provide. Headphones are recommended.
Get our L.A. Goes Out newsletter, with the week's best events, to help you explore and experience our city.
You may occasionally receive promotional content from the Los Angeles Times.