Column: MOCA's Gaetano Pesce exhibition stumbles across a bright ethical line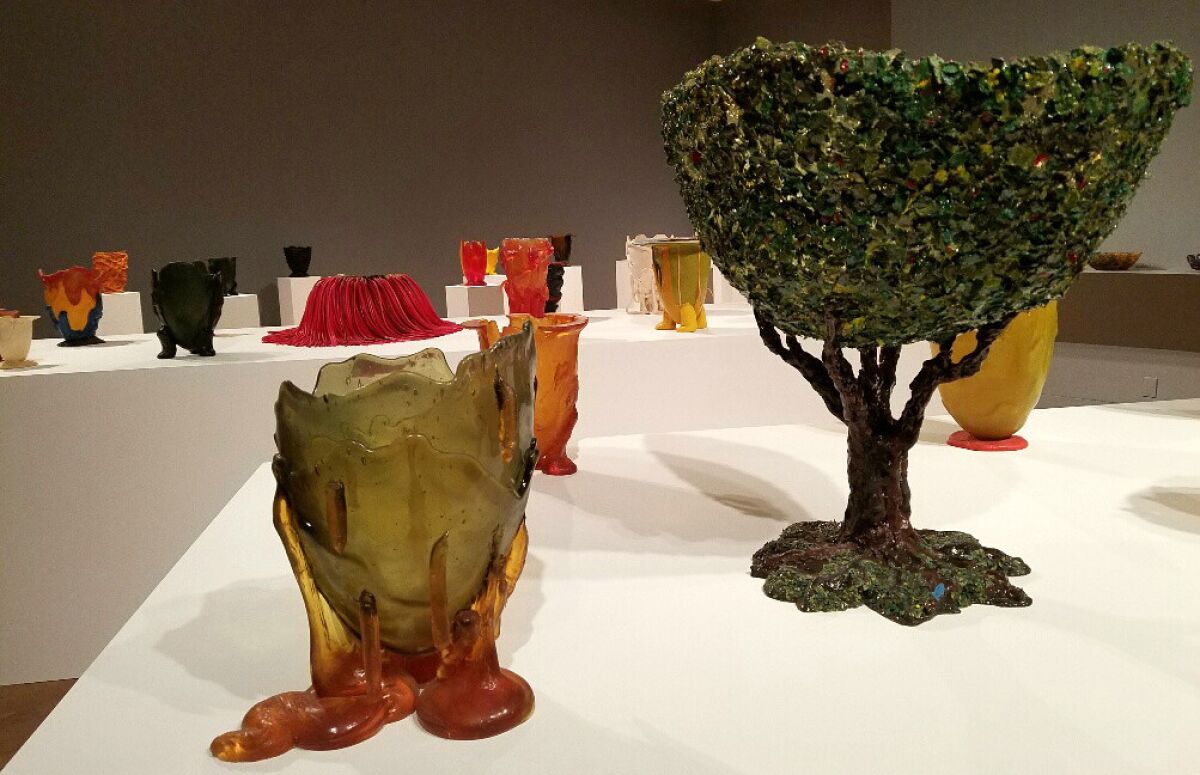 In an ethical lapse reminiscent of its grimmer days earlier in the decade, the Museum of Contemporary Art is presenting an exhibition whose guest curator owns almost all the work on view.
At MOCA's Pacific Design Center branch, "Gaetano Pesce: Molds (Gelati Misti)" focuses on a private collection of vases, bowls and other unique vessels made over the last two decades by the controversial Italian architect and designer. Of 39 Pesce vessels loaned to the show, 34 are owned by the show's guest curator.
A solo private collection show is difficult for a museum to justify, because it restricts curatorial independence in telling art's story. However, in my experience, crediting the collector as co-curator is almost unprecedented for a major museum.
SIGN UP for the free Essential Arts & Culture newsletter »
MOCA director Philippe Vergne, reached by telephone in London where he is previewing a Tate Modern exhibition by French multimedia artist Philippe Parreno, said the Pesce show evolved from an interest in reviving his museum's long-dormant design program.
"I understand it's unusual," Vergne said of the exhibition's reliance on one private collection. "It's a legitimate concern."
While acknowledging "this blurred line we face every day with market forces," he expressed confidence that the collector's relationship with Pesce's art is not speculative. Identifying the collector as co-organizer of the show was "perhaps clumsy," he said, "but I wanted to be transparent."
The extraordinary conflict of interest was first reported by art journalist Hunter Drohojowska-Philp on her KCRW program, "Art Talk."
At MOCA PDC, visitors have no way of knowing whether the Pesce vessels they are looking at are representative of the artist's work, indicative of his range or inclusive of turning points and the evolution in his art's 20-year development — all fundamental aims of a serious museum survey. Instead, what unites the objects is one collector's taste and acquisition skills.
The absence of a scholarly catalog — or any publication at all, even so much as a brochure — isn't all that blunts the show's usefulness. Instead, the curatorial reliance on one collector's shopping skills means that market success has primarily determined museum worth.
When a museum turns over its exhibition galleries to a private collector, you begin to wonder just what professional purpose the museum serves.
When a museum turns over its exhibition galleries to a private collector, you begin to wonder just what professional purpose the museum serves. The institution forfeits its independence and abandons its function. Because every private collection also represents a financial investment, which museum validation can help to secure, the conflict of interest is blatant.
The show's opening credit wall states that it was "organized by MOCA senior curator Bennett Simpson with John Geresi," whose large collection of Pesce's work is its source. Geresi, a banker, is a familiar art world figure — a past trustee at the Southern California Institute of Architecture, the prominent L.A. architecture and design school, and current board president at LAXART, the nonprofit alternative art space in Hollywood.
But the lapse here is not his.
Geresi would have done better to recognize the impending blunder and simply decline an invitation to participate. Yet, it is important to note that he didn't exactly break into the building in the dead of night and force his collection on an unsuspecting museum.
The lapse is MOCA's. It's led by pros, yet they have devalued the museum's independent curatorial role. That neither Vergne nor chief curator Helen Molesworth heeded the obvious red flags gives one pause.
From June 2010 to November 2013, during the turbulent directorship of Vergne's predecessor, Jeffrey Deitch, MOCA was embroiled in a series of such ethical lapses. The most dramatic was the popular extravaganza "Art in the Streets," a sprawling show organized with guest curators, some of whom were managers with direct financial interests in several of the graffiti artists invited to participate.
Other museums have likewise tiptoed up to the collector-as-curator edge.
Last year, the UCLA Hammer Museum presented "The Idea of North: The Paintings of Lawren Harris," a show organized by guest curator Steve Martin, the well-known actor and a collector of Harris' paintings. That was a mistake. But at least the Hammer claimed scrupulousness in not including any paintings owned by its guest curator, never mind building a show around them.
Is Pesce even worth a MOCA show? I find his vessels to be unexciting and often plain ugly, but that's not to say an argument for a survey could not be persuasive.
Pesce was born in La Spezia, south of Genoa, in 1939. He studied in Venice with Carlo Scarpa (1906-1978), the brilliantly inventive architect whose radical designs in blown glass are highly coveted. Pesce's cheeky vessels disrupt conventions established by Scarpa and others.
And Pesce is currently in vogue. His jokey, unrealized 1972 design for an apartment building doorway composed from a naked man's buttocks is the inspiration for a sculpture by Anthea Hamilton now under consideration for the Turner Prize at Tate Britain.
His one-of-a-kind objects are typically made using industrial resins poured into elaborate wooden molds. Forms are built from drips, extrusions, dribbles and melting oozes. (Gelati misti, the show's subtitle, translates as "mixed ice cream.") Their bright, saturated colors are mostly light absorbent and visually inert, unlike the luminous properties afforded by glass, while many forms derive from classical and modern precedents, including Art Nouveau.
It is easy to see why MOCA might be interested in this work. Pesce started to experiment with industrial liquid resins around 1987. His use of resin harkens back to the industrial materials so common in Minimalist L.A. art of the 1960s, including sculptures by Robert Irwin, Craig Kauffman, Judy Chicago, Peter Alexander and others.
MOCA has given Geresi's collection some context, providing about 40 vessel drawings, chair designs and decorative wall-hangings, all lent by the artist. (He also lent three vessels. Two others came from Peter and Shannon Loughrey, proprietors of Los Angeles Modern Auctions, which has sold several of the artist's pieces.) But Geresi's collection is the exhibition's centerpiece.
It is worth pointing out that MOCA's permanent collection includes nothing by Pesce. That's surprising. A survey would make more sense if it illuminated an artist to whom the museum had already established a commitment. Otherwise, it's merely a transient one-off.
And the timing is bad.
MOCA has been in the doldrums since Deitch resigned three years ago. Only now is it beginning to dust off the cobwebs and roll out a program the museum hopes will be compelling. What's most worrisome is that the director and curatorial staff recognized this show's conflict of interest — then decided to proceed anyhow.
christopher.knight@latimes.com
Twitter: @KnightLAT
ALSO
At Toba Khedoori show, mysteries burn beneath a fragile surface
A different tale of the '1 percent' at the Torrance Art Museum
Get our L.A. Goes Out newsletter, with the week's best events, to help you explore and experience our city.
You may occasionally receive promotional content from the Los Angeles Times.