Review: The L.A. music scene as seen through Berio's Sequenzas
Music Critic
One metric for measuring the reach of a city's musical resources is the ability to put together, as the new music series Tuesdays @ Monk Space did this week, a concert of all, or nearly all, of Luciano Berio's 14 Sequenzas with working local musicians. Only a small number of music capitals — New York, London, Berlin, Paris — probably has the capacity.
Each Sequenza is a singular solo piece that requires a performer to go beyond normal techniques, beyond what even seems possible, to produce all manner of arresting sounds. The other big step is to give the impression of personifying those sounds so that the distinction between, say, bassoonist and bassoon, as well as between sound and effect, becomes strikingly and stirringly blurred.
Individually, the Sequenzas are sequences of compelling and contrasting events that challenge the listener as well the performer. When it comes to melody instruments, complex linear sequences are meant to create the illusion of polyphony. Different kinds of music and different simultaneous affects lend a three-dimensional aural virtual reality.
There is also the sequence of Sequenzas to consider. Berio began with flute in 1958. The 33-year-old Italian avant-gardist had set out to find ways that complexity could be rooted in theatrical gesture and reflect the personality of a distinctive soloist.
Berio only turned to Sequenzas when the right player or occasion came along. The last one for cello was written in 2002, the year before he died. Over the decades, the works tended to get longer; the range is from about eight minutes (Sequenza I for flute) to about 18 minutes (Sequenza XII for bassoon). They became somewhat less extrovert and more reflective around the end, but none lacks some level of drama.
The Monk Space "Sequenza — Sequenza!" program Tuesday served as an inauguration of a second stage at this venue on the northern edge of Koreatown used for just about anything, be it producing TV commercials, staging Shakespeare, exhibiting modern art or conducting weddings. The original Warehouse stage is a small room with old brick walls and gripping acoustics. The new Annex stage is smaller still, with plasterboard as well as the original brick. The space creates an immediacy that allows you to imagine you might be in direct communication with the performer. Hearing a Sequenza here is an extraordinary experience.
The 14 soloists (all donating their services as a benefit for the increasingly important monthly series) offered a fascinating look at the inner workings of a musical life in L.A. There were musicians from many of the younger new music ensembles — wildUp, gnarwallaby, Southland Ensemble. There were musicians who might be found playing in the Santa Barbara Symphony or Los Angeles Chamber Orchestra or even in the pit band for "Spring Awakening" at the Wallis. Most teach at colleges, universities and music schools around Southern California.
Seven Sequenzas were played on each stage simultaneously, so it was only possible to hear half. The audience was invited to move around as much as it wanted, although not during a performance. I chose to stay put in the new Annex for the first half and move to the Warehouse for the second.
In the Annex, clarinetist Brian Walsh found a kind of melodic surrealism in Sequenza IX, the essence of a licorice stick's lyrical limberness, often murmuring and wailing at the same time. Violist Diana Wade brought both athletic and operatic ferocity to Sequenza VI, throwing herself into tremolo passages with a physical force that shook her and a sonic one that practically shook the walls.
Harpist Elizabeth Huston was the cool opposite in Sequenza II. She determinedly seemed to divide herself into three independently coordinated parts — her feet partaking in choreographed pedaling, her hands all over the strings and her head in necessary constant motion between the score and the strings (since the harp cannot be played by feel).
Berio occasionally allowed a Sequenza to be adapted to another instrument in the same family, and Tom Peters turned to Sequenza XIVb, the double bass version of the cello Sequenza. He needed not just to embrace his hulking instrument but to hug it while carrying out the suggestive gestures of fast and light pizzicati or interrupting glassy, eerie sliding tones with momentary agitated scratching, as if a mosquito had just bit the bass.
Next door in the Warehouse, bassoonist Jonathan Stehney handled the haunting Sequenza XII. The composer this time creates the sensation of bringing the dead to life with slow-moving, sliding low notes, here juxtaposed with hysteria in the bassoon's idiosyncratic high registers.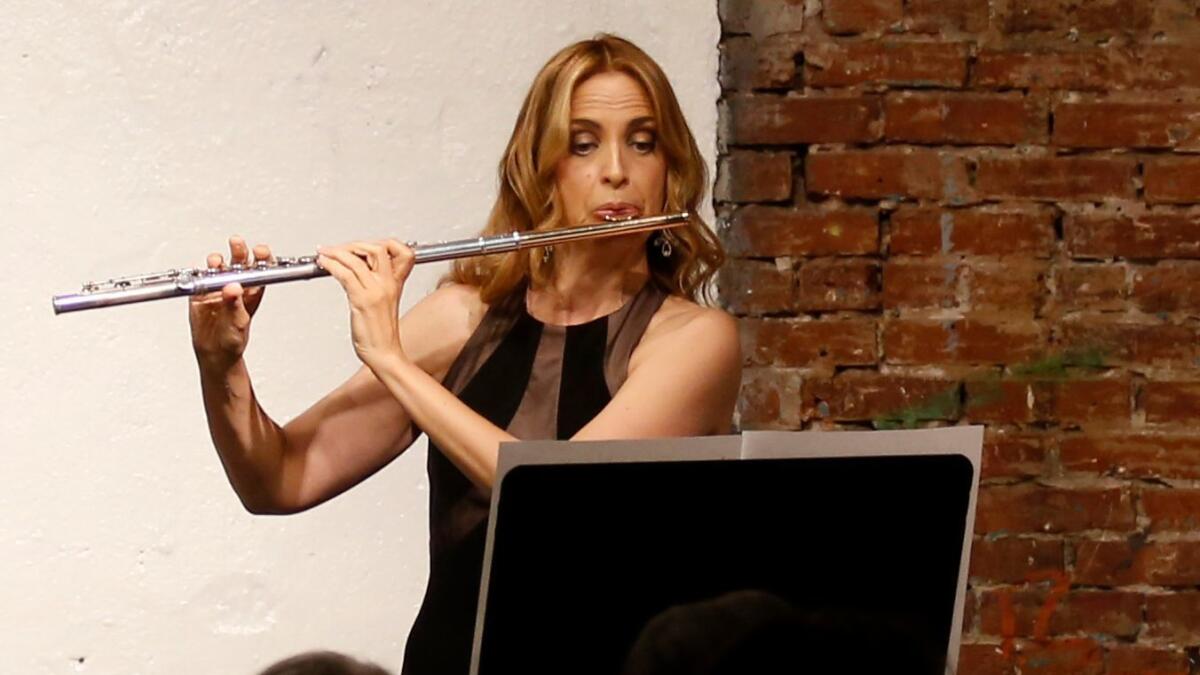 Flutist Sara Andon offered a spotless reading of Sequenza I that had an unwritten dramatic interruption when a page of her score fell off the music stand. She found a long note on which to give unusual expression while suavely picking up the sheet. This proved an unexpectedly moving theatrical gesture for the least theatrical of the Sequenzas.
Sequenza III is the most famous of the series. The famed Freudian French philosopher Jean-Francois Lyotard wrote an essay about this musical exploration of emotions to which a voice can be put to use in eight pregnant minutes. Stacey Fraser made the Sequenza into a seamless aria, sure of musical direction while missing none of the humor or the frightening shocks of horror.
The remaining Sequenzas were entrusted to Matt Barbier (trombone), Andrew McIntosh (violin), Mak Grgic (guitar), Mari Kawamura (piano), Ashley Walters (cello), Paul Sherman (oboe) and Dan Flores (trumpet). Only Sequenza XIII went missing, meaning there is likely employment in L.A. for an unusually able accordionist.
MORE ARTS NEWS AND REVIEWS:
Review: Demons, on the feet and in the soul, in 'The Red Shoes'
Interview: Matthew Bourne on his 'Red Shoes' U.S. premiere
He's big in L.A.'s small theaters: Tom Jacobson, master of puzzles and surprises
Oaxacalifornia dreaming: L.A. library mural project looks south
Get our L.A. Goes Out newsletter, with the week's best events, to help you explore and experience our city.
You may occasionally receive promotional content from the Los Angeles Times.