Review: Ives' 'Holidays' at the L.A. Phil, but not those holidays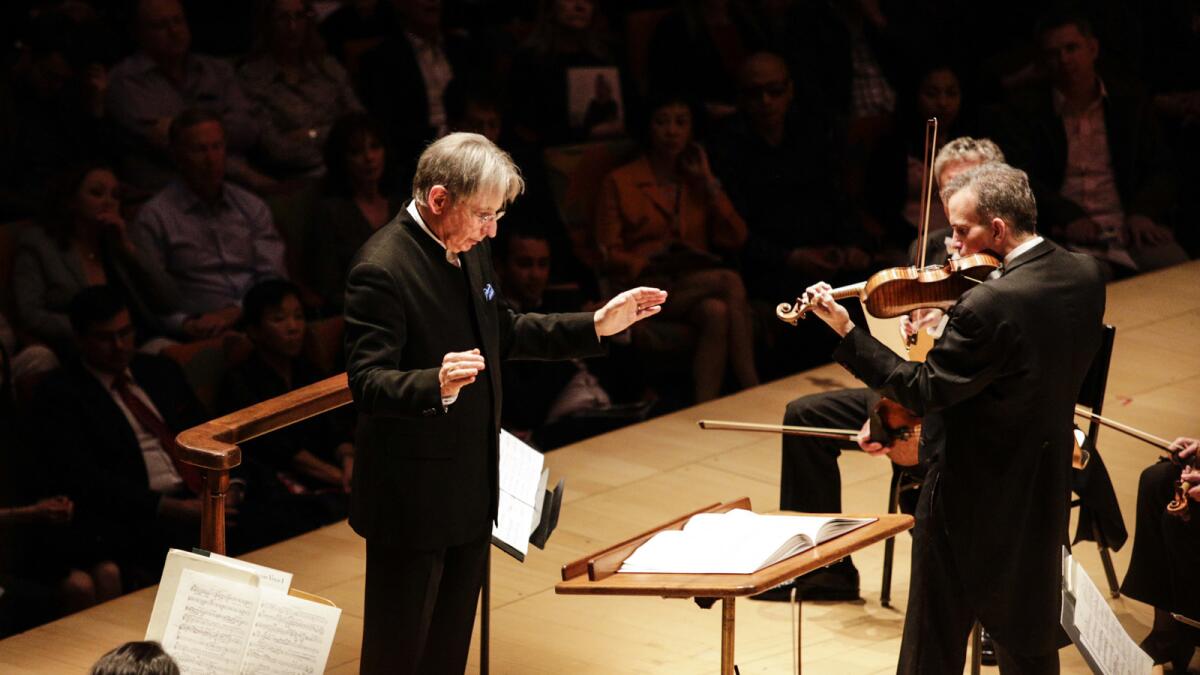 Music Critic
Other than a very occasional "Messiah" or John Adams' "El Niño," the Los Angeles Philharmonic doesn't do holidays. That was obstinately true Friday at a Walt Disney Concert Hall bedecked with a Christmas tree and menorah for a seemingly recalcitrant Michael Tilson Thomas. He ended his program Friday morning with Charles Ives' "Holidays" Symphony. Ives' holidays happen to be Washington's birthday, Decoration Day, Fourth of July and Thanksgiving.
Yet, in a glorious performance, Tilson Thomas incomparably embodied the good cheer and wonder of the season by going beyond specific holidays. Ives' four separate pieces, written in the first decade of the 20th century, evoked the holidays as the composer remembered them in his New England childhood and in a manner, sentimental yet startlingly pioneering, that remains stylistically flummoxing even a century later.
In his introductory remarks, Tilson Thomas reminded that investigations of the unconscious can begin anywhere, as Carl Jung noted. With Ives, they can also go anywhere in any way.
Each holiday starts out musing on an old hymn and/or popular tunes of the day. Harmonies are unsettled. Music, solemn and fun — marching bands, children's game, fireworks, funeral marches and sheer hokum — mingle and explode into exuberant musical chaos.
With the Los Angeles Master Chorale on hand for Thanksgiving's spiritual apotheosis at the end, Tilson Thomas put the singers to further good use having them sing some of the songs and hymns that Ives sneaked, some familiar ("Good Night Ladies"), some forgotten. Christmas was turned on its head for Decoration (now Memorial) Day with "Adestes Fideles" in its alternate form of "How firm a foundation, ye saints of the Lord" joined by "Taps."
When it came to Thanksgiving, Ives' intention was, Tilson Thomas said, "one great universal song of mankind," all these musics rising to one magnanimous zenith. And so it authentically did after nearly an hour of principled sentimentality, riotous playfulness, stylistic irreverence and majestic religiosity verging on downright (or should that be upright?) mysticism. In its versatile element, the L.A. Phil and magnificent Master Chorale embodied Ives' ideal with an irrefutable rightness.
Tilson Thomas began the concert roasting two Tchaikovsky chestnuts, the "Romeo and Juliet" Overture-Fantasy" and "Rococo" Variations. He got from the orchestra a sound as rich as the most lavish holiday feast. Cellist Gautier Capuçon brought his stunningly beautiful tone to "Rococo" Variations, adding what sounded like new glory to every phrase.
It is, of course, far too easy to think about Tchaikovsky at Christmas. Think, though, with the marvelous (best recorded and arguably best, period) new "Nutcracker" recording by Gustavo Dudamel and the L.A. Phil that has just made your Christmas shopping super-easy. But let cantankerous Ives be a new Christmas icon. Pioneer in the insurance business as well as music, he made his righteous fortune not finding ways to capitalize on every scratched bumper but idealistically providing people with an affordable safety net that had never before existed.
There can be little doubt that Ives, who died in 1954 before his music was widely appreciated, would have been blown away to hear his music performed as it was by L.A. Phil, but I suspect the composer would have been far more moved by what happened after the performance. Several members of the orchestra and chorus high-tailed it to skid row, with no time for lunch, to participate in the annual Street Symphony and Chorus "Messiah Project" at the Midnight Mission.
Founded four years ago by Vijay Gupta, a violinist in the L.A. Phil and a social activist who was among this year's MacArthur Foundation "genius" fellows, the "Messiah Project" serves and includes members of the community and functions majestically — and non-condescendingly — to lift up the downtrodden like no other "Messiah." Sections of Handel's oratorio are interspersed by pieces by community composers and performances by amateur singers who were recently homeless and are now in mentoring programs sponsored by the Street Symphony and Chorus and the community's exceptional Urban Voices Project.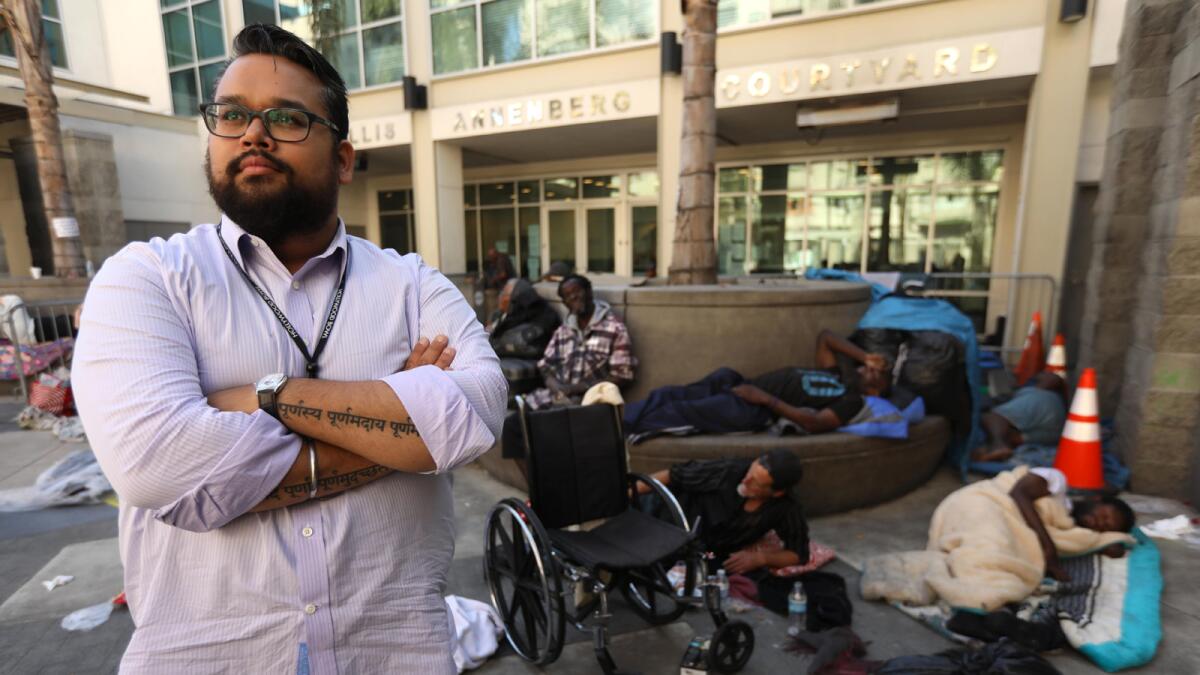 The musical mix is Ivesian. The program began with mariachi music and ended with reggae. Stirring doesn't even begin to describe the event, and I say that not just for all the good that this project does but also as a music critic.
What would be Ives' response to the news that Gupta told me at the performance that he will be leaving the L.A. Phil after this week's Brahms programs with Zubin Mehta to devote himself full time to his community projects? Unquestionably a pat on the back and a fat check.
Get our L.A. Goes Out newsletter, with the week's best events, to help you explore and experience our city.
You may occasionally receive promotional content from the Los Angeles Times.